Tagged as: #AllIn, Adam Cole, Adam Copeland, AEW, AEW Dark, AEW Dynamite, AEW News, AEW Rampage, AIR, All Elite, All Elite Wrestling, Being the Elite, best in the World, BTE, Canada, Christian, Christian Cage, Collision, Contest, Continental Classic, Dynamite, Edge, Elite, Event, Fall, From, Future, gold, Highlights, Interview, Media, MJF, Montreal, New, njpw, OWN, Pittsburgh, Rampage, Revolution, ROH, SAW, SEE, Show, Sick, Smile, sting, Swerve, Switch, Tag, tag team titles, TBS, The, the man, title, TNT, Toni Storm, Toronto, Tournament, Uncharted, Wednesday, Well, WON, Wrestledream, Wrestling, You, YouTube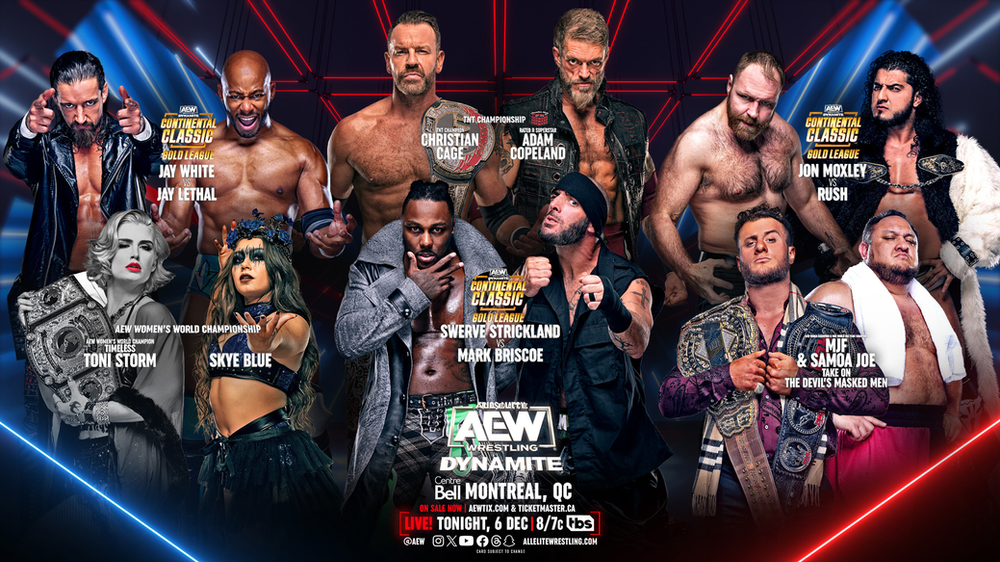 https://www.youtube.com/embed/Si4lxrwy2NI?si=-Y3Jm9Fq2y8jxZck
Last week on DYNAMITE the AEW faithful bore witness to the next round of Gold League bouts in the Continental Classic, including Jon Moxley and Swerve Strickland raising their point total to six as "El Toro Blanco" Rush scored his first three, leaving Jay White with three, while Jay Lethal, as well as Mark Briscoe, have zero to their name. In addition, AEW World Champion MJF was challenged by the devil-masked individual to unite with Samoa Joe for a tag team bout, and Toni Storm was informed she'd be putting AEW Women's World Championship on the line in Montreal!
https://www.youtube.com/embed/pap7Jhl7xZ8?si=_GilxT19zHKIygmT
This Wednesday night, as AEW brings DYNAMITE to the Bell Centre in Montreal for the very first time, we will see the next three bouts in the Gold League, as well as two huge championship matches! Swerve battles Mark Briscoe, Jon Moxley takes on Rush, and Jay Lethal goes head-to-head with Jay White as some jockey for the top spot while others attempt to stave off mathematical elimination! "Timeless" Toni Storm will put her championship on the line for the first time in this third reign as she faces one of her most persistent foes in Skye Blue, and, in the face of 40-plus years of friendship, TNT Champion Christian Cage will face "The Rated R Superstar" Adam Copeland!
DYNAMITE kicks off at 8pm ET/7pm CT live on TBS, as well as at AEWPlus.com for international fans, so be sure to visit the official AEW YouTube channel, as well as AEW's assorted social media platforms, to get catch up on highlights from recent episodes of DYNAMITE, RAMPAGE, and COLLISION, as well as this week's CONTROL CENTER!
AEW TNT CHAMPIONSHIP MATCH…
"The Patriach" Christian Cage(c) vs. "Rated R Superstar" Adam Copeland
It has been more than thirteen years since the last time Christian Cage and Adam Copeland stood across the ring from one another waiting for the first bell to ring that signifies the start of their one-on-one clash. The site of that fight was the Air Canada Center in Toronto, and it came to a conclusion with an Adam Copeland victory, just as it had sixteen other times over their twenty-six singles bouts on record. Though the two men would find their way back to a partnership for a handful of matches in 2011, the neck injuries that should've ended Adam's career, and actually kept him out of the ring for nine years, ended their tag team bond.
Despite Copeland grinding through a grueling recovery, struggling and fighting to get back into the ring in January 2020, the two life-long friends only stood in the ring during a match one more time prior to WRESTLEDREAM in Seattle, and somewhat ironically that was a one night only affair as Christian Cage was forced to step away from in-ring activity in 2014 due to his own medical concerns, and not resuming his in-ring career until that first match for AEW on March 31, 2021.
So in addition to the friendship that begun some 40 years ago, in addition to all the wars they'd fought together as friends, as partners, and even as foes, Adam and Christian were also bonded by the pain of nearly losing their dream as a result of their bodies betraying them. But so too were they bonded by overcoming all odds and fighting their way back to making that dream a reality when there was no rationale reason for either man to still be competing, much less doing so at the highest of levels they are still doing at this point in their careers.
And yet here they are, despite all that connective tissue, standing as far apart as they have ever been with an seemingly insurmountable gap between their desires for AEW. Copeland came here with the dream of standing side-by-side with his best friend and finishing out their careers showing the world why they've long been considered one of the best tag teams of their generation, why they were such a game-changing force in tag team wrestling, and just being able to enjoy everything they'd worked so hard to accomplish.
Christian, on the other hand, came to AEW to get as much distance as possible between he and Adam and to establish himself as far away from any notion of the team they used to be once upon a time. He came to be his own individual, and Copeland coming to AEW only served, in Cage's mind, to cast that shadow over his accomplishments since REVOLUTION 2021, not that great deal of Christian's accomplishments deserves accolades. He betrayed Jack Perry and Luchasaurus, then turned Luchasaurus on Perry and made the former World Tag Champion into his lapdog, and even though he helped lead Luchasaurus to the TNT Championship, he didn't even the man to hold his own championship while simultaneously claiming himself as the true TNT Champion. Then, when the opportunity came, Cage robbed Luchasaurus of the TNT Championship to officially make it his own.
He turned Nick Wayne against Darby Allin, as well as his own mother, humiliated Luchasaurus, robbed him of his name, rechristened the man Killswitch as an homage to himself, and threatened to break the neck of his supposed best friend after Adam Copeland came to AEW with a hopeful reunion in his mind. Christian disrespected Copeland's family, a family that Adam considered him a part of, and has sacrificed both Killswitch and "The Prodigy" Nick Wayne in order to save his own skin. The fact that Christian Cage is proud of those accomplishments goes to show just what kind of man he's devolved into since his arrival in AEW, it just took Sting shaking some sense into him for Adam Copeland to realize just who his supposed best friend truly was at heart.
So now this Wednesday night in Montreal, they will fight, and Christian's prized TNT Championship will be on the line! Interestingly enough, though Copeland leads Cage in victories in their one-on-one collisions, it is Cage who has a razor thin edge when titles at stake. Nineteen times on record they've fought one-on-one over a championship, ten of those have been won by Christian Cage, but the last four by Copeland, although it has been a dozen years since the last of those championship contests.
While these men may be more familiar with each other than anyone else in AEW could hope to be, neither is dealing with the same man with whom they captured seven tag team titles together. Each has been changed by their experiences, experiences that should've brought them closer together than ever, but instead have seen them driven further apart than ever before. If there was ever any hope for this friendship to find a place of healing, it will likely be dashed Wednesday night on DYNAMITE. Some bridges can't be rebuilt after the fire, some sins are not forgivable…
AEW WOMEN'S CHAMPIONSHIP MATCH…
"Timeless" Toni Storm(c) vs. Skye Blue
While "Timeless" Toni Storm may still be basking in the glow of becoming a 3-Time AEW Women's World Champion, apparently recovering from Hollywood parties and hobnobbing with stars, the rest of the division has had their eye on being the first challenger to her throne, and it looks like Storm will have to deal with a familiar foe for her first defense!
Skye Blue has been a consistent thorn in the side of Toni Storm since the beginning of 2023, and there's not a woman in AEW the defending champion has faced more in one-on-one matches. Five times they have gone head-to-head inside the squared circle, two of those in championship matches, and all five have gone in favor of Toni Storm. Even the Four Way Title match at HOUSE RULES: HUNTSVILLE over the summer, a bout that also involved Anna Jay and Dr. Britt Baker D.M.D, came to an end with Storm pinning Sky. In fact, in the nine total fights these woman have been involved in, Toni holds a 7-2 lead on her challenger, with both of Skye's victories coming in tag team bouts, though neither conclusion saw Skye pin Toni to get the victory.
The last fight between the two woman went down two months ago on DYNAMITE, and once again it was Skye who fell in defeat, but her transformation over the last several months may be the key to Skye finally claiming, not just a victory over Toni Storm, but also her first AEW Women's World Championship! Will fans see another Storm/Blue sequel laid out by "The Timeless One", or will Skye Blue rewrite the script for a whole new take on their franchise? Tune in Wednesday night to see who claims the crown as best lead in the AEW Women's Division! And just announced as a special guest:
CONTINENTAL CLASSIC: GOLD LEAGUE…

STANDINGS:
Jon Moxley (6)
Swerve Strickland (6)
Jay White (3)
Rush (3)
Mark Briscoe (0)
Jay Lethal (0)
https://www.youtube.com/embed/DezZSrkPAGE?si=7Vv15MYnamJfe5Fg
Mark Briscoe (0) vs. Swerve Strickland (6)
One is a man riding high with two consecutive victories and six points to his Continental Classic tally while the other is a man who has twice tasted defeated, meaning zero points on his record for this tournament. The former is Swerve Strickland, the latter Mark Briscoe, and this Wednesday night in Montreal, they will meet in their first-ever singles match and for just the second time in their careers!
That one previous clash between these two men took place a lifetime ago, and a continent away, when Shane Strickland teamed up with the late Ryan Smile at RevPro's SUMMER SIZZLER 2017 event in a losing effort against Jay & Mark Briscoe. So much has changed for both these men in the six years since, especially for Mark as he forges forward into the world of singles wrestling after the tragic loss of brother Jay back on January 17th of this year.
Singles wrestling isn't a foreign concept for Mark, after all he has been in the game for 23 years, years that including some hellacious singles matches against his own brother for one, but doing singles work exclusively, now that is uncharted territory for "The Sussex County Chicken" and perhaps why he is taking the losses as good as he can. Mark knows competing in this tournament isn't the easiest path, that he's faced with five of the best in the world in this Gold League, but that doesn't mean he'll back down or fold up shop. It's motivation to get better, to keep pushing, and to continue fighting on for the Briscoe name.
Between Mox and Rush, Mark has already thrown down with two of the heaviest hitters in the Gold League, and now he's got the red-hot Swerve on his plate who proved unquestionably with that Texas Death Match that he's got the same grit as Mark's previous two opponents. Getting those first three points out of this one is going to be a grind for Chicken, but that's what he does and Swerve best not underestimate as he pursues nine points. After all, Mark is a cornered animal now, a loss here mathematically eliminates him from the competition, and you know what they say about cornered animals…
Jon Moxley (6) vs. Rush (3)
This one is going to hurt, and going to hurt both men involved even more than they are already hurting. We all heard it straight from Moxley himself in the interview embedded above, he is aching and sore and sick and tired, but sick and tired of being sick and tired but fighting is what he does, what he knows, and it's Moxley's way through the pain wracking his body.
Similarly, the AEW faithful witnessed Rush gut out a victory over Mark Briscoe last week despite clearly going through some intense leg pain throughout the contest. For a minute it seemed as if the doctor might stop the match, but "El Toro Blanco" fought to his feet, threw down with Mark, and found the way to his first three points in the Continental Classic.
Now these two hard-hitting forces will collide in a rematch of their AEW Interim World Title Match that took place at FIGHT FOR THE FALLEN 2022 on July 27th, as well as the Texas Tornado Tag from the 2/15/23 DYNAMITE that saw The BCC of Mox and Claudio defeat Rush and Preston Vance. Everyone knows the kind of fight these to men bring to the table, and how each seems to feed off getting hit by their foes, but as this tournament gets deeper, as their bodies break down further, and WORLDS END gets closer, will their strategies change? A win for Rush will tie him up with Mox at three points, one for the former 3-Time AEW World Champion could potentially put him at the top of the heap with nine depending on how Swerve's fight plays out. Every win is crucial, but this week marks the halfway point, and no one can afford to take an "L"…
Jay Lethal (0) vs. Jay White (3)
This is one part Continental Collision contest and one part rubber match as, over the course of their careers, Jay Lethal and Jay White each hold a singles victory over the other. For Lethal, his victory over the future "Switchblade" came at ROH's GLOBAL WARS 2017, NIGHT 2 event during Jay's stateside excursion from the New Japan Dojo. There were other bouts involving the two, eight-mans and Three Way's and Four Corner Survivals, even a trios bout in Korakuen Hall, but that October 13th fight in Pittsburgh was their lone singles until "King Switch" came calling five years later.
From December 2021 through April 2022, Jay White held what he called "The U.S. of Jay Open Challenge Series" during NJPW STRONG broadcasts, a five match series where he first battled Swerve, as well as Christopher Daniels, Chris Sabin, and "Speedball" Mike Bailey. In the second match of the series Jay Lethal answered the call, and on 2/19/22, fell before "Switchblade".
That bring us to this Wednesday night, the halfway point of the Continental Classic with two matches in the rear view mirror and two waiting down the road, but only one of these two men is on the scoreboard. With a shady victory over Rush, but a loss to Swerve, "Switchblade" Jay White sits with three points while Lethal, following losses to Moxley and Swerve, has a zero beside his name.
So not only are these men fighting for the next three points, they are also fighting for dominance in their series of matches, and in the case of Jay Lethal, desperation to get on the board at all. Should Lethal lose again here, and if Moxley and/or Swerve win, well "The Franchise of ROH" will mathematically be eliminated from winning the bracket.
WHAT IS MJF THINKING…
AEW World & ROH World Tag Champion MJF and Samoa Joe
vs.
The Devil's Masked Men
https://www.youtube.com/embed/6xW-341p1Y4?si=hirMWkgfh3WPV12j&start=50
Given his physical condition, the face that he's got to fight Samoa Joe at WORLDS END in twenty-four days, and that he's still carrying the ROH World Tag Team Titles on behalf of himself and Adam Cole, is it wise for MJF to enter into a fight this Wednesday night on DYNAMITE, especially when he has no idea who whose foes actually are?
And what good is Samoa Joe's promise to keep MJF intact for their fight on December 30th if the AEW World Champion isn't taking care of himself? Perhaps that's why Maxwell feels emboldened to take up this tag team fight against an unknown entity, perhaps he's just lost the ability to use his common sense, whatever the case, this is certainly not the same MJF who spent most of his AEW career avoiding the fight as much as possible. After all, this is the guy who skated by with just six matches in 2019, two of those being Battle Royales, and may see more ring time this year than in the last two combined! Now MJF is running towards the fight, his physical health be damned, and it may fall on Samoa Joe to protect the man from himself if the former AEW World TV Champion hopes to actually see their scheduled World Title Fight in a few weeks.
If not underneath the guise of The Devil, will we all see who's under the black masks this Wednesday night on DYNAMITE? Or will that be a mystery that continues to haunt Maxwell Jacob Friedman as struggles to keep the AEW World Champion in his grasp?
https://www.youtube.com/embed/E_UuH_f5_Cw?si=U9iMEtBCDrI9AkEt
DYNAMITE comes to Montreal's Bell Centre for the very first time, and with it comes two massive championship fights, as well as the next three fights in the Gold League! We will see Swerve Strickland take on Mark Briscoe, Jon Moxley throw down with Rush, and Jay Lethal fight Jay White, plus "Timeless" Toni Storm defends her AEW Women's World Championship against Skye Blue! And in one of the most anticipated fights in All Elite Wrestling, TNT Champion Christian Cage will fig "The Rated R Superstar" Adam Copeland with his coveted title on the line!
The night begins at 8pm ET/7pm CT live on TBS, as well as at AEWPlus.com for international fans, so drop in on the official AEW YouTube channel for all the highlights from recent episodes of DYNAMITE, RAMPAGE, and COLLISION, as well as this week's CONTROL CENTER!