Tagged as: 12, Adam Copeland, AEW, AEW Collision, AEW Dark, AEW Dynamite, AEW News, AEW Rampage, All Elite, All Elite Wrestling, Being the Elite, big, Bryan Danielson, BTE, Christian, CZW, Dynamite, Elite, Event, Forever, From, HELP, Highlights, Jade Cargill, List, Max, MJF, Pro Wrestling, Professional Wrestling, pwg, Revolution, ring of honor, ROH, SAW, share, Swerve, Tag, TBS, Television, The, the man, title, TNT, Tournament, Tuesday, Well, Wrestledream, Wrestling, YouTube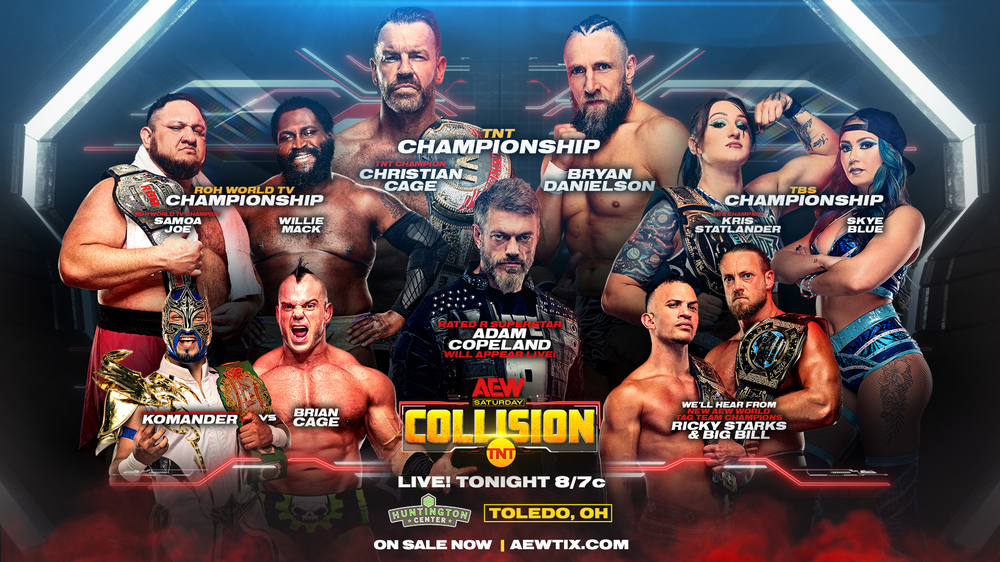 https://www.youtube.com/embed/agb0ZK1xtG4?si=dpib56vvebzJ5MYR
All Elite Wrestling has made it abundantly clear that Saturday night's alright for fighting, and this Saturday on COLLISION will be no different! With AEW's debut at Toledo's Huntington Center, there are three championship fights on tap with the TBS, the TNT, and ROH World TV Championships at stake. The first contested between Kris Statlander and Skye Blue with the second between defending champion Christian Cage and challenger Bryan Danielson, the man who defeated Swerve Strickland on DYNAMITE: TITLE TUESDAY to earn the opportunity! As for the latter, as Samoa Joe nears a championship record currently held by Jay Lethal, he welcomes the challenge of Willie Mack! These two hard-hitting big men are looking forward to throwing down in Toledo, and we know Joe also has his eye on the prize currently around MJF's waist: the AEW World Championship!
COLLISION is back at its normal start time of 8:00pm ET/7:00pm CT on TNT, so make a point to visit the official AEW YouTube channel for highlights from this week's episodes of DYNAMITE and RAMPAGE, as well as the latest editions of CONTROL CENTER, and so much more!
TNT CHAMPIONSHIP MATCH…
Christian Cage(c) vs. "The American Dragon" Bryan Danielson
https://www.youtube.com/embed/J2A8-uKBmio?si=UBRAusKhonnFbIkV&start=513
When last we saw Christian Cage he was trapped in Bryan Danielson's LaBell Lock, with best friend Adam Copeland looking on, as DYNAMITE:TITLE TUESDAY faded to black. The efforts of Luchasaurus and Nick Wayne to bring harm to Adam after he bested Cage's "Right Hand of Destruction" were ultimately for naught as a scene also involving Claudio Castagnoli, Wheeler Yuta, The Gates of Agony, Swerve Strickland, and Hangman Page played out until it was just Bryan, Copeland, and Christian left inside the squared circle.
Though there is clearly a level of respect between The BCC and Adam Copeland, the primary reason for Danielson's involvement in this entire scenario is the TNT Championship. Earlier in the night, in the opening match of DYNAMITE, Bryan Danielson survived the fight with Swerve Strickland, with a little help from Hangman to prevent Swerve's cheating, to earn this shot at the TNT Championship. Danielson, coming off victories over Swerve, Zack Sabre Jr. Ricky Starks, and Kyle Fletcher, not to mention defeating Kazuchika Okada with a broken arm, is operating on a level unlike any he has before. Perhaps it's the knowledge that this is his last full-time year in professional wrestling that is driving him to that next echelon, perhaps it's because he chose to share that information with the world that is really causing him to push himself harder than ever before.
Whatever the case may be, Christian Cage has to be prepared to deal with a version of Danielson unlike any with which he is familiar, and these two are rather familiar with one another. Though it's been since February 17, 2014 that they last went one-on-one, they shared the ring here in All Elite Wrestling as friends on October 2021, and before either called AEW home, they'd been on opposite sides of the ring as far back as May 12, 2006 at Ring of Honor's HOW WE ROLL event.
But just as this Danielson is unlike any version of the man Christian Cage has faced, so too is this TNT Champion version of Christian a far worse, far more vile, far more despicable man than "The American Dragon" has dealt with previously. Cage's list of crimes and insults has been well documented, the official AEW YouTube Page even has a playlist detailing his despicable act, and his (ab)use of Luchasaurus and Nick Wayne has only made it even clearer how low Christian Cage will stoop to claim he is the greatest wrestler in the world.
Given that Bryan is frequently labeled with that G.O.A.T tag, Cage might consider this a battle of the greatest to do it, but that would require the TNT Champion to actually recognize anyone else as being close to his level, and the AEW faithful know that Christian gives credit to no man or woman other than himself. So on Saturday night, when COLLISION comes to Toledo for the very first time, can Bryan Danielson defy the odds and Cage's willingness to cut any corners and finally capture his first championship in All Elite Wrestling? He was unable to do so at REVOLUTION 2023 when faced with MJF, unable to do so when he twice challenged Adam Page, and unable to do it when he fought Jon Moxley in the 2022 Grand Slam Tournament of Champions. With this being his first chance at claiming the TNT Championship, will it be the American Dragon's night, or will Christian Cage somehow find another way to escape seeming certain demise with the TNT Title still in his possession?
ROH WORLD TELEVISION CHAMPIONSHIP MATCH…
Samoa Joe(c) vs. Willie Mack
Ten years ago; that was the one and only time Samoa Joe and Willie Mack ever shared a ring prior to this coming Saturday night, and on that November night in California's City of Commerce, it was Samoa Joe who emerged triumphant. By that point Joe had already been a multi-time World Champion, had helped establish Ring of Honor as the most influential wrestling promotion of the 21st Century, had traversed the globe, and become one of the most feared competitors in pro wrestling. Willie Mack, six or seven years into his career at that point, was really building steam in places like PWG, APW, CWFH, and had begun to branch out beyond the West Coast in tournaments like CZW's Best of the Best and AIW's JT Lightning Invitational, but California would generally remain his home base.
Fast forward a decade later and the two men find themselves inside the same circles once again, competing for Ring of Honor and All Elite Wrestling, with Joe the dominant champion once again. With 549 days spent as ROH World TV Champion, Joe is just 19 days away from surpassing his former protege Jay Lethal as the longest reigning TV Champion of all-time, a feat that would give Samoa Joe that designation with two different Ring of Honor championships. While Lethal's 36 successful defenses are likely a number that will remain forever out of reach, Joe has absolutely asserted himself with a dominance that no other Television Champion has before him.
Shane Taylor may be a close second in that regards, but the victory Samoa Joe has over him puts Joe on top of that comparison. So can Willie Mack be the one to step up to the throne and knock the King of Television off? Mack is a hard-hitting man just like the TV Champion, has no problem throwing down with fists and elbows, and it very well may be the biggest night of his wrestling career if Willie can actually be the one to end Joe's reign. It is clear that, in addition to his duties as ROH World TV Champion, Joe still has designs on the AEW World Championship held by MJF, but before he concerns himself with Max, Joe best keep his eye on Willie Mack this Saturday night lest he find himself leaving Toledo short a championship title.
TBS CHAMPIONSHIP MATCH…
Kris Statlander(c) vs. Skye Blue
https://www.youtube.com/embed/qo-MnTn5GuY?si=88vvGx-DFY-80p3O
After defeating Emi Sakura Friday night on RAMPAGE, Skye Blue will get what she's been chasing, a championship opportunity, this time in the form of a TBS Championship challenge against friend Kris Statlander! Though Skye has been a bit…off…since her encounter with The House of Black's Julia Hart got her misted, it did lead to that victory, and now she'll face Statlander for the very first time!
Despite their friendship, these two have never shared a ring with one another as friend or foe prior to Saturday night. Whether or not that is beneficial to either woman's goal of being champion remains to be seen; neither has first-hand knowledge of each other's capabilities making it a bit harder to prepare counters and counters-to-counters, leaving tape study as the best way to prepare for this bout, also the fact each has had barely 24 hours to game plan leaves both on something close to equal footing.
Will Statlander continue to push towards her goal of surpassing Jade Cargill as the most dominant TBS Champion in AEW history? Or will Skye Blue claim her first AEW title and begin to build her legacy?
THE RATED R SUPERSTAR HAS ARRIVED!
https://www.youtube.com/embed/PvXJ_H5VnCA?si=07F5Pb3CI2_YCiwb
Tuesday night on DYNAMITE fans witnessed Adam Copeland make his AEW in-ring debut with a victory of "The Right Hand of Destruction" Luchasaurus. While that moment was triumphant, Nick Wayne and TBS Champion Christian Cage did their best to make the remainder of the night a terrible one for "The Rated R Superstar". Luckily Copeland had some support in the form of The Blackpool Combat Club, and even though the situation ended in chaos also involving Adam Page and The Mogul Embassy, ultimately Christian Cage ended up in Bryan Danielson's LaBell Lock while Adam stood on and witnessed it.
This Saturday on COLLISION Adam Copeland will be back in the house to address what went down on Tuesday, and perhaps lay out what his next steps will be! Copeland made it clear that he initially came to AEW to reunite with his best friend Christian, but with the events that have gone down since his debut at WRESTLEDREAM, is that still Copeland's goal?
ALSO FEATURING:
-AEW World Tag Team Champions Big Bill & Ricky Starks in the house!
-AAA Cruiserweight & AAA World Tag Champion Komander vs. "The Machine" Brian Cage!
COLLISION debuts in Toledo, OH at the Huntington Center this Saturday night and brings three titles fights to the dance! The ROH World TV Title is at stake between Samoa Joe and Willie Mack while Christian Cage puts his TNT Championship on the line against "The American Dragon" Bryan Danielson and TBS Champion Kris Statlander defends against Skye Blue! The bouts begin at a our regular time of 8:00pm ET/7:00pm CT on TNT, so make a point to visit the official AEW YouTube channel for highlights from this week's episodes of DYNAMITE and RAMPAGE, the latest editions of CONTROL CENTER, and much, much more!