Tagged as: #AllIn, 12, Adam Cole, AEW, AEW Dark, AEW Dynamite, AEW News, AEW Rampage, Aftermath, All Elite, All Elite Wrestling, ALL IN, All out, Being the Elite, big, Bryan Danielson, BTE, Bucks, Bullet Club, chris jericho, DIG, don callis, Double or Nothing, Dynamite, Edge, Elite, Event, Finals, Forbidden Door, From, gold, HELP, Highlights, Jade Cargill, Jericho, keith lee, kenny omega, KillShot, London, Lucha, Max, Memory, Merger, MJF, New, njpw, Orange Cassidy, OWN, PPV, pro wrestler, Pro Wrestling, Professional Wrestling, Returns, ring of honor, Rivalry, ROH, SAW, SEE, Show, Stadium, Stadium Stampede, sting, Surprise, Swerve, Tag, tag team titles, TBS, Television, Test, The Acclaimed, the man, the young bucks, title, TNT, triggered, UK, Wednesday, Well, Wembley, Willow, WOKE, WON, Wrestling, You, Young Bucks, YouTube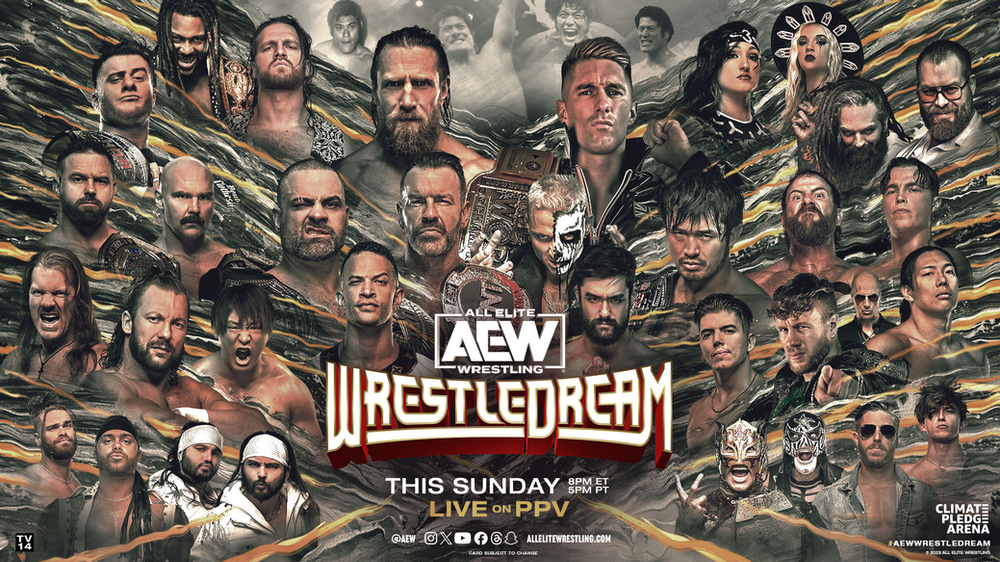 https://www.youtube.com/embed/5VenDXf6FLM?si=GQP5Ohl30M3mM1CP
This Sunday night, live on pay-per-view (https://www.allelitewrestling.com/watchwrestledream), All Elite Wrestling presents WRESTLEDREAM (https://www.allelitewrestling.com/aew-event/aew-wrestledream) from the Climate Pledge Arena in Seattle, WA! Headlined by the Danielson/ZSJ "Submissions in Seattle" dream match over a year in the waiting, this event is as loaded as it gets, and with AEW PPV's that is saying quite a lot!
Six championships will be on the line, including a match with both the ROH World and NJPW STRONG Openweight at stake, plus we will see the next contender to the AEW World Tag Team Titles crowned in an all-star Four Way Tag! In addition, Kenny Omega and Kota Ibushi will be joined by the unlikeliest of allies in Chris Jericho to take on The Don Callis Family, Hangman Page faces Swerve Strickland, and more!
The action begins at 8pm ET/7pm CT, with the ZERO HOUR getting underway at 7pm ET/6pm CT on the official AEW YouTube channel (https://www.youtube.com/@AEW/videos). Before the ZERO HOUR gets underway, be sure to check out the highlights from all the week's action to get ready for the first-ever WRESTLEDREAM event!
TNT CHAMPIONSHIP/2 OUT OF 3 FALLS MATCH: Christian Cage(c) vs. Darby Allin
https://www.youtube.com/embed/mLn5lhSr5qk?si=NlPfWEfexYq2wKYm&start=124
This is as personal as a rivalry in the AEW career of Darby Allin has gotten, and it should come as little surprise that it's due to Christian Cage picking, poking, and prodding at any vulnerability he sees. He's not the first man to pick at the scab of Darby's late-uncle, but he might be the one whose gotten the most reaction from Darby out of it. He's likely not the first man in the life of Nick Wayne to prod at the memory of his late father Buddy Wayne, but Cage has managed dig in deeper than anyone else. And he's certainly not the first individual to manipulate others to find a way to his goals, but Christian Cage has done it so masterfully with Luchasaurus that the former TNT Champion is still standing at the side of the man who took the title from him.
It's clear that Christian Cage is a horrible human, at his core possibly the worst man to ever set foot in an AEW ring, and that's saying something when Don Callis is also part of the scene. This is a man who has used the deaths of loved ones as a tool against his foes, who has dismissively addressed his own children on live television, and treated everyone around him like pawns on that proverbial chessboard. He's scum, and this Sunday night in Seattle, in front of the people who have witnessed Darby's rise to the top from the very beginning of his career, in front of those who watched his TNT Championship triumph over Samoa Joe back in January, Christian Cage is going to get his comeuppance two times over.
In a two out of three falls match, Christian Cage will defend the TNT Championship against Darby Allin and he may well have to do so all by himself depending the outcome of the Luchasaurus/Nick Wayne match during ZERO HOUR. His Right Hand of Destruction may not be available for the assist if Nick Wayne gets his way during their fight, because even though Darby challenged Cage to leave Luchasaurus behind, it's highly unlikely Christian will stick to his word that he doesn't need Luchasaurus to beat Darby. Also it won't be enough for Cage to beat Darby once, if he beats him at all, he's got to do it twice in a single match, and given Allin's ability to take the pain and use it as fuel, that may be an impossible task for even the lowliest of men.
Will this be the night that Christian Cage finally beats Darby Allin after losing to him twice in recent months, or will it be a triumphant night for the 2-Time TNT Champion, one where he hoists the title up for the third time, and shuts up Christian Cage for the moment?
SUBMISSIONS IN SEATTLE…
"The American Dragon" Bryan Danielson vs. NJPW TV Champion Zack Sabre Jr.
Over a year ago at the inaugural FORBIDDEN DOOR pay-per-view, this fight was on the table, but an injury Bryan Danielson sustained during Anarchy in the Arena at DOUBLE OR NOTHING 2022 forced a change to the line-up, and introduced Claudio Castagnoli into the AEW landscape.
Fast forward to September 9th's episode of COLLISION, just a few days removed from defeating Ricky Starks in a No DQ Strap match at ALL OUT 2023, and Bryan Danielson issued the challenge to Zack Sabre Jr. to finally make their dream match a reality. It is not their first meeting, that took place in March 2008 in the United Kingdom where Bryan beat ZSJ in a 2 Out of 3 Falls match, nor is it their second as that took place in March 2009 in Germany and was won by Zack Sabre Jr., but both of those matches too place in the early years of the NJPW TV Champion's career, before he evolved into the fight he is today.
As talented a wrestler as ZSJ was at that point, just 4 and 5 years into his career, the reality of being a wrestler is that he was still just only beginning to understand the intricacies of the game. Even Bryan's experience, nearly double that of Zack when they first faced, was still just only beginning to elevate and even in 2009 many considered "The American Dragon" the best wrestler in the world. In the fourteen years since their clash each has grown exponentially as a competitor and as a man, and though Danielson has dealt with injuries that many considered the death knell of his in-ring career, he has rebounded back better than he ever was before, and considering the G.O.A.T moniker that was already being applied in 2015, that's speaks volumes to just how vast a pro wrestler's knowledge can get.
Much like Bryan, Zack Sabre Jr. has only gotten better with age, his already superb submission skills honed to a lethal edge, and with that so too has his ego grown. There is little doubt foisted about any who claim ZSJ to be the greatest technical wrestler alive, he's shown the skills it time and again all around the world, be it as part of SUZUKI-GUN, or since he become the first, and thus far only, NJPW World TV Champion earlier this year at WRESTLE KINGDOM 17.
But there are those who also put that crown on Bryan Danielson's head, and with "The American Dragon" telling the world that he's in his last full-time year of competition, every wrestler worth their salt is going to want to test the man on his way out, and try to snatch the crown. What's interesting here is that this is not a case of Zack wanting Bryan as that time draws near, but rather Bryan wanting the fight after being unable to bring the rubber match to fruition last year.
And that brings us to this "Submissions in Seattle" fight between two of best grapplers in the history of professional wrestling, not just best of today, but best of all-time, and that is an undisputed fact. After confronting each other in the aftermath of COLLISION's All-Star 8-Man tag, what is this fight going to look like? Will ZSJ live up to his promise to end Bryan's career in 2023? It may be a homecoming for Bryan, but is he coming home just to say goodbye?
AEW WORLD TAG TEAM CHAMPIONSHIP MATCH…
FTR (Cash Wheeler & Dax Harwood)(c) vs. Aussie Open (Kyle Fletcher & Mark Davis)
One year ago, New Japan's ROYAL QUEST II event at the Crystal Palace in London, FTR and Aussie Open went to battle with the IWGP Tag Titles hanging in the balance. For thirty-two minutes Dax Harwood, Cash Wheeler, Kyle Fletcher, and Mark Davis battled their hearts out, leaving every bit of themselves in that ring, but when the final bell rang it was FTR, the defending champions, who walked away with the titles still in their possession. Three months later at WRESTLE KINGDOM 17 Kyle and Mark would have to watch Bishamon, the team that beat them in the 2022 World Tag League Finals, dethrone FTR, and though Aussie Open would in turn take the IWGP Tag Titles from Hirooki Goto and YOSHI-HASHI in April, as well as win the NJPW STRONG Openweight Tag Titles, they would end up having to vacate bout due to Mark Davis' injury.
Still, while Mark healed and Kyle flew solo for a bit, that loss to FTR clearly ate them up, and hearing Dax and Cash continue to proclaim themselves the greatest tag team in professional wrestling, even after losing all three of their titles between December 2022 and January 2023, didn't help matters. The fact that FTR claimed the AEW World Tag Titles for a second time only exacerbated those feelings, and winning the ROH World Tag Titles at DEATH BEFORE DISHONOR 2023 upon Mark's return to action didn't prove a salve for Aussie Open either. Listening to FTR, watching them with the AEW World Tag Titles, and losing the ROH World Tag Titles to Adam Cole and MJF, well it all just threw gasoline on the fire. The match that finally blew it all up for Kyle and Mark was watching FTR engage in Open Challenges and facing teams that Aussie Open didn't deem worthy of the opportunity they felt they'd earned many times over.
So it was set, just prior to The Workhorsemen of JD Drake and Anthony Henry getting their shot, that Aussie Open would face FTR at WRESTLEDREAM, and should Dax and Cash retain the titles in their fight with The Workhorsemen, they would be on the line in Seattle! Well here we are, the bell set to ring in just a short time, and after Saturday night's clash on COLLISION, all four men are anxious to throw down without anyone else involved. No Blackpool Combat Club, no Starks and Big Bill, just two teams that each believe they are the greatest competing in professional wrestling today, and possibly even of all-time.
FTR wants a fight with the toughest version of Aussie Open, not the ones who may have taken an MJF and Adam Cole team lightly, but the ones who carried two sets of tag belts simultaneously last year, the ones who gave FTR the fight of their lives at ROYAL QUEST II. Conversely, Aussie Open want the belts and they want to desecrate the legacy of Cash Wheeler and Dax Harwood. Kyle and Mark want to desecrate the work that earned FTR those seven stars, and expose them as subpar to Aussie Open. With The Young Bucks, with The Briscoes, as heated as the fights got, for FTR there was at least some level of respect shared between the four men, but here with Aussie Open, there is no respect for the champions, only disdain.
Can Aussie Open tarnish the names of FTR and take the AEW World Tag Team Championship from their hands, or will it be Dax and Cash who continue to show why they are the best tag team in wrestling today while simultaneously building their legacy towards being known as the best team to ever do it?
ROH WORLD/NJPW STRONG OPENWEIGHT CHAMPIONSHIP MATCH…
Eddie Kingston(c) vs. ROH Pure Champion Katsuyori Shibata
Twice now Eddie Kingston and Katsuyori Shibata have shared the ring as partners, one victory and one defeat, but that defeat at ALL OUT 2023, where Eddie took his eye off the prize for a moment and fell victim to Claudio Castagnoli proved to be the final thing Kingston needed to have happen to push him over the hump. Seventeen days later, in front of his hometown fans and his family at DYNAMITE: GRAND SLAM 2023, Eddie did the one thing that has evaded him since September 2009, he beat Claudio Castagnoli, and not only did he beat the man, Eddie dethroned him as ROH World Champion.
Shockingly Claudio also shook Kingston's hand after the match, a sign of respect for the fight they had, and hearkening back to a Respect Match they had in November of 2009, but little more than that. These are not to men who will ever be friends again, but at least they can respect the fight and acknowledge one another for their skills.
https://www.youtube.com/embed/_Z_FPQEghtA?si=XIJNb2GRf_aMBG81&start=124
That acknowledgment of skill, the recognition of a fighter, that is the reason why Eddie Kingston made the challenge to Katsuyori Shibata, the Ring of Honor Pure Champion, to meet him at WRESTLEDREAM for a championship bout. While the Pure Title will not be at stake, after Eddie retained the NJPW STRONG Openweight Championship on RAMPAGE, both that and the ROH World Championship will be on the line in Seattle! This will mark the first time Shibata has challenged for either of Kingston's championships, as well as their first-ever meeting as foes, and Kingston could would've been hard-pressed to find a tougher first challenger to his ROH reign than "The Wrestler".
A lethal striker, a submission specialist, and man who loves to dish out pain, Shibata is the kind of man to absorb every one of Kingston's blows and channel them into himself like some kind of fuel. He will not go down easily, this is a man who survived near-death and fought to return to professional wrestling after all, and Eddie will have to throw every bomb he has at the man to put him down. Should Eddie Kingston emerge from this fight with his belts intact, he will have earned it the hard way, just as he has done throughout his entire life, and the same will be said for Shibata as Kingston will rain punishment down upon him as well.
This is going to be a hard-hitting war, of that there is no doubt, and when it ends, no matter who comes out on top, there will be a show of respect and sportsmanship because that is what Ring of Honor is about at its core, and that is what both Shibata and Kingston want from pro wrestling at theirs.
AEW WORLD TAG TITLE #1 CONTENDER MATCH…
The Gunns (Austin & Colten) vs. ROH World Six-Man Champions The Young Bucks (Matt & Nick Jackson) vs. The Lucha Brothers (Penta El Zero Miedo & Rey Fenix) vs. FTW Champion HOOK & Orange Cassidy
https://www.youtube.com/embed/WlPnITnegr4?si=v8bK0JmYz7C5W4uX&start=124
Between the FTR/Aussie Open clash, and this Four Way fray right here, the immediate future of the AEW's tag team division will be shaped. The former will determine which duo moves forward as champion while this bout will set another pair up as future challengers to the throne at any time of their choosing. Three of the teams, The Young Bucks, Lucha Brothers, and Gunns, are former champions, two times over in the case of the brothers Jackson, while the fourth team in this bout will mark this fight as their first outing together. HOOK and Orange Cassidy did the Mixed Trios thing at RAMPAGE: GRAND SLAM 2023, but this high stakes situation is their first actual tag team bout, putting the FTW Champion and the former International Champion in a serious underdog situation.
One thing working in their favor though is that just this past Wednesday night on DYNAMITE, Orange Cassidy knocked Matt Jackson out with the Orange Punch and secured the victory in a Four Way singles match that also included Penta El Zero Miedo and Austin Gunn. That victory may be a sign of things to come, or it could simply the most experienced singles competitors of that quartet getting one over the man with the least. Either way, the world will soon found out just who the next contenders for either Aussie Open or FTR will be!
SINGLES MATCH…
ROH World Six-Man Champion "Hangman" Adam Page vs. Swerve Strickland (w/ Prince Nana)
https://www.youtube.com/embed/6cOQ4haG0Rs?si=K7kpkp7I57LdXoxg&start=124
"What's a buckshot to a killshot?"
That was the question posited by Swerve Strickland when he and Hangman Page sat down to sign the contract for their fight this Sunday night, and by the end of their face-to-face Swerve had a piece of the answer in the form Hangman manically stabbing a pencil into his hand.
After an exchange of harsh words, after Swerve questioning Hangman in the weeks before the signing, after having the audacity to laugh in the face of the former AEW World Champion, Strickland awoke the ugliness inside Page. That ugliness in Hangman is what helped pushed him into the position he is in now, the position that Swerve Strickland covets, but before he woke up that ugliness perhaps Strickland should've looked at what else it did for Hangman. That ugliness pushed him to victory in Texas Death Matches with Adam Cole, Lance Archer, and Jon Moxley, the latter of which he actually made quit, something no man in All Elite Wrestling can say. It helped him survive in Blood & Guts, Anarchy in the Arena, and Stadium Stampede, and it helped him survive through some of the toughest times when Hangman Page was riding alone through the wilds of AEW.
Swerve, for as talented a performer as he is, has not ridden alone in All Elite Wrestling, not when he has had his greatest successes. His reign as champion came in the form of tag team gold, and with that came a partner in Keith Lee, a tremendous partner who helped Swerve reach new heights in AEW, but a partner that Swerve casually discarded when he found others with which surround himself. First born as The Mogul Affiliates, a merger with Prince Nana's Embassy gave birth to The Mogul Embassy, and with that Swerve Strickland surrounded himself with, to be frank, a trio of killers in Brian Cage, Bishop Kaun, and Toa Liona.
They have insulted Swerve in many ways, a great example of that being how in their absence at Wembley it was Strickland shoved into that casket by Darby and Sting rather than Christian Cage, and done his dirty work too many times to count. Just look at the moment Swerve elected to engage in this fight with Hangman Page, it was Brian Cage who committed the physicality rather than Swerve, just as it was Cage who had to step into the ring with Hangman first. That gave "The Machine" his second loss to Hangman, and then it was Cage and The Gates of Agony who had to step up to The Elite with their ROH World Six-Man Championship on the line, and they who paid the price for this fight Swerve started when the lost said titles to The Young Bucks and Hangman.
But now Swerve has to fight for himself, and though it may be in his hometown thus creating a situation likely to make him the crowd's chosen one that night, the crowd isn't inside the ring throwing down with a former AEW World Tag Champion, a former AEW World Champion, and current ROH World Six-Man Champion. It is Swerve, ideally Swerve alone, who has to fight this fight, a fight he picked mind you, and who now has to elevate his game against one of the elite competitors in professional wrestling.
The world knows Swerve Strickland has the talent in the ring, and the world knows he can talk the game, but now he has to prove that the spot Hangman has earned through blood, sweat, tears, and beers, that spot is now Swerve's House.
TRIOS GRUDGE MATCH…
Chris Jericho, Kenny Omega, & Kota Ibushi vs. The Don Callis Family ("The Alpha" Konosuke Takeshita, Sammy Guevara, & IWGP UK Champion Will Ospreay
https://www.youtube.com/embed/qdzMHOM-4p0?si=yjuSpmRKPfE5G_t4&start=124
Don Callis has done his best to decimate the lives of men he once considered family, all in the name of some imagined sleight created in his own mind, one in which Kenny Omega was an ungrateful wretch rather than an unbelievably loyal nephew and in which Don falsely believed Chris Jericho would refuse his help, thus painting that portrait that triggered their splintering, creating his own self-fulfilling prophecy.
Callis sees both men's successes, and by proxy the success of AEW, as belonging to him rather than those two men or all the forces that have helped create All Elite Wrestling over the last four years. Don believes that without him Jericho never goes to New Japan, Kenny never goes to Japan, their WRESTLE KINGDOM 12 match in 2018 never happens, and thus AEW is never born. With all his heart and soul, Callis believes those to be facts, and on an even grander scale, he essentially wants credit for everything Kenny Omega has accomplished in his storied career.
So he has stabbed Omega in the head with a screwdriver, turned Takeshita to his side opposite The Elite, aligned himself with The BCC heading into Blood & Guts (bailing when it was no longer convenient of course), aligned with BULLET CLUB GOLD when it was beneficial, facilitated Will Ospreay coming to AEW for fights with Jericho and Omega, poisoned the well of the Jericho Appreciation Society which led to their fracturing, and finally turned Sammy Guevara against his best friend and mentor, though given their tense history it may not have taken much persuasion to pull Guevara away.
But for all his manipulation and plotting and scheming, it is highly unlikely that Don Callis ever saw Chris Jericho and Kenny Omega coming together over their mutual disdain for Don and all he's done to their lives over the last several months. For years now Jericho and Omega have stayed as far away from each other as possible, and yet it was the only Triple Crown champion in AEW history who rushed to Jericho's aid when "The Ocho" was at his lowest, totally alone.
To say it was shocking to both Callis and the AEW faithful would be a massive understatement, but it was likely just as shocking to Jericho to see the form his salvation took, and likely shocking to Kenny as well that he would even take up arms alongside Jericho. Only Don Callis could bring together two men with such a heated history and make them allies, but perhaps it was only Don Callis who could whisper the right words in the ears of Takeshita, Guevara, and Ospreay to get them on his side of this fight. It's clear Don will stoop to any low in his mission to destroy Jericho and Omega, in a situation eerily similar to how he got BC GOLD to attack Kenny Omega in Jacksonville, Callis and Takeshita traveled to Tokyo in order to get at Ibushi while he was without any support.
https://www.youtube.com/embed/k5gO4Qt1BwE?si=DCgjpjTvJyQyZAqp
After Saturday night's tag team bout it is clear that they can figure out a way to work together, as long as Nana isn't around to distract, so this Sunday night the unlikely trio of Kenny Omega, Kota Ibushi, and Chris Jericho will have to do the same to try and end Don Callis' family. Callis has done nothing but wreak havoc on the lives of Jericho, Omega, and now Ibushi, and used men like Takeshita, Guevara, and Ospreay as his chess pieces to do so. Whether or not this can ever end while Callis occupies the same space as those he once called family is a reasonable question, one that may be answered comes Sunday in Seattle live on pay-per-view.
TBS CHAMPIONSHIP MATCH…
Kris Statlander(c) vs. The House of Black's Julia Hart
https://www.youtube.com/embed/vNpp3SBiePs?si=brABVlg6KGqiyqox
28)Vertvixen
27)Willow Nightingale
26)Kiera Hogan
25)Skye Blue
24)Bambi Hall
23)No Holds Barred: Anna Jay AS
22)Kiera Hogan
21)Anna Jay AS
20)Kelsey Heather
19)Zoey Lynn
18)Devlyn Macabre
17)Leva Bates
16)Promise Braxton
15)Sahara Seven
14)Tiara James
13)Missa Kate
12)Alice Crowley
11)Arie Alexander
10)Vickie Dreamboat
9)Hayley Shadows
8)Free-Range Kara
7)LMK
6)Renee Michelle
5)Amber Nova
4)JC
3)Valentina Rossi
2)Jacey Love
1)Abby Jane
Starting with last night's COLLISION and working backwards to DARK: ELEVATION #61 on 5/2/22, those are the women that have fallen before Julia Hart on this road to WRESTLEDREAM on Sunday night, but to truly see where this all began, one need only look a week prior to that first win, April 25th's edition of ELEVATION, the night that Julia Hart lost to Kris Statlander in just over six minutes. A month after that loss to Statlander, Hart would align herself with The House of Black, and ever since then fans have witnessed a slow, systematic descent by Julia into a sadistic bent for punishment. Hart has come to relish the pain she inflicts on individuals, both the women in her division and the men with whom her House compatriots fight, and it has been particularly noticeable in the last several weeks as Hart's desire to avenge her last loss became apparent.
Meanwhile, just a few months after that victory over Julia, Kris Statlander would find herself on the outside looking in, recovering from a devastating knee injury that kept her out of action for nearly a year from August 9, 2022 until her shocking reemergence at DOUBLE OR NOTHING 2023 on May 28th of this year. That night in Vegas, not only did Stat return to AEW, but she returned to in-ring competition to dethrone Jade Cargill as TBS Champion, thereby bringing an end to Cargill's dominating run as champion, and her record-setting unbeaten streak.
Since then Kris Statlander has been a true fighting champion, turning away 13 challenges to her reign, including a rematch with Jade and a bout with Dr. Britt Baker D.M.D, and has done nothing but prove herself as worthy of the crown. No challengers would ever be turned away by Statlander, and certainly not one being made by a woman with an undefeated streak as lengthy as that of Julia Hart's. Julie has earned this opportunity, of that there is no doubt, but she elevated the stakes over the last several weeks with her attacks on the women Statlander calls friends, namely Willow, Skye, and Kiera.
The defending champion knows she's not dealing with the same animal she did last time around, that The House of Black has turned Julie Hart into something, someone, far darker than ever before, and unleashed a ferocity in the woman that seems barely contained. Going into this fight Statlander has to remember to meet the woman Julia Hart is now, not the girl she was in 2022, but be aware that where Julia walks she never walks alone. Does The House always wins? Not if Kris Statlander can help it…
ROH WORLD TAG TEAM CHAMPIONSHIP HANDICAP MATCH…
AEW World Champion MJF(c) vs. The Righteous (Dutch & Vincent)
After winning their #1 Contender's Match at RAMPAGE: GRAND SLAM 2023, The Righteous of Vincent and Dutch were all set to challenge MJF and Adam Cole for the ROH World Tag Team Championship titles, but fate had other plans in store. As we all found out this past Wednesday night on DYNAMITE, Adam Cole is injured and won't be cleared to compete for some time, a situation that would generally dictate the champions vacate their titles, leaving the ROH Board of Directors to decide their future. AEW World Champion MJF had other ideas though and made a promise to Adam Cole that Max would make sure the belts were waiting for him when Adam returned to action, and that he would take on The Righteous in a Handicap Match this Sunday at WRESTLEDREAM! Call it crazy brave or just down right stupid, it goes to show just how much this partnership with Cole means to MJF, and just how much these titles may actually mean to Maxwell as well. He's not just holding them for Adam Cole's sake, perhaps he's taking some pride in being a tag team champion and proving he can work with someone else to great success. Unfortunately he's now headed down a path where he's fighting alone, but fighting for two, and doing that against Vincent and Dutch may not be the smartest idea.
https://www.youtube.com/embed/FxYW0EOkSFs?si=X8cRymYiUJXmEi43
It's clear that The Righteous are ready for this fight, ready to dig into the mess that is the situation between MJF, Cole, Roderick, and The Kingdom, and ready to use that situation to engage in psychological warfare against the champion. In addition to their man advantage, that mental game just may be what The Righteous need to leave Seattle as the new ROH World Tag Team Champions, but should MJF find a way to escape this situation with titles in tow, is this his plan from now until the day Adam Cole is cleared? Taking on that role, along with his duties as AEW World Championship, that is a sure way to find himself with no titles to his name…
SINGLES MATCH…
Wheeler Yuta vs. "Absolute" Ricky Starks
Wheeler Yuta still has a problem with "Absolute" Ricky Starks, and this Sunday night at WRESTLEDREAM he aims to pick up right where "The American Dragon" Bryan Danielson left off and kick Starks's head right in. Whether or not picking a fight with Ricky after the hell he went through with Bryan is the smartest idea, well that remains to be seen after the final bell rings and we see whose hand is raised. Starks is not about to let this affront from Yuta go unpunished, and Yuta isn't about to let Ricky skate with what he thought was disrespect to Bryan after their Texas Death Match. This fight between two young and hungry dogs is going to be something to see, and it will be interesting to see if that violence Bryan showed Starks in their two encounters brought that side of Ricky closer to the surface.
ZERO HOUR
-AEW World Trios Championship Match: The Acclaimed & Daddy Ass(c) vs. TMDK (Bad Dude Tito, Mikey Nichols, & Shane Haste)
-Luchasaurus vs. Nick Wayne
-Claudio Castagnoli vs. Josh Barnett
-Diamante, Lee Moriarty, Mercedes Martinez, & Shane Taylor vs. ROH Women's World Champion Athena, Billie Starkz, Keith Lee, & Satoshi Kojima
With the ZERO HOUR getting underway at 7pm ET/6pm CT, and WRESTLEDREAM proper going live at 8pm ET/7pm CT, Sunday night is loaded with the greatest professional wrestling available anywhere on the planet! Do not miss out as All Elite Wrestling returns to pay-per-view, something no one does as consistently amazing as AEW, and especially this time around when it has been called the end of one era and the beginning of another!
https://www.youtube.com/embed/h1GEcDiWEB0?si=SLrcL2jiLwgOnT0g