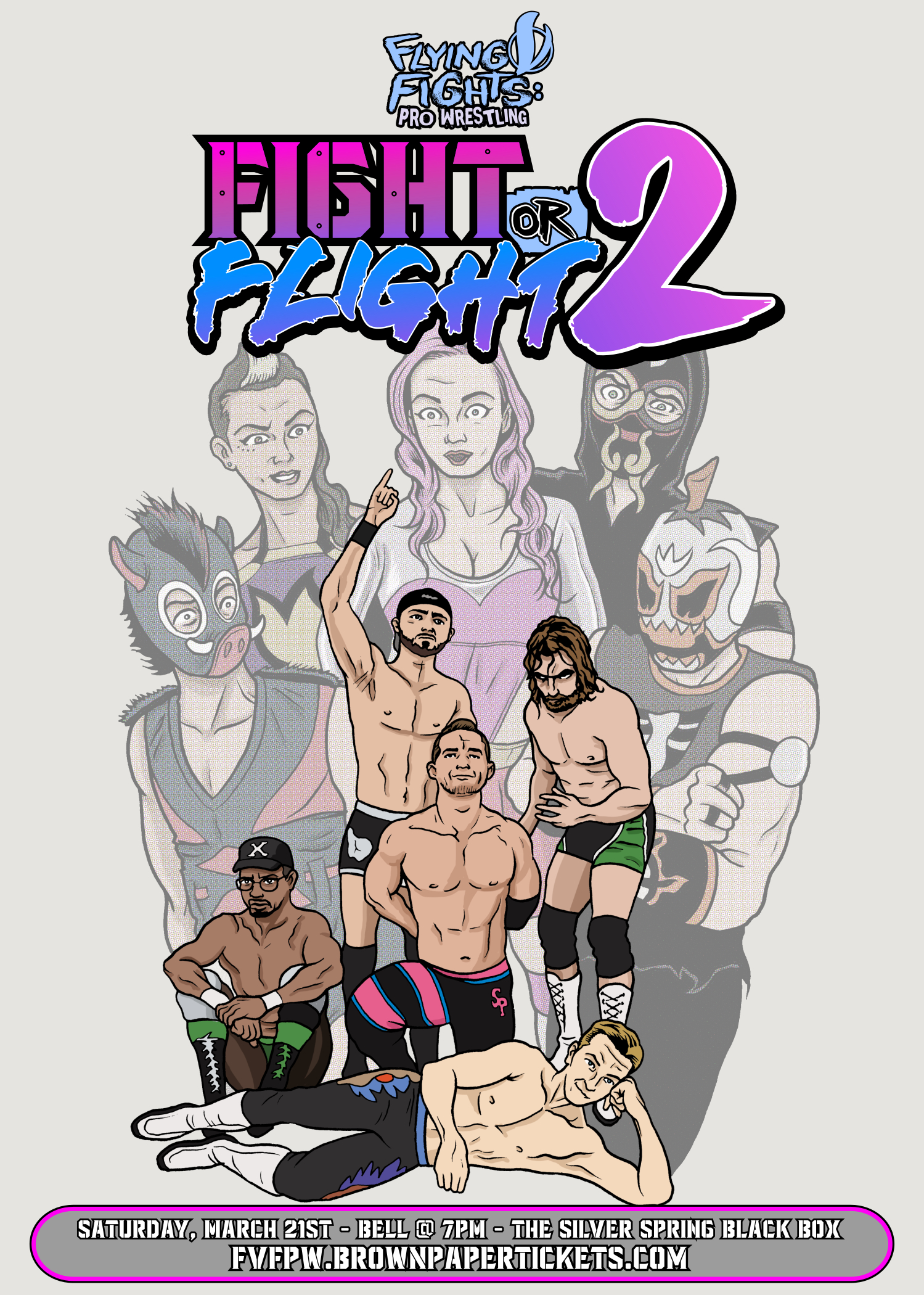 Flying V is thrilled to return with our anniversary show for our Pro Wrestling wing with our fifth event:

FIGHT OR FLIGHT 2!

Saturday, March 21st
Doors – 6:30pm / Bell Time: 7pm
The Silver Spring Black Box
8641 Colesville Rd, Silver Spring, MD 20910

Flying V continues our tradition of exploring and exploding the intersection of combat, art, and storytelling by bringing our Awesome vision to the world of Professional Wrestling!

Featuring top wrestling talent from all over the country, the best from our region, and members of the DC Theatre Community, all coming together in Silver Spring in a battle to be the Best. Be ready for a night of incredible in ring action, pageantry, character, and spectacle as we return to the Silver Spring Black Box for our second show!
Doors Open – 6:30pm
Bell Time – 7pm

*Card Subject to Change*

Can't make the show? Stream it live online at IndependentWrestling.TV! Use code FLYING20 for 20 days free!

Interested in Sponsoring THE HARDEST PART OF THE RING? E-mail [email protected]

Want to make a donation to Flying V to help us keep bringing Pro Wrestling to Montgomery County? Go to https://flyingv.democracyengine.com/flyingv/contribute

Graphic Design by Navi

ABOUT FLYING V: Founded in 2011, Flying V is a non-profit, ensemble-based company dedicated to creating theatre that invigorates and inspires people to live life with a greater sense of appreciation and adventure. A gateway drug that bridges the gap between pop culture and high culture, we are dedicated to the creation, development, and production of vibrant original work, offbeat contemporary plays, and performance art inspired by genre fiction and other modern mythologies. By creating work that reflects the intimate struggles of the human condition through vivid, high concept metaphors and artistic vigor, we hope to shine a light on the loneliness and isolation that so many feel and create a sense of connection and wonder. We are your Friendly Neighborhood Indie Theatre. Expect Awesome. Be Awesome.

Visit us at www.flyingvtheatre.com. Facebook.com/FlyingVTheatre. Twitter.com/FlyingVTheatre.