Tagged as: Action Andretti, Adam Copeland, AEW, AEW Collision, AEW Dark, AEW Dynamite, AEW News, AEW Rampage, All Elite, All Elite Wrestling, ALL IN, Being the Elite, belt, big, boss, Bryan Danielson, BTE, BULL, Bullet Club, chris jericho, Christian, Christian Cage, CM Punk, Cody, cody rhodes, Collision, Con, Continental Classic, Dynamite, Edge, Elite, Event, Fall, Fired, FOX, From, gold, Jericho, kenny omega, Martin, matt hardy, Max, MJF, Montreal, New, OWN, Professional Wrestling, Rampage, results, ric flair, ROH, SAW, SEE, Show, Showtime, Sick, Stardom, sting, Swerve, Switch, Tag, TBS, The, title, TNA, TNT, Toni Storm, Tony Khan, Tournament, Upset, Vikingo, Wednesday, WON, Wrestling, WWE, You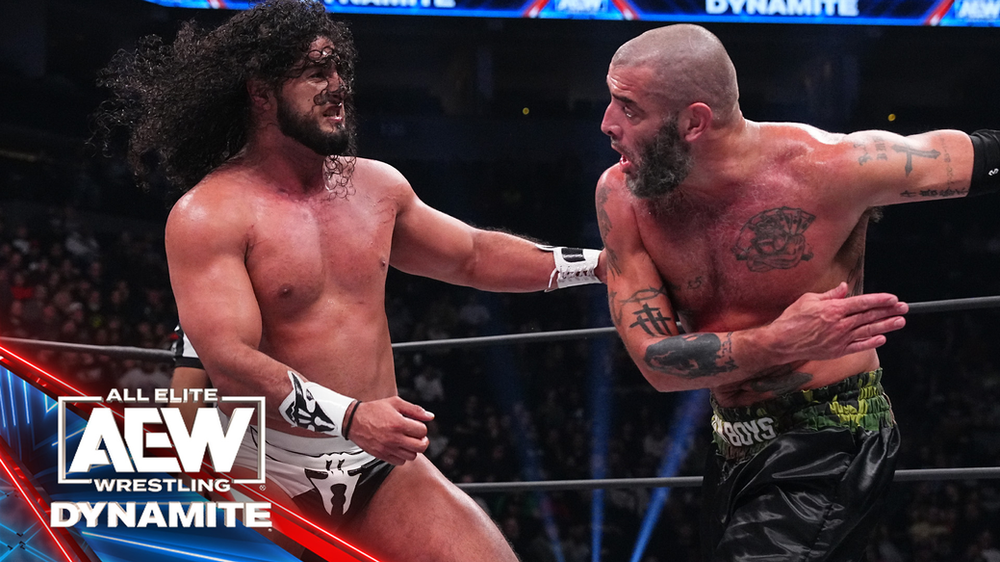 **CONTAINS SPOILERS**
Tonight's episode of AEW DYNAMITE was broadcast live from the Target Center in Minneapolis, MN!
Excalibur and "The Human Suplex Machine" Taz were the broadcast team for tonight's event. They were joined by "American Dragon" Bryan Danielson as a guest commentator.
It's Wednesday night and you know what that means!
Continental Classic Gold League Match!
Blackpool Combat Club's Jon Moxley vs. Jay Lethal!
Lethal and Moxley exchanged side headlock takeovers. Lethal slugged Moxley with a right fist. Lethal applied a figure four but Moxley rolled under the ropes and both men tumbled to the arena floor.
Jay Lethal rocketed outside with a tope suicida to Moxley. Jon Moxley fired back with a tope suicida of his own. Moxley was wrestling with a sense of urgency, while Lethal was showboating early on. Lethal retaliated with a knee breaker and a dragon screw leg whip, sensing Moxley tweaked his knee on the tope suicida landing.
Moxley scouted the Lethal Injection, but Lethal countered Moxley's attempt at a jawbreaker with a knee breaker. Jay Lethal dropped an elbow off the top for a near fall.
"This is the Jay Lethal I want to see," said Danielson.
Moxley nailed Lethal with a cutter. Moxley tried for a piledriver but Lethal pushed Mox into the turnbuckles. Lethal wrenched Moxley's knee with a dragon screw off the ropes!
"This is a different Jay Lethal than we saw last week," added Danielson.
Lethal and Moxley traded forearms. Moxley nearly decapitated Lethal with a King Kong lariat! Lethal blocked the Death Rider with the Lethal Combination. Lethal went to apply the figure four but Mox countered with a small package for a near fall.
Lethal locked on the figure four again. Moxley grabbed the ropes to force the ref to break the hold. Lethal swiped at Moxley's knee with a kick. Moxley baited Lethal in and spiked him with a Paradigm Shift! Moxley hit the King Kong lariat and then a stuffed piledriver, but Lethal kicked out. Moxley transitioned into a rear naked choke and Jay Lethal tapped out! Moxley is the first man with six points in the tournament.
Tony Schiavone was backstage and announced Sting's final match will be Sunday, March 3rd at the Greensboro Coliseum!
"Nature Boy" Ric Flair and Sting walked onto the set!
Sting: "March 1988, my very first World title match against Ric Flair, and I never would have guessed all these years later, I'd be standing here with Ric. The memories, that night, 45 minutes, draw, commercial free on TV. The big deal to me was I was in the ring with the Nature Boy Ric Flair. Thank you, Ric. He put me on the map. What a fitting place for me to end my career all these years later."
Ric Flair: "Tony, just like before, the words cannot be spoken to the volume and the emphasis of what's about to take place in Greensboro. Make no mistake. Sting made himself. I'm 74 years old, I'm lucky. I'm working for Tony Khan. I'm standing next to Sting. I'm honored to be there at your side. This will be one for the ages. Sting and the Nature Boy, and AEW, are coming to Greensboro. Wooooo!"
Sting: "It's showtime!"
Continental Classic Gold League Match!
Mark Briscoe vs. LFI's Rush!
Both men charged at one another and began to fight. Rush landed a big strike. Mark followed up with a running dropkick. Mark unleashed rapid fire chops. Rush returned the favor to his opponent.
Rush kicked Mark in the spine. Mark jumped through the ropes with a dropkick, as Rush was playing to the crowd. Rush whipped Rush into the steel barricade. Mark back dropped Rush onto the top of the barricade. Mark dropped the Cactus elbow off the edge of the ring.
Back in the ring, Rush sent Mark flying with a release German Suplex. Mark threw his whole body into a vicious lariat. Briscoe baited Rush in and caught him with an exploder suplex. Rush rallied back with a belly to belly suplex.
Mark speared Rush for a two-count! Mark followed up with a neck breaker. Rush slipped free from the Jay Driller. Mark dropped Rush with a kick to the back of the head. Rush suplexed Mark off the apron and onto the arena floor!
Mark Briscoe smashed Rush with the Froggy Bow for a near fall. Rush fought out of the Jay Driller, backdropping Mark. Rush baited in Mark and suplexed Mark into the turnbuckles. Rush followed up with the Bull's Horns, right on target, and pinned Mark!
"Rush is on the board!" said Excalibur.
AEW Women's World Champion "Timeless" Toni Storm was backstage!
Storm: "I'm feeling very fatigued after the championship celebration. I'll be fine for my match next week!"
AEW World Champion and one half of the ROH World Tag Team Champions MJF came to the ring next!
MJF: "December 30th, World's End, it'll be Samoa Joe against yours truly for the AEW World Championship. When it comes to Samoa Joe as a person, I don't like him. But professionally, I respect him. I respect what he's done for this industry, and because he didn't come here to line his pockets, but because he believes in AEW.
"Now back in the early 2000s, I remember getting a poster in my mailbox for TNA Wrestling. I tuned in and I couldn't be happier. I saw the 'Samoan Submission Machine.' He looked unconventional, and he didn't seem to care, and neither did we. Now unfortunately, later on in his career, his talents weren't fully recognized, and he was not afforded the opportunity to be a world champion in WWE. But what Joe did, for this sport, was bigger than that.
"Samoa Joe proved you don't have to be a massive, male model body builder to be a top guy in this sport. Samoa Joe broke the mold. He proved alternatives matter. And because of the roads he paved, it has allowed a man like me to stand in the ring in front of you today. Without a guy like Joe, there might not be an AEW. As much as it pains me to admit, thank you.
"I'm not too shabby myself, now am I? I managed to pave a road of my own. I've helped build a new alternative and I've helped build this place brick by brick. And I did that by defeating some of the biggest names in this industry. Guys like Cody Rhodes, CM Punk, Bryan Danielson, Chris Jericho, Jon Moxley, Kenny Omega, but of all the names I have had to face in this squared circle, the one name I look back on and say, not only was I lucky to be victorious, but I was also lucky to survive, that'd be you, Joe. Samoa Joe you are a wrestling legend. But December 30th is not about your wrestling legacy. December 30th is about my mine!
"December 30th is about can Max outlast the final boss of this sport one more time. So now, I'm going to make a promise. I'm going to make a promise to everyone watching at home and everyone in this arena. Joe, on December 30th, I don't care if you beat me within an inch of my life, because I promise I am going to show the world it is not about the size of the dog in the fight, it is about the size of the fight in the dog! At World's End, you are going to have to put me down!"
The arena went dark! Lights in the ring began to flicker. Men dressed all in black, their faces in black masks, with the devil logo on their backs, grabbed MJF and held him down. One of the men had a baseball bat and was about to use it on MJF!
Samoa Joe's music hit! Samoa Joe sprinted to the ring and the men retreated!
A message on the screen read:
"In the shadows, our game begins. Next week, MJF & Samoa Joe…will you face the unknown in a tag match? Are you a hero, Max?"
MJF grabbed a microphone: "I'm so sick of your Scooby Doo BS! Let me explain something to you! I am not dealing with your crap when I've got Samoa Joe breathing down my back at World's End. I am going to take out all of your men one by one. I am going to unmask you, you coward. And next week, you want a tag match? You're one!"
Samoa Joe tried to calm down MJF and was upset when MJF accepted the challenge for next week.
Up next: Wardlow vs. AR Fox!
Fox jumped over the top rope and landed on Wardlow, but Wardlow seemed to shrug him off. Wardlow caught Fox and slammed him on the ring apron. Wardlow suplexed AR Fox back into the ring. Fox was sent flying from pillar to post!
Wardlow stalked his prey outside the ring. Wardlow threw AR Fox back into the ring. Wardlow tried to press slam Fox, but Fox escaped. Fox hit a 450 splash, but Wardlow kicked out right away! Fox booted Wardlow in the face. Wardlow absorbed it and then walloped Fox with a lariat.
Wardlow powerbombed AR Fox! Wardlow powerbombed Fox a second time! Wardlow climbed to the top and hit a huge senton on Fox! Wardlow powerbombed Fox again, and the ref stopped the match! Wardlow won via ref stoppage!
Trios Match!
Top Flight—Dante & Darius Martin, and Action Andretti
vs.
The Hardys—Matt & Jeff, and Brother Zay!
Jeff and Matt used tandem offense on Action. Darius and Brother Zay tagged in. Zay crashed into Dante with a shoulder tackle. Darius dropkicked Zay. Dante tagged in and Dante splashed Zay with a stalling senton!
Matt Hardy drilled Action with a Side Effect for a near fall. Action countered a Twist of Fate and clipped Matt with a combo of moves, including a kick to the back of Matt's head. Dante tagged in and springboarded onto Zay for a near fall. Top Flight had a flurry of offense on the Hardys.
The Hardys hoisted up Dante on their shoulders and Zay dropkicked Dante for a two-count. Dante pinned Zay after a German Suplex! Dante is back and better than ever!
After a commercial break, Renee Paquette interviewed Dante Martin, Darius Martin, and Action Andretti!
Penta El Zero Miedo, Komander, and El Hijo del Vikingo interrupted! It appeared Penta challenged Top Flight and Action Andretti to a trios match!
TBS Championship House Rules Match!
House of Black's Julia Hart (c.) vs. Emi Sakura!
Emi Sakura picked the stipulation: the match cannot be won by submission.
Julia bashed Emi's head into the turnbuckles, battering her in the corner. Julia charged into the corner with a lariat to Emi Sakura. Emi chopped at Julia.
Julia rocked Emi with a spinning kick to the head. Outside the ring, Emi reversed an Irish whip and sent Julia crashing hard into the ring steps. Emi followed up with a splash, sandwiching Julia against the ring steps!
Emi stunned Julia with a stalling back breaker! Emi applied the surfboard to Julia and then dropped her hard. Julia dodged a moonsault. Julia locked in the Heartless, but there is no victory via submission tonight. Julia clubbed Emi in the back of the head with a lariat. Julia moonsaulted Emi and pinned her!
RJ City interviewed Mariah May backstage!
Mariah May: "I know I'm the new girl, but I just came here from Stardom in Japan. I'm dying to show AEW what I can do."
Mariah knocked on Tony Khan's door and walked into his office.
TNT Champion "The Patriarch" Christian Cage responded to Adam Copeland's challenge for next week's Dynamite!
Christian Cage was flanked by AEW security in the ring.
Christian Cage: "What I'd like to do right now is go ahead and invite the Rated R Superstar Adam Copeland to this ring right now. Adam, I know you're back there. I just want to speak to you about a few things about what you said last week. If you don't mind making your presence felt, it'd be very much appreciated.
"Adam, I would like to speak to you in the ring, if you wouldn't mind. If the truck can hit his music, something. Maybe I should come back there and speak to him then."
Adam Copeland's music hit, and Copeland stormed to the ring!
Christian: "Management wanted me to have this security. It wasn't my idea. We don't need security here tonight. So, I'm going to ask you gentlemen to vacate the ring.
"Last week you challenged me to a match to the TNT Championship December 6th on Dynamite. I'm here to tell you that we're not going to make it to Montreal next week. We're not going to make it because I'm sorry. Now look, I know what you're thinking, that I'm only sorry because I'm on an island by myself. Last week you took out the Kill Switch. You took out the "Prodigy" Nick Wayne.
"I was so mad when you hit Kill Switch with two con-chair-tos, I ran out of my house and drove with the windows down. I just needed to think. It turned into a road trip of soul searching, digging down deep, trying to figure out how I became this guy who does and says such unsavory things. And then on that drive, it started to remind me of those times we borrowed my mom's car.
"We didn't care where we went. We were broke. We were having the times of our lives on the road, and we were going to make it. And did we ever make it! We went on to become multiple times tag team champions. The greatest tag team that ever lived. We both became multi time World champions. Take the wrestling part of our relationship away and it runs even deeper.
"Everyone knows you grew up with a single mom, Adam. Everyone knows you didn't have a father figure. Yes, I'm the patriarch of AEW, but I am your brother. You might not have had a father, but in turn, my father became your father. To this day, he's still your biggest fan. I'm just going to say, we weren't just two random guys that were thrown together. I love you, man. We are family.
"And listen to me, when your mom passed away a few years ago, that was the hardest time of your life. But sometime before she passed, she said, 'What I wouldn't give to see you guys in that ring tagging one last time.' And on my drive, I thought, let's do it for her, let's go on this journey again. For your mom! Let's do it for her, man."
Adam Copeland turned around to contemplate what he just heard from Christian Cage. Christian charged at Copeland, trying to strike with a cheap shot. But Copeland saw it coming and kicked Christian with a low blow!
Adam Copeland: "Nice try, dumb ass. Sit up when I'm talking to you. Shine this belt up real nice, because next week, she's coming home with me! Oh, by the way, I almost forgot, go f—k yourself!"
Main Event Time!
Continental Classic Gold League Match!
Swerve Strickland vs. Bullet Club Gold's "Switchblade" Jay White!
Jay White went right after Swerve. White whipped Swerve into the steel barricade. Back in the ring, Jay White went after Swerve's taped out shoulder. Swerve chopped Jay White. Swerve suplexed Jay right onto the top of the barricade.
Swerve jumped off the apron and stomped on Jay White's spine. As Swerve was entering the ring, Jay White grabbed him and planted him with a DDT. Swerve got dropped on his head after a suplex from Jay White.
Swerve intercepted a chop and countered with a suplex to Switchblade. Swerve blasted Jay with a flatliner and followed up with a vertical suplex for a near fall. Jay White retaliated with a German Suplex. Swerve rallied back with a discus lariat!
"These two men! How incredible are these two men?!" said Danielson.
The fans chanted "This is awesome! This is awesome!"
Jay White chop blocked Swerve's knee. Jay White nailed Swerve with a uranage. Jay White applied an arm bar. Swerve escaped and blasted Jay with a kill shot to White's arm. Jay White almost inadvertently collided with the ref. As the ref had his back turned, Jay White went for a low blow, but Swerve had it scouted! Swerve rocked White with a back breaker. Swerve hit the House Call on Jay White. Swerve connected with the Swerve Stomp, but Jay White kicked out at the two-count!
"You have to be impressed with Jay White's resiliency here," said Danielson.
Jay White shocked Swerve with the Blade Runner. Swerve was knocked out of the ring, perhaps a saving grace. Back in the ring, Jay chopped at Swerve, and Swerve fired back with his own shots. Jay White planted Swerve with a sleeper suplex! Swerve countered the Blade Runner, rolling up Jay White and pinned him!
"Impressive roll counter right there," said Taz.
"Cerebral wrestling from Swerve," replied Excalibur.
"That got him another three points to put him at six," added Danielson.
Catch AEW DYNAMITE on TBS next Wednesday live at 8/7ct from the Bell Centre in Montreal, QC!
This Friday tune in to AEW RAMPAGE at 10pm ET on TNT!
Don't miss AEW Collision on Saturday on TNT at 8/7c from the Erie Insurance Arena in Erie, PA!
And remember…the home of professional wrestling is All Elite Wrestling!