Tagged as: AEW, AEW Collision, AEW Dark, AEW Dynamite, AEW News, AEW Rampage, All Elite, All Elite Wrestling, Being the Elite, belt, big, Blonde, boss, Bryan Danielson, BTE, Canada, cj, Collision, Continental Classic, Dynamite, Elite, Event, Fall, Fired, From, HELP, Interview, keith lee, kenny omega, Max, MJF, Montreal, njpw, OWN, POP, Power, Predictions, Professional Wrestling, results, ring of honor, ROH, SEE, Tag, TBS, The, title, Toni Storm, Tournament, Vikingo, Wednesday, WON, Wrestling, You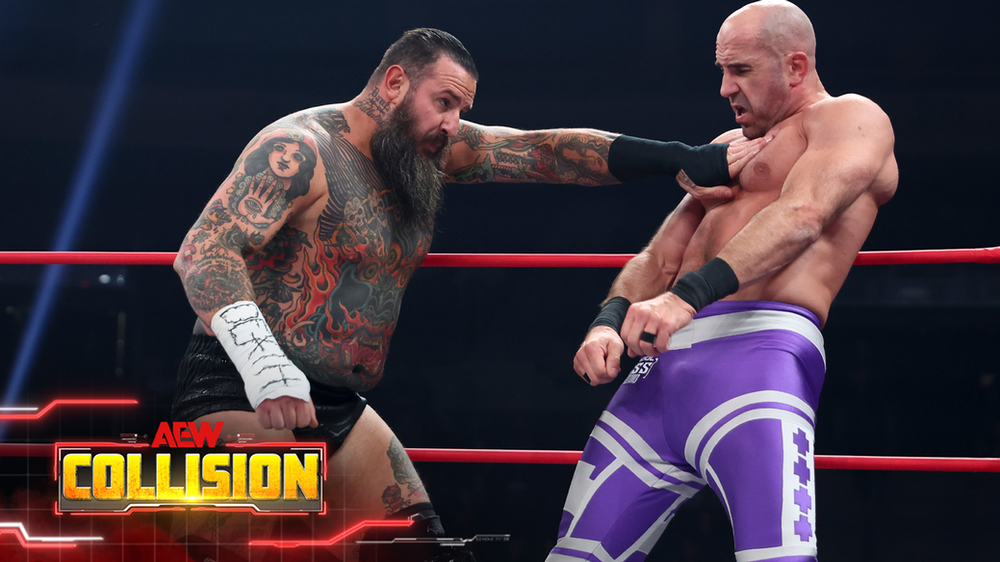 **CONTAINS SPOILERS**
Tonight's AEW COLLISION was broadcast live from the Erie Insurance Arena in Erie, PA!
It's Saturday night and you know what that means! Saturday night's alright for fighting!
Nigel McGuinness, Kevin Kelly and Tony Schiavone were the broadcast team for tonight's event.
Continental Classic Tournament: Blue League Match!
The House of Black's Brody King
vs.
The Blackpool Combat Club's Claudio Castagnoli!
Brody and Claudio, both known for their power, began the match by blasting one another with forearms. Brody hit Claudio with a lariat, not afraid to utilize the cast on his injured arm.
"I don't know if this is for pride or what, but neither man is going down," said Tony Schiavone.
Brody pump kicked Claudio, taking down Claudio with a big boot to the face. Claudio came back with a body slam and then knocked Brody over the top rope and to the arena floor with a clothesline. Claudio followed up with a running European Uppercut.
Claudio whipped Brody into the steel barricade. Brody charged back with a lariat and then removed the steel padding on the barricade. Brody hurled Claudio back into the exposed barricade. Back in the ring, Brody clobbered Claudio with a scoop slam and a running senton splash.
Claudio rallied back with European Uppercuts to Brody in the corner. Claudio went for the Giant Swing, but Brody pushed him away. Claudio shot back with a double foot stomp for a near fall. Claudio rocked Brody with a pop up European Uppercut!
"He lifted him a good two feet off the mat!" said Nigel.
Claudio grabbed Brody in the Giant Swing! Claudio applied a sharpshooter. Brody crawled to the ropes, forcing the ref to break the hold. Brody managed to German Suplex Claudio and followed up with a running cannonball in the corner. He covered Claudio but Claudio kicked out at one! Claudio hit a Canadian Destroyer on Brody and covered him, but Brody kicked out at one!
The fans chanted "This is awesome! This is awesome!"
Brody spiked Claudio with a piledriver for a near fall! Brody leveled Claudio with a massive lariat and pinned Claudio!
"I'm wondering if it may have been that cast on the forearm shot," said Kevin Kelly.
Abadon vs. Kiera Hogan!
Hogan hit a shotgun dropkick on Abadon. Abadon battered Hogan in the corner. They charged at Hogan, but Hogan moved and connected with a thrust kick. Kiera Hogan followed up with a dropkick for a near fall. Abadon used a sidewalk slam on Kiera Hogan. Abadon stunned Hogan with a cutter!
Kiera Hogan nailed Abadon with a neck breaker. Abadon fired back with a knee strike. They planted Hogan hard on the mat with the Black Dahlia and pinned Hogan!
The arena lights went dark. When they came back on, TBS Champion Julia Hart was in the ring, smiling at Abadon. The lights went dark again, and this time, when the arena lights turned on, Julia had vanished!
Alex Marvez interviewed Samoa Joe backstage!
Samoa Joe was interrupted by Roderick Strong and the Kingdom!
Roderick Strong: "Joe, listen, I'm willing to forgive you for trying to end my career by trying to break my neck, not once, but twice. I know you have that World title match with Max, but this is clearly a trap. Max is the devil. But listen, my best friend Adam says he likes you, and you're a good friend of his. So, it's his best friend that makes you my best friend by proxy. Listen, Wednesday is just a set up. His goons are going to beat the crap out of you. He's not even here right now. He's probably plotting exactly how they're going to do it. Will you listen to me?"
Samoa Joe smirked and walked off.
Continental Classic Tournament: Blue League Match!
Andrade El Idolo vs. Daniel Garcia!
Matt Menard joined the broadcast booth for this match.
Andrade applied a side headlock. Garcia shoved him off, but Andrade came off the ropes with a shoulder block. Andrade hit a big cross body press on Garcia. Andrade jumped over the top with a plancha to Garcia.
Garcia used a pair of dragon screw leg whips on Andrade. Garcia rammed Andrade into the barricade. Garcia climbed to the top turnbuckle, but Andrade shoved him off the perch. Garcia tumbled hard onto the arena floor.
Garcia rallied back, tying Andrade into the Tree of Woe and then hammering on Andrade's knee. Garcia blasted Andrade with a running dropkick and then a brain buster for a near fall! Garcia missed a lariat and Andrade countered with two suplexes. Garcia escaped a third attempt from Andrade, jumping on Andrade's back with a sleeper. Andrade climbed to the top rope with Garcia on his back. Andrade superplexed Garcia! Andrade followed up with a series of suplexes, an homage to Eddy. Andrade finished off Garcia with the flatliner and pinned him!
"Andrade cracks the scoreboard," said Tony Schiavone.
Willie Mack was backstage with some words for Wardlow!
Willie: "See Wardlow, I know you've been going through a lot of things these past few weeks. But you don't put your hands on my friends. So, I'm going to have to reach out and touch you. So next week, we're going to have to do the damn thing in the ring. So, pack your lunch because I'm a big boy!"
Roderick Strong came to the ring with the Kingdom—Matt Taven and Mike Bennett!
Roderick Strong: "I just wanted to say something to Samoa Joe. Listen to me dude. Everything I said back there was true. Max is the devil, and you are going to find out very soon. Those three dweebs in the ring, Matt and Mike are going to beat their ass. And I want to dedicate this to my best friend, Adam, whether he wants me to or not!"
The Kingdom—Matt Taven & Mike Bennett
vs.
The Iron Savages— "Sauce Boss" Beefcake Boulder & "Dirty Bulk" Bronson!
Boulder knocked down both members of the Kingdom with a cross body. He choke slammed Bennett on the apron. Taven cracked Bronson with a thrust kick. Boulder tried for a moonsault, but Taven rolled out of the way.
Bennett nailed Bronson with a Death Valley Driver and Taven followed up with Just the Tip of the Knee strike! They spiked Bronson with a piledriver, and Taven scored the pin. Roderick Strong jumped into the ring after the match and wiped out the manager of the Iron Savages!
Lexy Nair was backstage with "All Ego" Ethan Page!
Ethan Page: "Ever since losing to MJF in my home nation of Canada, I have had to regroup. I have gotten into the best physical condition of my life. I've been in Ring of Honor racking up wins. I want to be the king of Canada. But right now, that crown is sitting on someone else's head. I want you, Kenny Omega, next week on Collision!"
Christopher Daniels & Matt Sydal
vs.
House of Black's Malakai Black & Buddy Matthews!
Sydal jumped off the top turnbuckle, but Buddy grabbed him and nailed him with an elbow. Sydal fired back with a high kick to Buddy's head. Daniels tagged in and they exhibited great tandem offense on Buddy.
Malakai wiped out Daniels with a moonsault to the floor! Sydal tagged in and connected with a missile dropkick on Black. Malakai cracked Sydal with an elbow to the back of the head. Buddy blasted Daniels with a meteora, and Sydal had the same idea, taking down Black with a meteora of his own!
Black swept out Daniels' legs, and then Buddy curb stomped CD! Black ended it with a high roundhouse kick to Daniels' head and pinned Daniels!
"That kick rocked the jaw of Christopher Daniels!" said Tony Schiavone.
The arena lights went out! They came back on and FTR's music was playing! Dax Harwood and Cash Wheeler walked to the ring!
Malakai Black: "Before you both do anything, I assume that the both of you are here because you joining the House of Black. The only people that have been here for the both of you is the House of Black. I have done a lot of things, but not once have I told a lie."
Dax Harwood went to pick up the microphone and Buddy rushed in and kicked him. Dax was curb stomped. It was all a ruse by the House of Black. Buddy held down Dax, so he was forced to watch as Malakai Black cracked Cash with a roundhouse kick!
Malakai Black: "You see not one single person is coming for you. Boy, were my predictions right last week. No one is coming for you."
Dax flipped off Black, and then Black rocked Dax with a devastating spin kick to the head!
Renee Paquette had an exclusive Collision interview backstage with AEW Women's World Champion "Timeless" Toni Storm!
Toni Storm: "Skye Blue, if I have any advice for you, it would be for you to walk backwards. Because the only time they have anything nice to say about you is when they are taking pictures of your bottom. You can be the first challenger for my belt!"
After a commercial break, Skye Blue responded to "Timeless" Toni Storm!
Skye Blue: "Toni, I have met you through every one of your phases, but this midlife crisis is the most pathetic one by far. But you haven't met this Skye Blue. So, bring your little butler, bring your little blonde bimbo, and whatever 1940s crap you've got up that robe, because nothing is going to stop me from taking that championship."
AAA Mega Champion El Hijo del Vikingo vs. Kip Sabian!
Vikingo shocked Sabian with a kick and then an arm drag off the ropes. Vikingo went for a tope, but Sabian had an answer, drilling Vikingo with a stiff kick to the face. Kip followed up with an Arabian moonsault.
Vikingo connected with a spinning kick to Kip. He followed up with a torture rack knee lift strike to Sabian. Vikingo came off the ropes with a 360 phoenix splash from the other side for a near fall on Sabian!
Sabian climbed to the top turnbuckle and jockeyed for position with Vikingo. Sabian took down Vikingo with a hurracanrana. Vikingo rallied back with a tornillo from the top and then a running knee strike! Vikingo pinned Sabian after a 630 splash!
Lexy Nair was backstage with "Limitless" Keith Lee!
Shane Taylor and Lee Moriarty interrupted Keith Lee.
Shane: "I know you're not dumb enough to look past me. Last year's tag match didn't solve anything for me. So, I say this year we give the people the fight they really want to see. Shane Taylor versus Keith Lee one on one at Final Battle!"
Keith Lee: "Challenge accepted. And I'll see you later, too, Lee Moriarty."
Lexy Nair interviewed CJ Perry!
"The Redeemer" Miro interrupted, trying to walk past CJ and into the locker room of her client, Andrade El Idolo.
CJ Perry: "Miro, you can't go in there. I know you think bad things will happen. I need to do this. You picked your god. And now I have to prove myself. By winning this tournament, I will start to be on that path that will help me. If you want to go in there, I can't stop you, you're a grown man. But please, if there's any love that you have for me, please let me do this and find my own way. And if I mean anything to you, don't lay a hand on my client. Can you please do that?"
Miro: "My god is gone. If he was still with me, I'd be in this tournament ripping the spine out of Andrade. But I promise you I won't lay a hand on your client. You have my word."
Main Event Time! Continental Classic Tournament: Blue League Match!
The Blackpool Combat Club's "American Dragon" Bryan Danielson
vs.
ROH World/NJPW Strong Openweight Champion Eddie Kingston!
Danielson fired off a chop to Kingston's chest. Kingston retaliated, knocking Danielson off his feet! Danielson's view was limited as he was wearing an eye patch over his injured eye. Danielson pulled back on Kingston's arm, driving his knee into Kingston's back.
Danielson German Suplexed Kingston. Danielson booted Kingston in the face. Danielson slid out of the ring but Kingston back suplexed Danielson on the arena floor! Danielson headbutted Kingston and dropped Kingston with a missile dropkick.
Danielson applied the Le Bell Lock. Kingston escaped, mounted Danielson, and began to ground and pound Danielson. Kingston cracked Danielson with a spinning back fist for a near fall! Kingston grabbed a two-count on Danielson after a vertical suplex. Danielson stunned Kingston with a round kick to the top of the head.
Danielson battered Kingston with a barrage of kicks. Eddie tossed Danielson with a half and half suplex. Danielson blocked a spinning backfist and then dumped Kingston on his head with a suplex!
The fans chanted "This is awesome! This is awesome!"
Danielson grabbed Kingston's wrists and began to stomp Kingston's head! Kingston flipped off Bryan Danielson. Bryan nailed Kingston with the running knee strike and pinned Kingston!
"Beautiful in its brutality," said Kevin Kelly.
Catch AEW DYNAMITE on TBS next Wednesday live at 8/7ct from the Bell Centre in Montreal, QC!
And remember…the home of professional wrestling is All Elite Wrestling!