Tagged as: #AllIn, Adam Cole, AEW, AEW Dark, AEW Dynamite, AEW News, AEW Rampage, All Elite, All Elite Wrestling, All out, Being the Elite, BTE, Bucks, Contest, Dynamite, Edge, Elite, From, gold, Hangman Adam Page, Highlights, Jade Cargill, Jericho, kenny omega, Max, MJF, New, Orange Cassidy, OWN, PPV, ROH, SEE, Swerve, Tag, TBS, the young bucks, title, TNT, video, Wednesday, Well, Willow, WON, Wrestling, You, Young Bucks, YouTube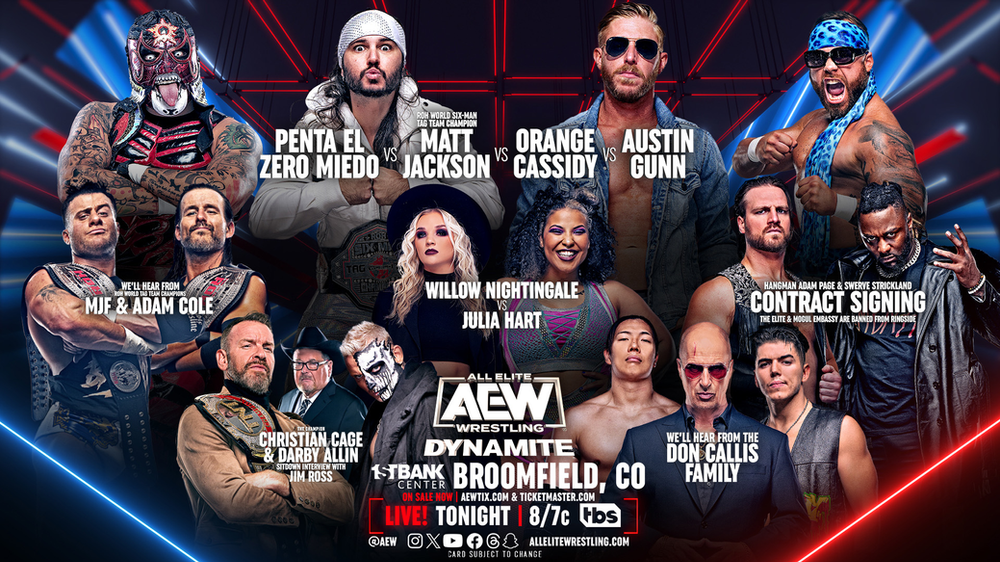 https://www.youtube.com/embed/oU382Ti67w4?si=pJ1KFUl9U2_1nVkt&start=168
It's the final DYNAMITE before WRESTLEDREAM, and it's coming to you from the 1st Bank Center in Broomfield, CO just north of Denver, and home to AEW since the March 4, 2020 edition of AEW's flagship, the first DYNAMITE of the Jon Moxley era!
It's been nine months since our last visit to Broomfield, and this time we are coming to kickoff the home stretch to WRESTLEDREAM with the exciting action fans expect from AEW! In a preview of the Four Way Tag Fight for an AEW World Tag Title shot, one member of each team will collide in a Four Way Singles match, plus as Julia Hart continues her hunt for the TBS Title, she has to answer for her crimes when she faces Willow Nightingale in a head-to-head fight!
Plus, we will hear from the ROH World Tag Champions Better Than You BayBay ahead of their PPV clash with The Righteous, Hangman Page and Swerve Strickland will sign the contract for their fight on Sunday night, and Jim Ross will sit down with TNT Champion Christian Cage and Darby Allin ahead of their 2/3 Falls Bout!
DYNAMITE begins at 8pm ET/7pm CT LIVE on TBS, as well as at AEWPlus.com for our international fans, so be sure to drop by the official AEW YouTube channel to catch the highlights from last week's DYNAMITE, RAMPAGE, and COLLISION, plus the CONTROL CENTER, and more!

FOUR WAY WRESTLEDREAM PREVIEW…
Austin Gunn vs. Matt Jackson vs. Orange Cassidy vs. Penta El Zero Miedo
On Sunday night at WRESTLEDREAM all four of these men will be locked in combat with a future shot at the AEW World Tag Team Championship on the line, difference being that in Seattle they will all have a partner sharing the ring, whereas in Colorado each will go it alone! Akin to a preview of that impending pay-per-view match, what makes this especially intriguing is what the AEW singles career has looked like for each of these men. Two of them have engaged in a fair deal of singles combat, particularly Orange Cassidy with his historic AEW International Championship reign, while two have barely been tested in those waters. Matt Jackson, though a 2-Time AEW World Tag Team Champion, 2-Time AEW World Trios Champion, and reigning ROH World Six-Man Champion, has only competed in one singles match, ironically against Rey Fenix back in March of 2021, and it was a match where he fell in defeat. The other man lacking in strong singles experience is Austin Gunn, crediting but one win in his three outings, the last of them being on the Jericho Cruise in October 2021. Penta, while not racking up the numbers of OC, stands 18-14 in his singles rows, including fights with Kenny Omega, Orange Cassidy, Jon Moxley, Samoa Joe, and even getting bloody with his own brother.
As for the former AEW International Champion, well he's number three in the Men's Division in terms of singles wins, just one behind Powerhouse Hobbs, and he's tied with Moxley for the most overall wins with 122. With 156 matches, Cassidy is also the most prolific competitor in All Elite Wrestling, and his 31 match winning streak is the longest in Men's Division history as well. Of course there's the fact that Cassidy defended the International Championship more times than any champions in AEW across all divisions to add to the equation, all facts that would seem to tilt the balance of this four way fray in his favor. But what is his physical condition? Heading into his ALL OUT 2023 loss to Jon Moxley, Cassidy seemed held together by K-Tape and willpower, his body ravaged by the effects of the schedule he'd kept as International champion, barely able to stand without the assistance of his Best Friends after the loss. So how can he be ready for this return to action just a few weeks removed from that painful experience?
We will all find out this Wednesday night on DYNAMITE when Orange, Penta El Zero Miedo, Matt Jackson, and Austin Gunn all aim to get a leg-up before their Four Way Tag Team clash on Sunday night!
ONE-ON-ONE…
The House of Black's Julia Hart vs. Willow Nightingale
https://www.youtube.com/embed/J6mL9WL4cgE?si=sBtG3M-y_autQs-D
Julie Hart is officially set for a TBS Championship fight with Kris Statlander this Sunday at WRESTLEDREAM, her first shot since challenging Jade Cargill back on January 28th of 2022, and three months before Julia's last loss in All Elite Wrestling. That defeat was at Kris Statlander's hand, taking place on DARK: ELEVATION #60 on April 25th , and along with The House of Black entering her life, was a transformative experience for the young woman. She's remained undefeated since, and that streak has blossomed in truly violent fashion as Julia's targeted anyone friendly to Statlander. Skye Blue felt the wrath last week on RAMPAGE, Willow Nightingale was going to step up to the fight on COLLISION but was attacked earlier in the night and taken to a local medical facility for observation, which left Kiera Hogan to step up in her stead, and she too was put down by The House's Black Hart.
If the attack on Willow was intended to put her on the shelf then it failed, because all it did was postpone the inevitable by a matter of days. Instead of Julia having to face the music last Saturday night in Grand Rapids, she has to do so this Wednesday night in Colorado! Willow Nightingale will be back in action on DYNAMITE and looking to even the score, not just for herself, but also for the friends Julia Hart has left in the wake of her destructive path to the TBS Champion.
Can Willow humble Julia before her championship fight on Sunday night, or will she end up a repeat victim of that black mist that once served to change Hart's entire life?
CONTRACT SIGNING…
https://www.youtube.com/embed/hBqg3tNXE3E?si=OQHGIx5xCbFkztBa&start=202
Swerve Strickland laid it all out for Hangman Page the Wednesday following ALL OUT 2023, a night where Page, a former teacher himself, won the Over The Budget Charity Battle Royal and in turn saw to it $50,000 was donated to the Chicago Public Education Fund(https://thefundchicago.org/), but come Wednesday on DYNAMITE, Swerve verbally tore down Hangman for everything he'd done, or hadn't done, since losing the AEW World Championship.
Strickland verbally poked and prodded at the former champion, initially driving Hangman to leave the ring, but ultimately provoking him to return, only to be waylaid be a trap Swerve set, a trap in the form of "The Machine" Brian Cage. From there, Page and Cage had their third dance in AEW, a dance won by Hangman, and The Hung Bucks would in turn take the ROH World Six-Man Championship from The Mogul Embassy. Well certainly a blow to Swerve and Prince Nana's organization, Strickland seemed unfazed by how those weeks unfolded, as if he anticipated Hangman rising to the occasion.
So with their head-to-head clash just a few days away, this Wednesday night Hangman Adam Page and Swerve Strickland will publicly put pen-to-paper when they sign their contract in the middle of the ring. These situations are often a powder keg waiting to explode, sometimes filled with an exchange of words that lead to violence, while sometimes no words are shared and its just violence before the ink even dries. Either way, both The Young Bucks and The Mogul Embassy are banned from the area during the course of this contract signing, so whatever happens is going to take place between Swerve Strickland and Hangman Page, only Swerve and Hangman Page.
THE ROH TAG CHAMPS ADDRESS THE RIGHTEOUS…
It was just a week ago on DYNAMITE: GRAND SLAM 2023 that MJF went through hell and back and back to hell again with ROH World TV Champion Samoa Joe, and though Maxwell had to dip into his devilish bag of tricks in order to get the job done, the defending AEW World Champion did exactly as promised when he choked Joe out. The guile it took, the willingness to do whatever necessary to win, it earned MJF the respect of Samoa Joe, and with that came a rather surprising handshake.
And while he may have been running a bit late after having swung by Roderick Strong's hospital bed to check on his condition, Adam Cole was right there when it was needed the most, motivating MJF (who had just survived a Muscle Buster mind you) to fight out of Joe's choke. Cole also provided the distraction to Joe that allowed MJF to use that chain…string…tape…whatever the object was that helped Max keep true to his promise.
The Brochachos celebrated together, but their jubilation came knowing that a ROH World Tag Title defense was awaiting them WRESTLEDREAM, it was merely a matter of waiting until Friday night's edition of RAMPAGE to see which of four teams came out on top. Though Best Friends, The Hardys, and The Kingdom all fought valiantly, it was The Righteous of Vincent and Dutch who came out on top, and earned their very first ROH World Tag Team Championship match. Though former Six-Man Champs with Bateman, this duo has never challenged for the gold made so coveted through the work of teams like The Briscoes, The Kings of Wrestling, Steen & Generico, The Havana Pitbulls, and so many others over the last 20+ years.
We heard from Vincent and Dutch with their rather unique video embedded above, and this Wednesday night we will hear from AEW World Champion MJF and Adam Cole, the defending ROH World Tag Champs, about their fight coming up Sunday night in Seattle! What shape is Max in after his war with Joe? Is Cole okay after we all saw him hobbling a bit at ringside? Are these two bruised and battered men heading into the fight on pay-per-view? We shall have to wait and hear what they say on DYNAMITE!
FACE-TO-FACE…
https://www.youtube.com/embed/AW24pIYKN64?si=OGPPyvKVEaKvtCO0&start=185
Set for a Two Out Of Three Falls contest this Sunday night, one with the TNT Championship at stake, new champion Christian Cage and challenger Darby Allin will sit down with Jim Ross for a face-to-face…conversation…before their Seattle title bout. Jim Ross may be in quite the predicament here, sitting between these two, as Cage will no doubt do his best to raise the ire of his challenger. Christian has never let decorum be the rule of the day, never bothered to hold his tongue when the worst possible words drift into his mouth, instead actively choosing to say the most disgusting comments to his foes in hopes of garnering that psychological edge.
But after all these months dancing with Christian and Luchasaurus, not to mention everything else he's been through in his wrestling career, its doubtful there's anything left for Cage to say that Darby hasn't heard before. So is there an edge for Cage to find before this title fight in Darby's hometown? If there is, and if it's something horrid, rest assured that the TNT Champion will find it, speak it into the world, and sit back completely proud of just how awful he can be.
https://www.youtube.com/embed/h1GEcDiWEB0?si=O74JxC8GsmcjUqo6
DYNAMITE starts at 8pm ET/7pm CT LIVE on TBS, as well as at AEWPlus.com for our international fans, so be sure to check out the official AEW YouTube channel to watch highlights from last week's episodes of DYNAMITE, RAMPAGE, and COLLISION, as well the newest edition of THE CONTROL CENTER, and so much more!