Tagged as: #AllIn, Adam Cole, AEW, AEW Collision, AEW Dark, AEW Dynamite, AEW News, AEW Rampage, All Elite, All Elite Wrestling, ALL IN, All out, Basketball, Being the Elite, big, Bryan Danielson, BTE, Bucks, Bullet Club, Cosplayer, Dynamite, Elite, Event, Fall, Forever, FOX, From, gold, HELP, jeff jarrett, Max, Max Caster, Media, MJF, NBA, pro wrestler, Professional Wrestling, results, ROH, Saraya, SEE, Show, Sick, Tag, TBS, The Acclaimed, The Rock, the young bucks, title, TNT, Toni Storm, Wednesday, Well, Wembley, WON, Wrestling, You, Young Bucks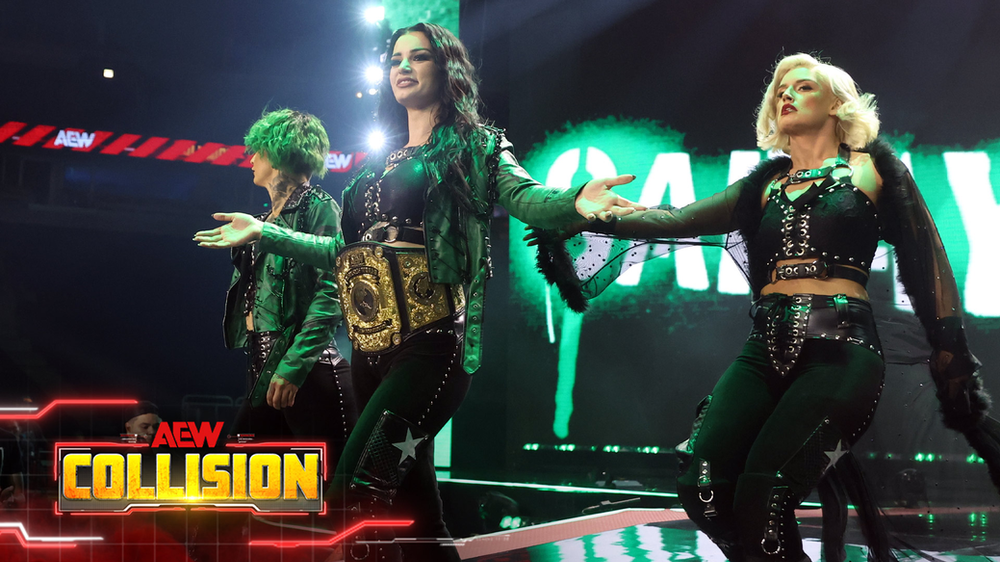 **CONTAINS SPOILERS**
Tonight's AEW COLLISION was broadcast live from the United Center in Chicago, IL
Nigel McGuinness and Kevin Kelly were the broadcast team for tonight's event.
It's Saturday night and you know what that means! Saturday night's alright for fighting!
Tony Schiavone kicked off the show in the ring, introducing "Absolute" Ricky Starks, who had Big Bill with him!
Ricky Starks: "Well, here we are again, huh? I find myself back at square one. It seems that every time I climb up the hill I get dragged back down. But I get better. I am so tired of having to start over. But I do it because I show up and I show out and I deliver every single time.
"No matter how many people try to suck the life out of me, it doesn't work. You cannot put a lid on a boiling pot because I will overflow. I am tired and sick of having to start over. Bill, I want you to know something. You are a hell of a dude, for real. I'm telling you from my heart, I believe in you. And I believe in myself.
"I'm so angry and I want to cry but I'm a man about it. And I will do what I need to do. You know it's funny. I sat at home and watched All In, one of the biggest wrestling pay-per-view shows of all time on my couch. There wasn't time for me? Because I got suspended for whipping Ricky Steamboat. And that is why I'm challenging Ricky Steamboat to a strap match at All Out.
"I am not letting a moment pass me by tomorrow night. That is why I'm calling my shot. So, I want an answer from the Dragon right now."
Ricky "The Dragon" Steamboat walked to the ring with a vengeful look!
Steamboat: "Let me say something. What happened to you and me, Ricky, you took a couple of cheap shots on me, and I went down. I hear on social media that Ricky Starks wants to have a strap match with the Dragon. No disqualification. You talk a good game. You can perform in the ring when you want to. But I have a contract. I got a hold of AEW legal, let's do it old school with a dragon. Let's make sure the pen talks and not the mouth."
Steamboat handed a contract to Tony Schiavone and told him to show Starks.
Steamboat: "Sign it!"
Starks put his signature on the contract.
Steamboat said they know him as the Dragon. But, he said, "They also know this guy."
"The American Dragon" Bryan Danielson came out to the ring!
"My God, Ricky Starks what have you signed?" asked Kevin Kelly.
Bryan Danielson signed the contract!
Starks: "It's supposed to be Steamboat."
Danielson: "It says 'The Dragon' on the contract."
"Looks like we've got ourselves a No DQ Strap Match for All Out," said Tony Schiavone.
Starks: "Well, if this is the bed that I lay in, I'm going to make sure I'm real comfortable."
Steamboat: "We just wanted to make sure you got what you wanted. You got your strap match!"
Danielson smiled at Starks across the ring.
Jon Moxley was backstage with words for Orange Cassidy!
Moxley: "Be the rock upon which the waves crash and eventually even the raging seas fall still around you. Or in other words, be Orange Cassidy, International Champion, the player that no one can checkmate. These idiots who call him a cosplayer wrestler, okay, in that case, who did they beat?
"When you've been doing this as long as I have been at this level, there's always another bigger show, you wrestle the greats, the Chris Jerichos, the Bryan Danielsons, sometimes you win, sometimes they win. But there's always another opportunity.
"This is a chance that only comes once in a lifetime because Orange Cassidy is on the run of a lifetime. I can smell BS from a mile away and I know the real thing when I see it. And Orange Cassidy looks like the real thing to me. And tomorrow we'll find out.
"I am a technician of the highest order. My specialty, I'm going to target your soul, your heart, your guts, your endurance, your will to survive. A lot of these guys think they want to be wrestlers, but they don't really want to be great wrestlers. Orange Cassidy, when it gets hard, and it's really gonna get hard, will you look for a way out? I hope not. A lot of people believe in you Orange Cassidy. This Sunday at All Out, don't disappoint us."
AEW World Trios Championship Match!
The Acclaimed (c.) vs. Daddy Magic, Cool Hand Ang, & Daniel Garcia (with Jake Hager)!
Angelo Parker ate some right hands from Anthony Bowens. Garcia tagged in, as did Daddy Ass. Garcia cracked Billy Gunn with a chop across the chest. Billy Gunn and Bowens dropped double elbows on Garcia. Garcia put the Dragon Tamer on Bowens after some help from Parker and Menard. Billy Gunn broke up the hold.
Max Caster tagged in and cleaned house on the opposition. Caster connected with a cross body press on Garcia for a near fall. Garcia fired back with a uranage. Menard grabbed a tag and collided with Caster. Billy Gunn tagged in and smacked Menard with the Fame Asser. Caster soared down with the Mic Drop and pinned Menard!
Lexy Nair was backstage interviewing the Dark Order ahead of their ROH World Tag Team Title match against champs Adam Cole and MJF tomorrow at All Out!
John Silver: "Adam Cole used to be our best friend, but you threw it away to team with MJF?!"
Alex Reynolds: "And speaking of MJF, not a lot of people know this, but I actually trained MJF to become a pro wrestler. And I told him that if he wanted to succeed, he'd have to do whatever it took. And he did and I'm proud of him. But only one of us took that advice. But the Dark Order needs those titles more than you. Tomorrow night we do whatever it takes to beat you, because we have to!"
Tony Schiavone interviewed Ricky Starks backstage!
Starks: "Here's the deal. Once again, every obstacle they throw in my way I knock it out of the park. Bryan Danielson, tomorrow night I'm going to show you why I am exactly what I say I am, and that is 'Absolute' Ricky Starks!"
Aussie Open—Kyle Fletcher & Mark Davis
vs.
Nick Wayne & Komander (with Alex Abrahantes)!
Davis charged at Nick Wayne. Davis whipped Wayne into the turnbuckles. Fletcher tagged in but Wayne knocked Kyle down with a European Uppercut. Komander and Nick Wayne hit Kyle with a double dropkick.
Mark Davis tagged in, but Komander stretched him in the Octopus submission. Davis escaped and tagged Fletcher. Aussie Open used their tandem offense on Komander to take control of the match.
Nick Wayne frog splashed Fletcher for a near fall. Fletcher nailed Wayne with a half and half suplex. Davis spiked Komander with a piledriver. Aussie Open crushed Wayne with the Coriolis and pinned him!
"Color me impressed," said Nigel.
Tony Schiavone interviewed Nick Wayne in the ring after the match.
Nick Wayne: "I'm frustrated. I lost the match. But what I'm more frustrated about is why Darby Allin forgave AR Fox for what he did to me."
Darby Allin walked onto the ramp.
Darby: "Nick, stop, just stop. Please stop. I'm going to explain why I forgave AR Fox. I've known Nick since he's been eight years old. His father trained me. I'm going to explain why I forgave AR Fox. You know what happened between your father and me. You were there. There was a time I didn't talk to your father, your mother, or you for three years.
"I got into a big fight with him, and I burnt that bridge. And before I could make things right, he passed away. And I have to live with that every single day, Nick. I wish I could have made things right. AR Fox is one of my trainers as well. And I refuse to live with the hate. I had to let it go. And that's why I forgave him so fast. So please find it in your heart to forgive him.
"This Sunday at All Out I am fighting for the TNT Championship. It'd be an honor if you were in my corner for that match."
Christian Cage and TNT Champion Luchasaurus walked onto the ramp!
Christian Cage: "Nick Wayne. It was rude of me last week to speak so much about your father when I forgot to ask what your mom's name is. Now I couldn't help but notice her sitting at ringside. I know she's not here tonight, so it was a missed opportunity on my part. So perhaps I should just slide into her DM's and see if maybe we can change that.
"Now speaking of your parents, Nick, did I hear you right Darby? You didn't speak to his parents for three years? So, let me get this straight, Darby, Nick Wayne is your personal pity project? You're using him to justify that you're actually a decent human being? Maybe you should take after me because I don't pretend to be something that I'm not.
"Now in case where we're at, Darby. We're in Chicago. And these people can smell a loser a mile away. And you, my friend, are a loser in life and that will never change. Nick, if I can give you any advice it's this. Carry a towel with you tomorrow to ringside because you're going to need to throw that into the ring to stop this match. It's going to be a massacre at the hands of not just my monster, but the most complete big man in the business today. And when it's all said and done, I, we will be standing at the top of the mountain as the face of TNT, now and forever."
Wheeler Yuta and ROH World Champion Claudio Castagnoli were backstage!
Claudio: "Congratulations Eddie. You beat Wheeler Yuta. You came back from Japan, and you beat the youngest member of the Blackpool Combat Club."
Claudio smashed Yuta with a European Uppercut.
Claudio: "But I have a newsflash for you. We beat Wheeler every day of the week. You know what the difference is? Wheeler gets back up. He doesn't stay down and moan like you do Eddie. Eddie, I thought Japan would change you. I was wrong. Eddie, I thought I couldn't lose any more respect for you. But you proved me wrong."
Lexy Nair interviewed AEW Women's World Champion Saraya and Ruby Soho backstage!
Saraya: "I'm awesome. I won in front of 81,000 at Wembley but now I'm stuck in Chicago."
Ruby: "Kris Statlander has never beaten me in the entire time I've been in AEW. And don't worry about the Outcasts. We're going to bring not one, but two titles back to the Outcasts. And Toni will be fine. Tonight, we're going to drop the homegrowns like we've done the past few months."
Tony Schiavone brought NBA Hall of Famer "The Worm" Dennis Rodman out to the ring!
Schiavone asked Rodzilla what he was doing here in AEW. Before Rodman could answer, Jeff Jarrett's music began to play!
Jeff Jarrett, Karen Jarrett, Sonjay Dutt, Satnam Singh, and Jay Lethal came to the ring!
Jeff Jarrett: "The reality is we all have something in common. Satnam Singh is one of the greatest basketball players of all time. Jay Lethal, you've been a champion since day one. Dennis, you have too! Sonjay Dutt, wherever he goes, he strives for world peace. And Dennis, so do you. And I can't forget Karen. She looks great in a dress and so do you!
"But all kidding aside, Dennis when it gets right down to it, I was a leader, and you were an integral part of one of the greatest factions of all time. And it was too sweet. And we used to say it was for life. You want to run with the bulls Why don't you join this family?"
Rodman: "Chicago, it's a great day to be in Chicago. It's my first time here in 13 years. I'm so sorry I couldn't be here but I'm loving the fact you guys are loving AEW!"
Jeff Jarrett: "Don't make me put Satnam on your ass. I want an answer and I want it now."
Rodman: "When I was playing basketball, Shaq was as big at Satnam, and I whipped his ass."
Sonjay told the rest of his crew to get out of the ring so he could talk to Rodman alone.
Sonjay: "Let's talk, Dennis. Now that these guys are out of here, there's no funny business involved. So, what do you say?"
Rodman threw Sonjay to the mat! The Acclaimed came out with Billy Gunn!
Bowens: "Hey, double jackass, if you want a fight, how about you three get your asses in the ring right now and fight the Acclaimed?"
Billy Gunn: "There is no way Daddy Ass is wrestling twice in one night. But I'll tell you this. We have nothing to do tomorrow. So, All Out tomorrow, we'll put the Trios Titles on the line tomorrow with Dennis Rodman in our corner."
Trios Match!
The Outcasts vs. Dr. Britt Baker, D.M.D., Hikaru Shida, & TBS Champ Kris Statlander!
Statlander shoved Toni Storm to the mat. Kris caught Toni and slammed her. Britt Baker tagged in and walloped Toni with a sling blade.
Shida tagged in, as did Ruby. Saraya and Ruby double teamed Shida. Statlander tagged in and cleaned house on the Outcasts. Statlander nailed Saraya with a running knee strike. Statlander powerslammed Saraya. Britt and Ruby exchanged strikes in the center of the ring. Britt blasted Ruby with a neck breaker. As the ref was distracted, Saraya sprayed Baker in the eyes with paint and Ruby pinned Baker.
Powerhouse Hobbs vs. GPA!
Hobbs nailed GPA with a spinebuster and then pinned him!
"The Redeemer" Miro came out to the ring!
Hobbs and Miro brawled in the ring, and then on the arena floor! They'll face each other tomorrow at All Out!
Main Event Time!
AEW World Tag Team Champion Dax Harwood (with Cash Wheeler)
vs.
"Switchblade" Jay White (with Bullet Club Gold)!
Jim Ross joined the broadcast booth for the main event.
Jay White had Dax in a headlock. Dax escaped and chopped away at Switchblade. White retreated to the floor when Dax was looking for a submission.
Switchblade suplexed Dax into the turnbuckles. Jay White stomped a mudhole into Dax. Switchblade DDT'ed Dax for a near fall.
Harwood knocked down Jay White with a short arm clothesline. Dax superplexed Jay White!
"Jay White is in agony," said Kevin Kelly.
Dax went for the diving headbutt, but Jay White dodged it. Dax followed up with a German Suplex and then a brainbuster for a two-count. Jay used a dragon screw leg whip on Dax. He followed up with a suplex to Dax. Jay rocked Dax with a Death Valley Driver for a near fall.
Dax stuffed Jay with a piledriver for a near fall! Jay planted Dax with a uranage. Jay followed up with a sleeper suplex. Jay went for the Blade Runner, but Dax countered with a slingshot powerbomb for a near fall. Dax put Jay White in the Sharpshooter, but Jay White grabbed the ropes. Bullet Club Gold pulled Jay out of the ring, realizing he was in trouble. Dax got out of the ring and Jay White shocked him with a Sling Blade on the arena floor! Back in the ring, Jay White clocked Dax with a Blade Runner and pinned him.
After the match, Bullet Club Gold surrounded Cash Wheeler! The Young Bucks sprinted to the ring and chased off Bullet Club Gold! The Young Bucks offered their hands to FTR, but FTR walked away.
Catch AEW DYNAMITE on TBS next Wednesday live at 8/7ct from Indiana Farmers Coliseum in Indianapolis, IN!
This Sunday order AEW All Out 2023 from the United Center in Chicago, IL, live on pay-per-view at 8PM ET/5PM PT!
And remember…the home of professional wrestling is All Elite Wrestling!