Tagged as: #AllIn, Action Andretti, Adam Cole, AEW, AEW Dark, AEW Dynamite, AEW News, AEW Rampage, All Elite, All Elite Wrestling, All out, Being the Elite, belt, big, Breaking, Bryan Danielson, BTE, Bucks, Bullet Club, Canada, Con, don callis, Dynamite, Elite, Event, Evil, Fall, From, gold, jeff jarrett, kenny omega, Max, Max Caster, MJF, New, njpw, OWN, PPV, Professional Wrestling, results, Returns, ROH, Saraya, SEE, Shawn Spears, Show, Tag, TBS, Television, The Acclaimed, the young bucks, TNT, Toni Storm, Wednesday, Willow, WON, Wrestling, You, Young Bucks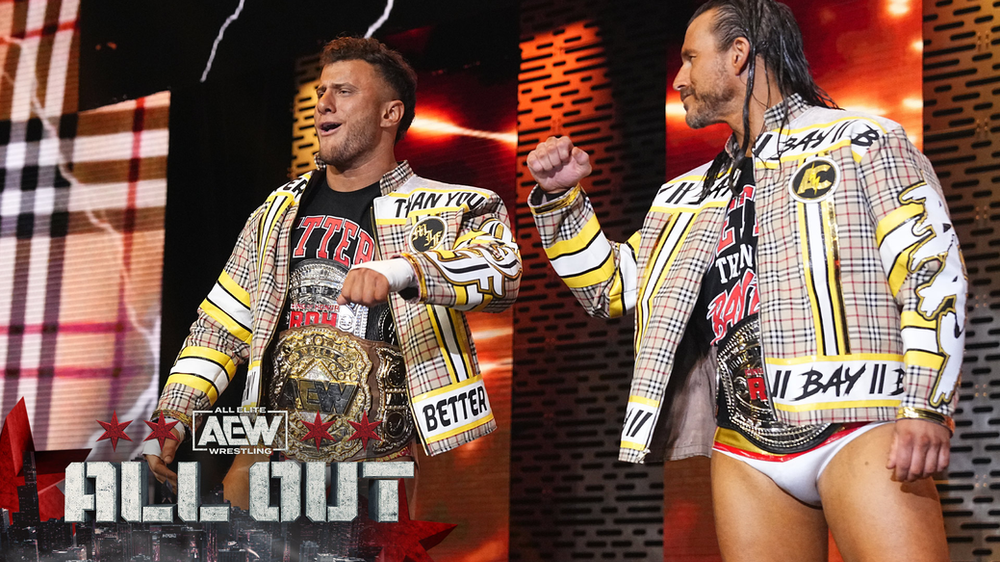 **CONTAINS SPOILERS**
AEW presented All Out 2023 live from the United Center in Chicago, IL!
It's Sunday and you know what that means!
The Zero Hour portion of the show kicked off! Your announce team for Zero Hour was Excalibur, Kevin Kelly, and Nigel McGuinness.
The Over Budget Charity Battle Royale!
The winner earns $50K to give to the charity of their choice!
Tony Nese began the match by doing pushups. He was quickly eliminated. Serpentico was swarmed by Menard, Hager, Garcia, and Parker. They quickly tossed him out. Aussie Open knocked Shawn Spears out with stereo thrust kicks.
Brian Cage powerbombed Komander and then the Mogul Embassy hurled Komander over the top. The Boys eliminated Angelo Parker, and then Cage clocked Dalton Castle with a discus lariat, sending Castle to the floor. Garcia threw Action Andretti over the top rope. Best Friends blasted Brian Cage with a double chokeslam. "Hangman" Adam Page knocked Bishop Kaun to the floor with a clothesline. Scorpio Sky threw Jake Hager out.
Trent and Page worked in tandem to eliminate Mark Davis. Sky flung Garcia over the top. The Mogul Embassy worked together to take out Scorpio Sky. Fletcher knocked out Andretti with a leg lariat. Trent planted Kyle Fletcher with a half and half suplex on the apron, sending Kyle to the arena floor. Cage chucked out Trent. The final three entrants were Toa, Cage, and Page.
Page scored with a Buckshot Lariat to Toa and then sent him over the top. Cage clobbered Page with a neck breaker. Cage and Page battled on the ring apron. Adam Page nailed Brian Cage with the Deadeye and won the match!
Trios Match!
ROH Women's World Champion Athena, Diamante, & Mercedes Martinez
vs.
Hikaru Shida, Skye Blue, & Willow Nightingale!
Skye Blue jumped off the top turnbuckle and landed on the opposition. Diamante hit a neck breaker on Skye Blue and then tagged out to Mercedes. Diamante and Mercedes used tandem offense on Blue.
Athena grabbed Blue, preventing her from making the tag. Athena powerbombed Skye Blue for a two-count. Willow grabbed a tag and clobbered Athena with a lariat and then a splash in the corner. Diamante ate a Falcon Arrow from Shida. Martinez dumped Skye with a Spider German Suplex. Athena smashed Willow with the O-Face. Shida, not impressed, entered the ring and shoved Athena. Shida and Athena traded strikes. Shida dropped Athena with a strike. Willow pounced Athena outside the ring! Skye Blue pinned Diamante after hitting the Code Blue!
AEW World Trios Championship Match!
The Acclaimed (c.)—Anthony Bowens, Max Caster, & Daddy Ass (with Dennis Rodman)
vs.
Jay Lethal, Jeff Jarrett, & Satnam Singh (with Sonjay Dutt & Karen Jarrett)!
Daddy Ass said he had his own referee and called out Aubrey Edwards to the ring. Bowens dropped the Scissor Me Timbers on Jeff Jarrett. Lethal tagged in and stomped a mudhole in Caster in the corner.
Bowens clipped Lethal with a series of thrust kicks. Billy Gunn tagged in and cleaned house until running into a massive boot from Satnam Singh! As Aubrey was ejecting Karen from ringside, Dennis Rodman smashed Jeff Jarrett's guitar over the head of Satnam! Bowens hit the Mic Drop on Lethal and pinned him!
The pay-per-view portion of All Out kicked off with…
ROH World Tag Team Championship Match!
Better Than You BayBay—AEW World Champion MJF & Adam Cole (c.)
vs.
Dark Order—Alex Reynolds & John Silver (with Evil Uno)!
The fans were chanting "Double Clothesline! Double Clothesline!"
Reynolds pulled Silver out of the ring before Cole and MJF could hit the double clothesline. MJF and Reynolds shook hands and then MJF thumbed him in the eyes. MJF got his neck banged up and the Dark Order blindsided MJF when Reynolds hit MJF with a chair to the base of the neck. Ref Paul Turner didn't see it. Doc Sampson examined MJF on the arena floor.
"It appears they've taken MJF out of the equation," said Excalibur.
Dark Order had Adam Cole to themselves and used their tandem offense on him. Cole went for the Panama Sunrise on Silver, but Silver avoided it. Silver lit up Cole with vicious kicks and followed up with a fisherman's buster for a near fall.
Dark Order smashed Cole with a double clothesline. Silver grabbed one of the tag titles while Evil Uno distracted the ref. It didn't matter as Cole served up superkicks in a last ditch effort.
MJF came back to the ring, holding his neck. He fought through adversity to assist his best friend, Adam Cole. MJF chomped on Reynolds' forehead. MJF clobbered Dark Order with the kangaroo kick! Better Than You BayBay hit the double clothesline on Reynolds and Cole scored the pin!
ROH World Television Championship Match!
Samoa Joe (c.) vs. Shane Taylor!
As Samoa Joe was making his entrance, he shoved MJF (who was still making his way to the back after his match)! MJF sprinted back to the ring and began to brawl with Samoa Joe! Joe locked MJF in a guillotine choke until AEW security separated the two men!
Shane Taylor dropped Samoa Joe after some stiff shots. Joe pulled Shane out of the ring and began to chop away at him. They slugged it out ringside. Back in the ring, Shane Taylor splashed Samoa Joe for a near fall.
Samoa Joe cracked Taylor with an elbow suicida. Joe used a Manhattan Drop and followed it up with a running senton. Joe jabbed away at Shane Taylor, but Taylor countered with a short arm clothesline.
"This isn't boxing but it has a big fight feel," said Kevin Kelly.
Shane Taylor rocked Samoa Joe with a hanging stunner! Taylor splashed Samoa Joe off the middle rope for a near fall on the champ. Taylor crumbled after a lariat from Samoa Joe! Taylor rallied back with body shots. Samoa Joe overwhelmed Taylor with knee strikes and then locked on the submission to force Taylor to tap!
TNT Championship Match!
Luchasaurus (c.) (with Christian Cage)
vs.
Darby Allin (with Nick Wayne)!
Jim Ross joined the broadcast booth for this match.
Darby charged right at Luchasaurus, swarming the champ. Luchasaurus whipped Darby into the steel guardrail. The champ swung Darby into the metal ring steps. Darby was busted open. Christian Cage ordered Luchasaurus to maim Darby.
Luchasaurus put the steps on Darby's back and then walked up them, putting all of his weight on Darby. Nick Wayne lifted the steps off Darby, but the damage had been done already. Back in the ring, Luchasaurus hit Darby with a huge overhand chop. Luchasaurus headbutted Darby on the chin.
"Damn. It's getting ugly. It's getting uncomfortable," said Jim Ross.
Somehow Darby mustered the strength to do a somersault off the top turnbuckle onto Luchasaurus on the arena floor! Back in the ring, Darby hit a crucifix bomb for a near fall! The fans rallied behind Darby. Luchasaurus caught Darby and suplexed him!
Christian Cage wanted Nick Wayne to toss in the towel. Darby rocketed out of the ring with a tope to Christian! Darby smashed Luchasaurus with an avalanche Code Red for a very near fall! Christian Cage whacked Nick Wayne with a chair. Darby saw it and got distracted. Luchasaurus seized the moment and hit Darby with two tombstones and then a lariat to the back of the head, more than enough to score the pin!
"Wow! Impressive victory for Luchasaurus," said Jim Ross.
Christian Cage got in the ring, setting Darby up for a con-chair-to. Luchasaurus held Nick Wayne back. The locker room ran down to intervene and stop Christian Cage.
"Darby Allin dodged a hell of a bullet," said Jim Ross.
"My heart was in my throat," added Excalibur.
"This looks like a crime scene," said Nigel.
"The Redeemer" Miro vs. Powerhouse Hobbs!
They locked horns right out of the gate! Both men refusing to yield ground. Miro shoved Hobbs to the mat and then ripped off his shirt. Hobbs was beaten down in the corner. Hobbs steamrolled Miro with a shoulder block.
"Two big meaty men slapping meat and this match has lived up to those expectations," said Excalibur.
Miro used his quickness to hit Hobbs with a leg lariat.
Hobbs hurled Miro with a belly to belly suplex, sending the Redeemer for a ride.
The fans chanted "Slap that meat! Slap that meat!"
Miro and Hobbs exchanged strikes in the center of the ring. Miro knocked Hobbs down after several lariats. Miro superplexed Hobbs! Powerhouse Hobbs dodged a kick and then powerslammed Miro!
Miro nailed Hobbs with a thrust kick for a two-count. Miro stomped Hobbs' lower back. Miro applied the Game Over submission. Hobbs escaped, rising up and squashing Miro into the corner. Hobbs blasted Miro with a spinebuster for a near fall! Miro answered with a spinebuster of his own! Miro locked in Game Over for a second time and Hobbs tapped out!
"Hobbs ran out of options," said Jim Ross.
"One of the best big man matches I've ever seen. And the fans are giving this a standing ovation," replied Nigel.
Hobbs and Miro shook hands after the match. Miro turned to walk away, and Hobbs blindsided the Redeemer. Hobbs grounded and pounded Miro.
Miro's wife ran to the ring and cracked Hobbs with a steel chair! Hobbs was distracted and Miro grabbed the chair and smashed it into Hobbs' head! Miro walked away, without embracing his wife.
TBS Championship Match!
Kris Statlander (c.) vs. Ruby Soho (with AEW Women's World Champion Saraya)!
Kris cracked Ruby with a running knee strike. Kris whipped Ruby into the guardrail. Ruby rallied back, ramming Statlander's head into the guardrail. Saraya hammered Kris with shots behind the ref's back.
Kris nailed Ruby with a back breaker. She followed up with a Blue Thunder Bomb for a near fall. Kris walloped Ruby with an avalanche powerslam for a near fall! Ruby nailed Kris with a poison rana, a DDT, and then a low hurracanrana for a two-count! Ruby smashed Kris with the No Future Kick and then Destination Unknown for a near fall.
Saraya distracted the ref while Ruby grabbed a can of spray paint. Toni Storm crawled out from beneath the ring and took the can away! Statlander spiked Ruby with the Sunday Night Fever and pinned Ruby Soho!
No Disqualification Strap Match!
"Absolute" Ricky Starks vs. "The American Dragon" Bryan Danielson!
Ricky "The Dragon" Steamboat joined the broadcast booth for this match.
Starks attacked Danielson before the match began. Starks whipped Danielson with his weight belt! Starks targeted Bryan's head and hit him with the buckle of the belt, busting Bryan Danielson wide open!
Starks stomped on Danielson's head, sandwiching it on the steel ring steps. Starks used the strap around Danielson's throat. Starks whipped Danielson with the strap.
"This is my house!" said Ricky Starks.
Danielson headbutted Starks and fired off round kicks. Starks walloped Bryan on the side of the head with the strap! Danielson rallied back and whipped Starks on the back over and over again! Danielson knocked Starks to the floor with a sliding dropkick. Bryan was going to jump out of the ring, but Starks countered by clocking him with the strap. Danielson pulled on the slack of the strap and pulled Starks headfirst into the steel ring post!
Danielson charged at Starks, but Starks turned Bryan inside out with a lariat! Bryan and Ricky nailed each other with the strap. Big Bill came down to the ring and jumped on the apron! Ricky "The Dragon" Steamboat pulled Big Bill down to the floor! Danielson jumped off the turnbuckles and wiped out Starks and Big Bill!
Back in the ring, Starks speared Danielson for a near fall. Starks grounded and pounded Danielson. Danielson got to his feet and nailed Starks with the charging knee strike!
The fans chanted "This is awesome! This is awesome!"
Danielson stomped on Starks. Danielson applied the Le Bell Lock! Danielson took the strap and wrapped it around Starks' throat, pulled back, and Starks lost consciousness!
"Bryan Danielson returns from injury and defeats Ricky Starks," said Excalibur.
"Starks made a statement in defeat. He refused to quit no matter what Bryan Danielson did to him," replied Nigel.
NJPW STRONG Open Weight Champion Eddie Kingston
& ROH Pure Champion Katsuyori Shibata
vs.
Blackpool Combat Club—ROH World Champion Claudio Castagnoli & Wheeler Yuta!
Taz joined the commentary team for this match.
Shibata cracked Yuta with Kawada style kicks. Claudio tagged in and blasted Shibata with a European uppercut. Claudio dodged the PK from Shibata.
Eddie Kingston tagged in, and Claudio tagged out to Wheeler Yuta. Kingston charged out of the ring at Claudio, and they exchanged shots. Yuta blindsided Eddie with a tope. Eddie used a butterfly suplex on Wheeler in the ring.
Claudio tagged in and stomped on Kingston's chest. Yuta tagged in and Eddie took him down with an STO leg sweep. Shibata grabbed a tag and rocked Claudio with rapid fire elbows in the corner. Shibata ran across the ring and dropkicked Claudio in the corner. Claudio escaped an arm bar with a powerbomb. Claudio and Wheeler hit the fastball special on Shibata for a near fall.
Shibata knocked Yuta off his feet with a spinning backfist. Shibata had Yuta in an inverted leg lock and then put Claudio in an ankle lock. Eddie tagged in and DDT'ed Yuta. Kingston charged in with a lariat in the corner on Yuta. Kingston threw Yuta with an exploder suplex. Claudio came in on Kingston's blindside and kicked him in the head.
Shibata hit Yuta with a pump kick and Eddie hit a side suplex on Yuta. Claudio jumped into the ring and exchanged uppercuts with Shibata. Claudio whipped Shibata into the guardrail. Yuta German Suplexed Kingston for a near fall.
Claudio took down Kingston with a short arm lariat. Claudio used hammer and anvil strikes and followed up with the Neutralizer for a near fall on Kingston! Eddie knocked down Claudio with a spinning backfist. Kingston rocked Claudio with a Northern Lights Bomb but Yuta jumped in to break up the pin attempt. Claudio wrecked Kingston with a European Uppercut and pinned a stunned Kingston.
"The Cleaner" Kenny Omega vs. Konosuke Takeshita!
Takeshita hit a dropkick on Omega. Takeshita followed up with a high angle back drop driver! Outside the ring, Omega used a moonsault off the barricade onto Takeshita.
Omega jumped at Takeshita with a springboard dropkick and followed up with the face dunk. Omega applied an Indian Death Lock on Takeshita.
Outside the ring, Takeshita spiked Omega with a brainbuster on the floor! Takeshita distracted ref Paul Turner while Don Callis piled chairs onto Omega's injured midsection. Takeshita splashed Kenny with a senton. Takeshita wiped out Omega with a Blue Thunder Bomb in the ring.
Takeshita dropped Omega with a forearm shiver. Takeshita attempted a senton, but Omega countered by raising his knees. Omega smacked Takeshita with Polish hammers. Takeshita charged at Omega with a jumping knee, Omega moved, and the momentum sent Takeshita spilling out of the ring. Omega took flight with the Terminator Dive!
Omega blasted Takeshita with a missile dropkick! Omega followed up with a snap dragon suplex. Omega stuck Takeshita on the back of his neck with a second snap dragon suplex. Omega spiked Takeshita with a reverse hurracanrana for a near fall.
Takeshita dodged a V Trigger, but Omega scored with the second attempt. Takeshita swung for the fences with a lariat to Omega. Kenny powerbombed Takeshita and then cracked him with a knee strike! Bang! Omega connected with a V Trigger! Takeshita countered the One Winged Angel! Takeshita got a near fall with a deadweight German Suplex on Omega.
Omega hoisted up Takeshita and began climbing up the turnbuckles, carrying the weight of Takeshita. Omega was looking for an avalanche One Winged Angel, but Takeshita escaped. Takeshita rocked Omega with an avalanche Blue Thunder Bomb for a near fall on Omega!
"Man, I don't know. This Kenny Omega is made out of something special," said Taz.
Takeshita scored with a powerdrive knee right on target. Takeshita distracted the ref while Callis tried to spike Omega with a screwdriver. Omega dodged it. Omega nailed Takeshita with a V Trigger. Omega lifted up Takeshita for the One Winged Angel. Takeshita had the screwdriver, but ref Paul Turner saw it and pulled it away. Takeshita removed his knee pad and decimated Omega with a knee strike, and then pinned Kenny Omega!
"We just found out what Kenny Omega's limit is," said Nigel.
Eight-Man Tag!
AEW World Tag Team Champions FTR—Cash Wheeler & Dax Harwood & The Young Bucks—Matt & Nick Jackson
vs.
Bullet Club Gold—Austin & Colten Gunn, "Switchblade" Jay White, & Juice Robinson!
Colten and Cash chain wrestled. Austin got a blind tag and tripped up Cash Wheeler. Cash sent Austin flying with a hurracanrana. Matt Jackson tagged himself in. The Bucks hit tandem offense on Austin. Dax Harwood tagged himself in.
Dax and Jay White locked up. Jay White chopped Dax. Juice Robinson and Jay White worked over Dax in their corner of the ring. Cash Wheeler grabbed a tag and FTR double teamed Jay White.
Juice jabbed at Cash Wheeler. Juice gouged at Cash's eyes. All eight men were in the ring and began brawling! FTR and the Bucks hit quadruple atomic drops and then quadruple sharpshooters!
Dax dodged a cannonball from Juice Robinson. Matt Jackson smoked Juice with a superkick. The Bucks used a classic combo on Jay White.
"Superkick party in Chicago," said Nigel.
The fans chanted "Young Bucks! Young Bucks!"
Matt and Cash dished out superkicks. Matt and Dax stuffed Austin with a spiked piledriver. Dax superplexed Austin and Cash, Matt, and Nick all hit high risk moves off the top turnbuckles on Austin. Dax and Austin rattled each other with double clotheslines.
The fans chanted "A-E-W! A-E-W!"
Dax and Jay traded chops. Dax walloped Jay with a short arm lariat. Juice saved Jay from the Shatter Machine. Nick and Dax hit the Shatter Machine! Matt and Dax grabbed Jay and bashed him with the BTE Trigger! Colten made the save, breaking up the pin attempt. Jay White hit the Blade Runner on Cash and Austin was there to pin him!
Main Event Time!
AEW International Championship Match!
"Freshley Squeezed" Orange Cassidy vs. Jon Moxley!
Cassidy was playing mind games, not looking at challenger Jon Moxley. Orange went to put his hands in his pockets and Mox decked him! Moxley stalked Cassidy, giving him no time to breathe. Moxley bit the head of Orange Cassidy.
Cassidy fired back with a shotgun dropkick. Mox suplexed Orange and Orange immediately clutched his neck. Moxley sent Cassidy flying with a second suplex. Orange connected with a diving crossbody press but Mox rolled through and stomped on Orange's head.
Orange flew at Mox with an elbow suicida. Moxley countered a DDT, turning Orange inside out. Moxley took his boots to Orange's head again. Moxley mauled Cassidy, whipping him into the steel ring post. Cassidy was split open. Moxley bit Orange's forehead.
"Orange Cassidy is gushing," said Nigel.
"There is a pool of blood at our feet," added Excalibur.
Moxley spiked Orange with a stalling piledriver for a near fall. Moxley battered Orange with clubbing shots. Orange dug his nails into Moxley's back and then hit Moxley's head! Orange cracked Mox with a diving DDT and then a second DDT!
Cassidy rocked Mox with the PK. He followed up with the Orange Punch for a near fall! Mox countered the Beach Break with a Gotch Style piledriver! Mox locked in the bulldog choke. Mox transitioned to an arm bar. Mox put Orange in the Le Bell Lock. Moxley transitioned to the bulldog choke, but Orange forced the ref break by reaching the ropes with his foot.
Moxley pulled the protective padding off the floor, exposing the concrete. Moxley tried for a piledriver, but Orange countered with a Beach Break on the floor! Orange dropkicked Moxley's head into the steps!
Orange cracked Moxley with two straight Orange Punches! Orange went for a third, but Moxley countered with a cutter! Orange hit another Orange Punch and then speared Moxley for a near fall! Moxley nearly decapitated Orange with two King Kong lariats! Moxley smashed Orange with the Death Rider for a near fall!
Orange flipped off Moxley. Jon Moxley grabbed Orange and spiked him with a high angle Death Rider and pinned Cassidy!
And new AEW International Champion…Jon Moxley!
Missed what the entire wrestling world is buzzing about? Order the replay of the historic AEW All Out 2023! It's available on all traditional cable and satellite providers in the United States and Canada, Bleacher Report, Fite International, PPV.COM, and more! See AEW All Out 2023 for yourself!
Catch AEW DYNAMITE on TBS next Wednesday live at 8/7ct from Indiana Farmers Coliseum in Indianapolis, IN!
And remember…the home of professional wrestling is All Elite Wrestling!