Tagged as: Adam Copeland, AEW, AEW Collision, AEW Dark, AEW Dynamite, AEW News, AEW Rampage, All Elite, All Elite Wrestling, Being the Elite, belt, big, Bryan Danielson, BTE, BULL, Christian, Christian Cage, Collision, Continental Classic, Double or Nothing, Dynamite, Elite, Event, Fall, Fired, From, Full Gear, gold, Interview, kenny omega, Max, Memory, MJF, Montreal, New, OWN, Professional Wrestling, Rampage, results, ROH, SAW, SEE, Show, Stardom, Swerve, Switch, Tag, TBS, TCM, The, title, TNT, Toni Storm, Tony Khan, Upset, Wednesday, Well, WOKE, WON, Wrestling, You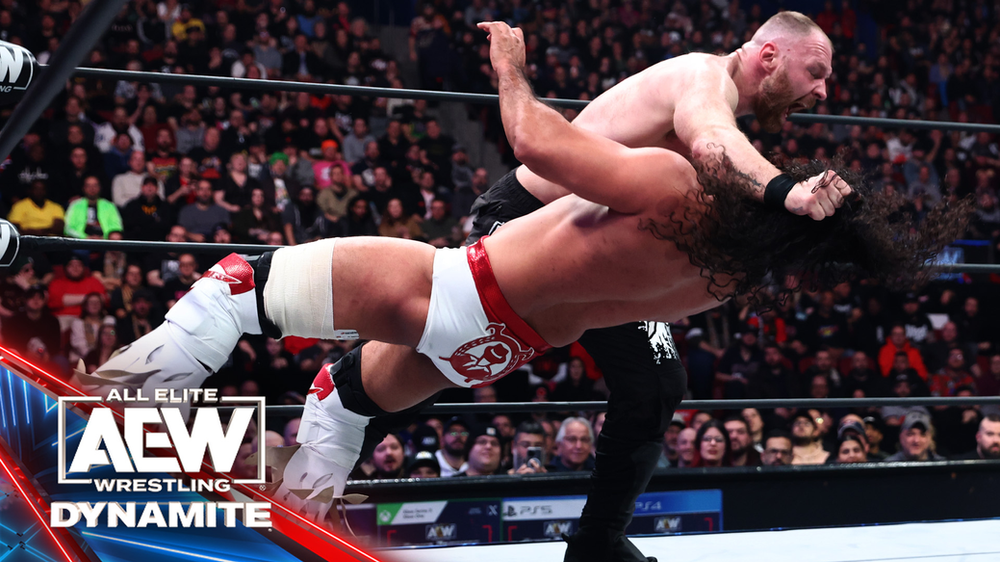 **CONTAINS SPOILERS**
Tonight's episode of AEW DYNAMITE was broadcast live from the Bell Centre in Montreal, QC!
Excalibur, Tony Schiavone, and "The Human Suplex Machine" Taz were the broadcast team for tonight's event.
It's Wednesday night and you know what that means!
Continental Classic Gold League Match!
Blackpool Combat Club's Jon Moxley vs. LFI's Rush!
Rush chopped at Moxley and Moxley returned fire! Mox changed levels and kicked Rush, but Rush countered with a belly-to-belly suplex. Mox came down hard on his shoulder with an awkward landing, his shoulder and arm being caught under Rush's body.
They brawled outside the ring and Mox whipped Rush over the barricade. Moxley pursued Rush through the fans. Rush gouged Moxley's eyes and then smashed a drink over Moxley's head. Back in the ring they traded more strikes. Rush stomped on Moxley in the corner and then booted Moxley in the face.
Rush taunted Moxley, but Moxley flipped him off in response. Rush scoop slammed Moxley for a near fall. Moxley rallied back with a big cutter to Rush. Moxley rocked Rush with a lariat in the corner. Moxley superplexed Moxley for a two count.
Outside the ring, Moxley charged at Rush and Rush countered with a belly-to-belly suplex, sending Mox flying into the steel barricade. Rush returned Moxley to the ring and Moxley spiked Rush with a DDT.
The fans chanted "Moxley! Moxley! Moxley!"
Rush blasted Moxley with a stalling piledriver. Rush superplexed Moxley for a near fall. Moxley got to his feet and rocketed out of the ring with a tope suicida at Rush! Both men returned to the ring, barely beating the ref's 10-count.
Moxley and Rush collided in the ring, Rush resorting to a headbutt, knocking Mox down. Rush was looking for the Bull's Horns, but Mox rocked Rush with the King Kong Lariat and the Death Rider. Rush kicked out of the pin attempt, and then Moxley transitioned to the bulldog choke and put Rush to sleep!
"That's how you do it, with the proper fundamentals," said Taz.
"Rush is frustrated. He woke up and heard Moxley's music playing," added Excalibur.
Renee Paquette interviewed Roderick Strong and The Kingdom on the ramp!
Roderick Strong: "Renee! It's obvious that Max is going to put his dagger into the heart of my best friend by proxy Samoa Joe. But you know, Joe is a big boy, and if life has taught me anything, actions have consequences. And tonight, Joe is going to put his hand on a hot stove and it's going to burn.
"Renee, you sound crazy! Every decision has consequences. Look at me! This is my life. I'm in this wheelchair because of decisions I've made. This is my life every single day! And I will live with the consequences of my decisions until now!"
Roderick Strong stood up from the wheelchair and began to walk!
Roderick Strong: "I will no longer suffer consequences for my decisions. I will no longer be held back by this wheelchair! This wheelchair has held me back for far too long. Far too long."
Renee Paquette was backstage outside of AEW World Champion MJF's locker room, hoping to get a word with him!
"Hangman" Adam Page walked by, unaware that Renee was doing a live shot. She transitioned to interviewing Page, who hasn't been seen since his Texas Death Match with Swerve Strickland.
Adam Page: "I got hit in the back of the head with a cinder block and then choked unconscious. So, I could not fly for a few weeks. I'm glad you caught me, because there is something I need to say to you, Swerve, and to the world. Swerve you broke into my home. You went into my son's room. It took Prince Nana, it took Brian Cage, but you beat me in a Texas Death Match on pay-per-view. I can concede, I can recognize when I've lost.
"And you have beaten me. But Swerve at Full Gear I took something from you that you will never get back. And I think we are bound by something bigger than either of us. And I think you should know this is not over. And Swerve I know what you want more than anything from this life. And I promise because of what you've done to me that you will never have it."
MJF walked out of his locker room.
MJF: "Howdy Seabiscuit. I just wanted to say to you, bravo on that match at Full Gear against Strickland. I mean it was so impressive to see two guys battle it out to see who could get more STDs."
Page: "Honestly I don't have 30 minutes to stand here for you to talk to me like you normally do, so Renee, if this is your interview, have at it."
Page walked off.
MJF turned to Renee: "The reason that I have to go out there for 30 minutes is to wake the crowd up after they have to deal with somebody like you putting them to sleep."
Page turned around and came back to MJF!
Page: "Is there something else you want to say to me?"
MJF: "Funny you ask. My memory is not all that great, Renee, I've been hit in the head a few times. I think the last time you and I saw eye to eye was when I verbally bent you over in front of Bret Hart at Double or Nothing."
Page: "Yeah, yeah, I think you were talking about a match where I buckshotted you and threw you over the top rope. Was that the one?"
MJF: "That's a good memory. See what I remember is the first time I won the Dynamite Diamond Ring, but I can't recall who I beat. I think it was this white trash hick. Renee, do you remember who I beat for the Dynamite Diamond Ring, because it's escaping me."
Page: "You know, I think it was me, and I think it made me so upset I had to console myself by becoming the World champion instead."
MJF: "Oh yeah, that reign was fantastic. Lasted about six months, right? The thing is my reign has been well over a year."
Page: "Well I'm sure you're really proud of that. And I'm sure you'll continue to be proud of it until you're 70 years old, at home, by yourself, telling your ninth cat about your one year title reign."
MJF: "Funny stuff. You want to get honest here Hangman. You know what I think? I think out of everybody in this locker room, there's one guy I think…I think you're the devil."
Page: "The devil? The masked guy? You think I'm running around in a Party City mask? I have known you for a long time, Max, and as long as I have known you, you have been a manipulator, Max. Just be honest with me, Max. It's probably just you, right? You put on a mask, you run around, you attack your opponents, you pretend you attack yourself. I don't know what the deal is but it's just you. Be honest with me."
MJF: "You want honesty? How about I honestly beat the living crap out of you!"
Hangman got into MJF's face, but Samoa Joe intervened.
Samoa Joe: "Easy there, he's my responsibility now. And MJF, what is wrong with you? We have other issues tonight that do not involve him."
Continental Classic Gold League Match!
Mark Briscoe vs. Mogul Embassy's Swerve Strickland!
"This is a must win match for Mark Briscoe," said Excalibur.
"He's facing elimination here tonight," replied Tony Schiavone.
Briscoe used an arm drag on Swerve and followed up with an inside trip and a headlock. Briscoe connected with a high boot into the jaw of Strickland. Mark hit a tight Russian leg sweep on Swerve.
Swerve managed to rally back with a diving uppercut to Briscoe's neck. Swerve followed up with a delayed neck breaker. They exchanged strikes on the apron. Mark clocked Swerve with a kick, knocking him to the floor. Briscoe charged at Swerve and Swerve backdropped him over the barricade. Swerve superplexed Briscoe off the barricade and onto the arena floor!
Back in the ring, Briscoe rang Swerve's bell with redneck kung fu. Briscoe was on target with an elbow strike and then a high boot in the corner. Briscoe nailed Swerve with a fisherman's buster for a near fall.
Swerve turned the corner with a German suplex. Swerve cracked Mark with a roundhouse kick for a two-count! Swerve climbed to the top turnbuckle, but Mark knocked Swerve off his perch with a big uppercut. Briscoe connected with a lariat for a near fall. Swerve had the Jay Driller scouted and countered with the House Call kick! Swerve tried for a 450 splash, but Mark raised his knees to counter! Briscoe tried for the Froggy Bow, but Swerve raised his knees to counter!
The fans chanted "This is awesome! This is awesome!"
Mark was looking for a Jay Driller on the apron, but Swerve countered with a Death Valley Driver! Swerve climbed to the top turnbuckle and hit the Swerve Stomp, scoring the pin on Briscoe!
"Nine points for Swerve Strickland," said Excalibur.
"Briscoe deserves a lot of credit, putting his body out here, but he was not able to get the victory," said Taz.
Renee Paquette was backstage with Mariah May!
Mariah: "The meeting last week with Tony Khan went really well. He's watched all of my work in Stardom. He loves Japanese wrestling. I mean, he's not an idiot, he signed me. And we planned my debut. We want it to be as good as it can possibly be, bring some much needed glamour to AEW."
Renee: "You guys planned your debut. Can you give me information on who your first opponent is going to be?"
Mariah: "Renee, that's none of your business, because tonight is all about 'Timeless' Toni Storm. Her first title defense, I'm going to be there, watching, studying."
AEW World & ROH World Tag Team Champ MJF & Samoa Joe
vs.
The Devil's Masked Men!
Samoa Joe made his entrance first, by himself. The Devil's masked men surrounded the ring as the lights flickered. Joe was surrounded on all four sides. The lights went out completely. When the arena lights came back on, the devil's masked me were nowhere to be seen, and Joe was standing alone in the ring.
"Is this supposed to be a warning message to Samoa Joe?" asked Excalibur.
The masked Devil appeared on the big screen, and then live footage began to show from backstage while Samoa Joe watched on. MJF had been knocked out and his body was unconscious on the cement floor, a broken bottle nearby. Samoa Joe sprinted up the ramp to the back.
After a commercial break, Jon Moxley was backstage!
Moxley: "I'm humble before God and my mother, but look, I know exactly who I am. I know exactly what I'm capable of. I expected to be 3 and 0. I expect to be 5 and 0. I expect to win the Continental Classic because I'm the ace of the world."
Swerve Strickland and Prince Nana walked onto the scene.
Swerve: "9 and 0, 9 and 0. It's going to take more than those crappy new kick pads that you have on to stop the momentum that I'm on. As you saw in L.A., I'm willing to do whatever it takes to win, at all costs, it don't matter who's in my way. Remember that."
Mox: "Good! Me too!"
Swerve: "See you in Texas."
TCM host Ben Mankiewicz introduced "Timeless" Toni Storm ahead of her match!
AEW Women's World Championship Match!
"Timeless" Toni Storm (c.) (with Luther the Butler) vs. Skye Blue!
Mariah May was watching from ringside.
Toni Storm had a tight headlock on Skye Blue. Toni Storm blasted Blue with a stiff shot. Toni bounced Skye's head against the broadcast booth. Storm hit the hip attack against Blue and the barricade!
Blue connected with a dropkick and then a rising knee strike. Blue got a near fall on Storm after a diving crossbody press. Storm blocked Skye Fall and nailed Blue with a German suplex. Blue dodged the hip attack and fired back with a thrust kick on Storm. Skye Blue cracked Toni Storm with her own version of the hip attack!
Skye Blue rocked Toni with the Code Blue for a (very) near fall! Toni delivered headbutts to Skye Blue, stopping Skye in her tracks. Storm superplexed Skye Blue! Storm used the hip attack, went for the Storm Zero, but Skye countered with a roll-up! Storm reversed the roll-up and pinned Skye Blue!
After the match, Riho's music hit, and Riho ran down to the ring! Storm charged at Riho, but Riho dodged Storm and dropkicked the champ out of the ring! Luther carried "Timeless" Toni Storm away from the ring.
Continental Classic Gold League Match!
"Switchblade" Jay White vs. Jay Lethal!
Lethal and White locked up as the fans chanted "Let's go Jay!"
Lethal went to strut and White capitalized, hitting Lethal from behind. Lethal hip tossed White and then dropkicked him. Jay White went to work on Lethal's leg. Jay White spiked Lethal with a DDT for a near fall.
Lethal retaliated with a tope suicida. Back in the ring Lethal put White into a torture rack. Lethal hit the elbow drop from the top rope for a near fall! Jay White suplexed Lethal into the turnbuckles. Jay White followed up with a brain buster for a two-count!
White sent Lethal flying with a sleeper suplex. Lethal tried for the Lethal Injection but Jay White countered it, going right back to Lethal's knee. Lethal countered the Blade Runner but White put his weight on Lethal and scored the pin!
"A heartbreaking loss for Jay Lethal," said Excalibur.
Main Event Time! TNT Championship Match!
"The Patriarch" Christian Cage (c.) vs. "Rated R Superstar" Adam Copeland!
Copeland smacked Christian Cage with an open hand shot! Copeland rammed Christian into the broadcast booth over and over. Christian begged Copeland to stop, pleading for mercy. Copeland intercepted a low blow and stomped on Christian's hand!
Copeland whipped Christian Cage into the barricades. Christian grabbed Copeland and drove his throat into the steel ring post! Copeland blocked the pendulum kick between the ropes. Copeland hit a clothesline, jumping off the turnbuckles and knocking Christian off the apron!
Christian used a drop toehold, driving Copeland's face into the ring steps. Christian landed a frog splash for a near fall on Cope! Copeland countered the spear with the Impaler for a two-count! Christian was looking for a superplex, but Copeland knocked him down with a head butt. Adam Copeland nailed Christian with a running powerbomb for a near fall!
"That was an impressive kick out by Christian Cage," said Taz.
Copeland countered the Kill Switch attempt, planting Christian Cage for a near fall. Copeland locked on the crossface but Christian managed to reach the ropes with his boot to force the ref to break the submission.
The fans chanted "This is awesome! This is awesome!"
Adam Copeland hammered Christian Cage's head on the mat with forearm shots. Christian jumped over Copeland's spear attempt with a leapfrog and then clocked Copeland with the Kill Switch for a two-count!
Copeland dodged the spear attempt from Christian, and as Copeland moved, he inadvertently knocked down the referee. As the ref had his back turn, Christian kicked the ref with a low blow. Christian grabbed his championship title and swung it at Copeland, but Copeland avoided it. Both men went for spears and collided into one another!
"Both men went for the spear!" said Excalibur.
"The referee is still down," added Taz.
Nick Wayne's mother, Shanna Wayne, walked to the ring. She got into the ring, grabbing the TNT title!
"She's torn," said Excalibur.
Shanna Wayne smacked Copeland in the head with the belt!
"What the hell did she just do?" asked Tony Schiavone.
"She made a decision, that's what she did," replied Taz.
Christian planted Copeland with the Kill Switch. Christian placed Copeland's head on the championship and then stomped on Copeland's neck! Christian Cage covered Adam Copeland and pinned him.
"One of the worst things I've ever seen," said Tony Schiavone.
"This is scary and Christian Cage has sunk to a new low," replied Excalibur.
Catch AEW DYNAMITE: Winter Is Coming on TBS next Wednesday live at 8/7ct from the College Park Center in Arlington, TX!
This Friday tune in to AEW RAMPAGE at 10pm ET on TNT!
Don't miss AEW Collision on Saturday on TNT at 8/7c from the Bell Centre in Montreal, QC featuring:
-Continental Classic Blue League Match: Bryan Danielson vs. Andrade El Idolo!
-Continental Classic Blue League Match: Claudio Castagnoli vs. Eddie Kingston!
– "All Ego" Ethan Page vs. Kenny Omega!
And remember…the home of professional wrestling is All Elite Wrestling!