Tagged as: 12, Adam Copeland, AEW, AEW Collision, AEW Dark, AEW Dynamite, AEW News, AEW Rampage, All Elite, All Elite Wrestling, Being the Elite, big, Break Through, Bryan Danielson, BTE, Christian, Christian Cage, cj, Collision, Continental Classic, Dynamite, Elite, Event, Fall, From, gold, Highlights, impact, Interview, Media, MJF, Montreal, njpw, OWN, Power, Professional Wrestling, Rampage, ROH, SEE, share, sting, Tag, The, the man, title, TNT, Tournament, Wednesday, Well, WON, Wrestling, YouTube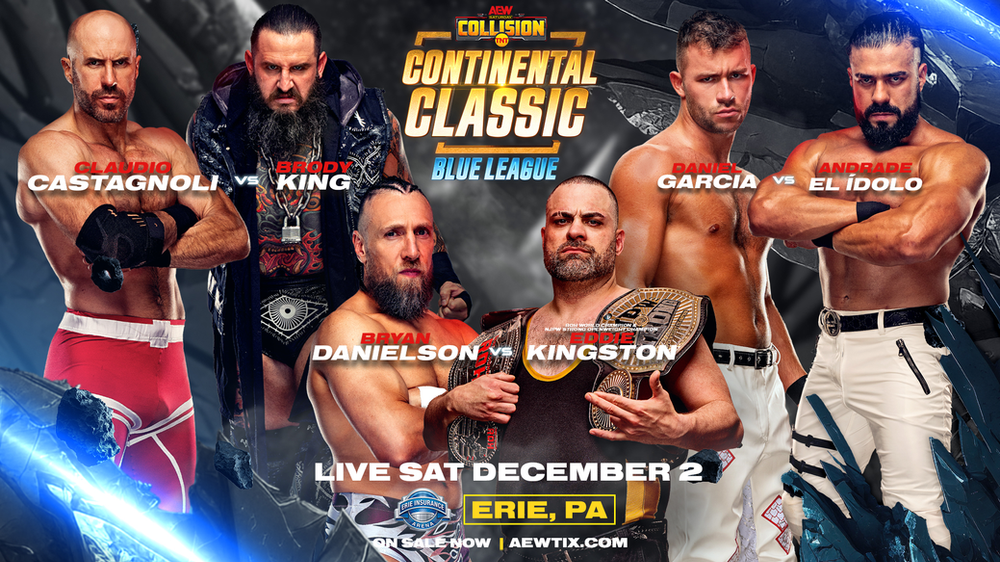 https://www.youtube.com/embed/O0Jut3DVWls?si=HfakuNnyXkJUXZYu
Between an action packed edition of RAMPAGE Friday night, and the Gold League bouts that went down Wednesday during DYNAMITE, this has already been quite the exciting week for All Elite Wrestling! Add in impending TNT Championship clash between Christian Cage and Adam Copeland now set for Montreal at the Bell Centre, and it would be a satisfying week in AEW action if it ended now.
But thankfully it isn't over yet, because this Saturday night, when AEW makes their Erie, PA debut at the Erie Insurance Arena, the Continental Classic continues with action in the Blue Blue, including the first bouts for Bryan Danielson and Andrade El Idolo as they take on ROH World/NJPW STRONG Openweight Champion Eddie Kingston and Daniel Garcia respectively! Plus, in a battle of unbeatens, Blackpool Combat Club's Claudio Castagnoli will lock up with The House of Black's Brody King after the former scored a huge victory over Kingston last week.
https://www.youtube.com/embed/DKV-oD9KQ4I?si=zIv0ZNg7ijMWmfUz
The Blue League tournament action gets underway at 8pm ET/7pm CT on TNT, and to get prepared for it all, visit the official AEW YouTube channel, as well as AEW's other social media platforms, to catch highlights from this week's DYNAMITE and RAMPAGE, as well as events from last week's COLLISION, and the latest CONTROL CENTER!
CONTINENTAL CLASSIC TOURNAMENT: BLUE LEAGUE…
The BCC's "The American Dragon" Bryan Danielson(0) vs. ROH World/NJPW Strong Openweight Champion Eddie Kingston(0)
https://www.youtube.com/embed/kjfkyl_ZGfA?si=DzCe_JXQILC1XLRN
This may very well be the most intriguing match-up taking place on Saturday night; Eddie Kingston is coming off a loss to Brody King last week in their first tournament bouts, while "The American Dragon" is coming into this one having suffered a fractured orbital bone just over a month ago. The loss to Brody was certainly a rough pill to swallow, not because King is a lesser opponent in any way, but because of the fact Kingston put both his ROH World Championship and NJPW STRONG Openweight Championship into the mix for the winner of the Continental Classic. It is not a good first step for the reigning champion to lose out the gate, but from watching his post-match interview, Kingston is trying to be a better version of himself than he would have been in the past. He knows his flaws, he publicly acknowledges them, and is telling the world he will not follow that path to self-destruction again.
Bryan Danielson, on the other hand, is clearly full of piss and vinegar, coming in as confident as ever despite his injury costing him the last month of his career. It's the first injury that's kept Bryan out, hopefully his last, and certainly not the first time his eye was the problem. Credit for that goes back to 2007's series of matches with former ROH World & GHC Heavyweight Champion Takeshi Morishima, particularly ROH's MANHATTAN MAYHEM II event. Yet as he did then, Danielson is determined to fight on, taking whatever precautions he is required by medical staff, but still game for the fight to come each and every night. Best be wary though when he's fighting a man like Kingston whose signature is a spinning back fist liable to crack that orbital bone into powder if it connects; yet Danielson seems to see the ROH World Champion as the same individual he first one-on-one with in Taylor, MI back in 2010. Despite everything Eddie has accomplished in the last 13 years, Bryan Danielson clearly does not respect the man, that much Bryan made clear when he joined commentary on Wednesday night.
And while Bryan may also hold an AEW win from RAMPAGE #12 when both entered the 2021 World Title Eliminator Tournament, that does not mean he's fighting an Eddie with the same mindset he had then. Danielson know faces a man who has achieved his dreams, he's fought in NJPW's G1 Climax, he's claimed two championship titles this year, and he knows the responsibility on his shoulders as a result. Eddie, despite "Mad" being part of his sobriquet, is not crazy or unhinged or out of control, he knew the risks when he threw his titles into the mix, and after feeling the sting of loss a week ago, he's not about to fall deeper into that hole.
If he does, eventually he won't be able to climb out, and that's not just a statement on his points total…
The House of Black's Brody King(3) vs. The BCC's Claudio Castagnoli(3)
The two victors from last week's Blue League bouts are set to meet in singles competition this Saturday night for the very first time! Never a tag, never a trios, certainly not a one-on-one, this will mark the first time The House of Black's Brody King and the Blackpool Combat Club's Claudio Castagnoli ever share the ring, and that is an exciting prospect!
Not only are there implications for their respective units, the issues raised between The House and The BCC that began when Malakai attacked Bryan Danielson weeks ago, but it also means one man in the Blue League is going to hit six points while, potentially, two individuals remain at zero and two others gain their first three points.
On paper this is a battle of two of the biggest men in AEW, but they are not big in the same way; where Claudio is strength, muscle, and finesse, Brody King is power, size, and brutish. Claudio is schooled in various disciplines of professional wrestling from his years traveling the globe while King is akin to a Bruiser Brody ripped into the 21st Century, and unleashed upon hapless foes. Yet within that brutish offense, is a speed unexpected from a man looking like Brody King, a true "don't judge a book" situation for professional wrestling, though the same could've been said for Claudio prior to his BCC entry. Most assumed him a devotee of a more pure approach to the fight, but his time with Mox and company has shown how adept "The Swiss Superman" is at violence.
In this battle of The House versus The BCC, for leadership in the Blue League, who will fold?
Andrade El Idolo(0) vs. Daniel Garcia(0)
It was only a few weeks ago that Daniel Garcia and Andrade El Idolo had their first right as CJ Perry watched on from ringside, but now that the Continental Classic has begun, their rematch has a much greater wrinkle than the management of Perry. Both Andrade and Garcia enter into this fight with zero points to their name, but in the case of the former, that's because it is also his first fight in the Blue League whereas the latter fell to Claudio Castagnoli a week ago.
As heard from Garcia's own mouth, the young man is struggling with that loss and how it makes him feel. The word "loser" kept falling off his tongue as he spoke, and though he did lose, that does not make Garcia a loser. Eddie Kingston lost, Jay White lost, Jay Lethal and Mark Briscoe have lost twice, given how many fights a man goes through in this tournament, losing is nearly unavoidable but it seems as if that is weighing on Daniel Garcia's mind. It's similar to Eddie's struggle, but perhaps the experience difference is allowing Kingston to push through while Garcia seems on the precipice of getting stuck in that mindset.
If he allows that to become the case, Andrade El Idolo will run all over Daniel Garcia this Saturday on COLLISION and earn his first three points in the Continental Classic, but if the man once called "Red Death" can find the confidence he had before entering the fray, before the losses to MJF, Miro, and Andrade dampened his fighting spirit, he will be deadly. The man who once slayed "The American Dragon" could become the man who raises AEW's Triple Crown comes WORLDS END (https://www.allelitewrestling.com/aew-event/aew-worlds-end) or he could be the man who ends the Continental Classic with a goose egg next to his name…
ONE-ON-ONE…
Abadon vs. Kiera Hogan
It's been a little over a month since Abadon clashed with Hikaru Shida in that memorable "Fright Night Fight" over the AEW Women's World Championship, and this Saturday night "The Living Dead Girl" is back in action on COLLISION!
Her opponent this evening is one which she's never competed against before, "The Girl on Fire" Kiera Hogan! It's also been a couple months since Hogan has been inside the AEW ring, though she's done well for herself with ROH ON HONOR CLUB, and is looking to make an impact to get into the title hunt.
It's a battle of two athletes looking to break through to that next level and earn their first championship here in All Elite Wrestling. Add up those wins and soon that opportunity will come…
https://www.youtube.com/embed/nMvyXZGi_Rc?si=6ALkhQBgLVp0AJNd
This Saturday night All Elite Wrestling makes their Erie, PA debut at the Erie Insurance Arena with three huge Continental Classic: Blue League match-ups, featuring a clash of three-pointers in Claudio Castagnoli and Brody King, as well as two men in Bryan Danielson and Andrade El Idolo fighting in their first tourney bout. The former will take on Eddie Kingston while the latter meets Daniel Garcia in a rematch of their recent COLLISION confrontation.
The Blue League tournament action gets underway at 8pm ET/7pm CT on TNT, and to get prepared for it all, drop by the official AEW YouTube channel to watch highlights from this week's editions of DYNAMITE and RAMPAGE, as well as events from the last COLLISION, and the latest CONTROL CENTER!
https://www.youtube.com/embed/ch3nwSFhahM?si=G9CCRpcSK03Y9Do1