Tagged as: Action Andretti, Adam Copeland, AEW, AEW Collision, AEW Dark, AEW Dynamite, AEW News, AEW Rampage, All Elite, All Elite Wrestling, Basketball, Being the Elite, big, BTE, Bubble, chris jericho, Christian, Christian Cage, Collision, Con, Continental Classic, don callis, Dynamite, Edge, Elite, Event, Fall, Fired, Forever, From, Future, impact, Jericho, jimmy jacobs, keith lee, kenny omega, lady frost, Martin, MJF, Montreal, New, njpw, OWN, Pittsburgh, Professional Wrestling, Rampage, results, ROH, SEE, sting, Tag, TBS, The, title, TNT, Wednesday, Well, Willow, WON, Wrestling, You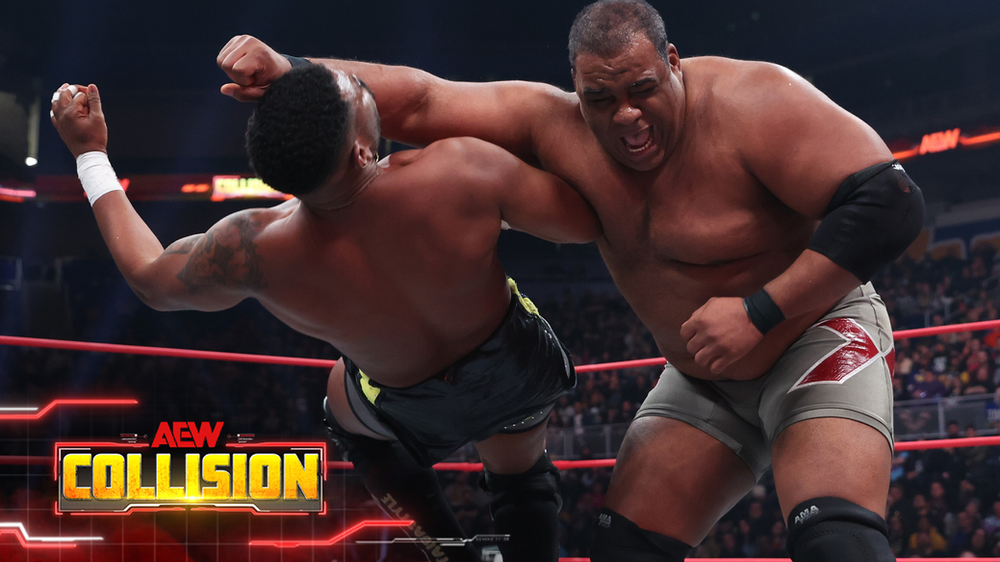 **CONTAINS SPOILERS**
Tonight's AEW RAMPAGE & AEW COLLISION shows were broadcast live from the Petersen Events Center in Pittsburgh, PA!
Tony Schiavone, Kevin Kelly, and Nigel McGuinness were the broadcast team for tonight's event.
It's Saturday night and you know what that means! Saturday night's alright for fighting!
FTW Champion HOOK vs. Rocky Romero!
Rocky escaped a suplex and both men ran across the ring, delivering lariats, knocking one another down. Hook was first back to his feet. Hook hurled Rocky with a bigtime German Suplex. Rocky struck Hook with a rising knee strike and then a vertical suplex on the apron! Rocky followed up with the forever clotheslines back in the ring.
Hook rallied back with a vicious exploder suplex on Rocky. It was a high impact match in a very short time. Hook hit Rocky with body blows in the corner. Hook headbutted Rocky and got a near fall after a Northern Lights Suplex.
Rocky stunned Hook with Sliced Bread #2. Hook employed a leg sweep on Rocky. Hook countered a second attempt at the Sliced Bread with RedRum, and Hook won via ref stoppage!
Kris Statlander vs. Diamante!
Diamante tried to outpower Statlander, but once she realized she couldn't, Diamante slapped Statlander. Kris knocked down Diamante with a shoulder block. Statlander powerslammed Diamante for a near fall. Mercedes Martinez walked out onto the ramp to scout Statlander.
Statlander was rolled up by Diamante for a two count. Diamante charged at Statlander, but Statlander was waiting for her with a powerslam. Diamante covered Kris after a cutter, but Kris kicked out. Diamante charted at Statlander, but Statlander countered with a discus lariat and scored the pin on Diamante!
Mercedes jumped in the ring and she and Diamante began to double team Kris. Willow Nightingale sprinted to the ring to even up the odds, coming to the rescue of the former TBS Champ Statlander!
The Kingdom—Mike Bennett and Matt Taven came out, asking the audience if they wanted to celebrate #NeckStrengthNovember!
Bennett said that Roderick Strong wasn't here tonight because he was recovering from the match last week against Action Andretti, but luckily, Roddy is #neckstrong. Taven said MJF was the devil. Taven told MJF they are coming back for what's theirs.
Duke Davis and Danny Jones got blindsided by the Kingdom, and the match began! Taven hit the Climax on Jones. Bennett spiked Davis on the ramp with a piledriver! Taven then connected with the aurora borealis for the pin!
Rampage Main Event Time!
ROH Pure Championship Match!
Katsuyori Shibata (c.) vs. Blackpool Combat Club's Wheeler Yuta!
Jerry Lynn, Jimmy Jacobs, and Christopher Daniels were the judges.
The fans chanted "Shi-ba-ta! Shi-ba-ta!"
Shibata applied the bow and arrow submission to Yuta. Wheeler escaped and Shibata followed up with strong knee strikes. Shibata applied a leg submission and Wheeler grabbed the ropes, utilizing his first rope break of the match. Yuta was immediately issued a warning after a closed fist to Shibata's face.
Shibata dropkicked Yuta's head against the turnbuckle. Shibata applied the STF and Wheeler managed to reach the ropes, utilizing his second rope break of the match. Shibata put a sleeper on Yuta, but Yuta shucked him off. Wheeler fired himself out of the ring with a tope suicida to Shibata!
Yuta whipped Shibata into the guardrail. Shibata returned the favor, whipping Yuta into the guardrail. Back in the ring, Yuta ducked a PK from Shibata. Yuta knocked Shibata into the ref, hit a low blow while the ref had his back turned, and DDT'ed Shibata right on his head to score the pin!
And new ROH Pure Champion…Wheeler Yuta!
Shibata tried to shake Yuta's hand after the match, but Yuta nailed Shibata with another low blow and then DDT'ed him.
FTW Champion Hook came down to the ring to check on Shibata. Yuta left, scowling at Hook and holding up the ROH Pure Championship.
The RAMPAGE portion of the evening kicked off!
Continental Classic Match—The Blue League!
Daniel Garcia vs. Blackpool Combat Club's Claudio Castagnoli!
Claudio Castagnoli quickly hit Garcia with a tilt-a-whirl backbreaker. Claudio followed up with a body slam. Garcia lunged at Claudio with a guillotine, but Claudio muscled his way out of it. Garcia chopped at Claudio, but Claudio fired back with a European Uppercut.
Garcia charged at Claudio, knocking Claudio out of the ring with a running knee. Daniel hammered Claudio with stiff shots to the head. Garcia ran at Claudio, but Claudio caught him and swung him into the steel guardrail.
Claudio applied a sharpshooter in the ring. Garcia managed to trap Claudio and cradle him for a near fall. Claudio blasted Garcia with a European Uppercut. Claudio rocked Garcia with the Ricola Bomb and pinned him, earning three points!
Representing the Patriarchy…Killswitch vs. The Boys—Brent & Brandon Tate!
Brent was thrown overhead by Killswitch with a wheelbarrow suplex. Killswitch choke slammed Brandon over the top rope and down onto the edge of the ring! Killswitch clobbered Brent with a lariat to the back of the head and pinned him!
Killswitch grabbed two chairs and placed them into the ring. Killswitch choke slammed Brent onto the chair! Killswitch grabbed Brandon but then the "Rated R Superstar" Adam Copeland jumped into the ring and cracked a chair over the back of Killswitch! Copeland smashed Killswitch with the con-chair-to!
Killswitch tried to get to his knees but Copeland curb stomped Killswitch onto the chair! Copeland nailed Killswitch with another con-chair-to!
After a commercial break, Lexy Nair interviewed Adam Copeland backstage.
Copeland: "Lexy, I like you, but go. You know what I have to say? I'm coming straight down the barrel to you, Jay. Or should I call you Christian Cage? Or better yet should I call you the Patriarch now? All of this, what just happened to Nick Wayne on Wednesday, what just happened to Killswitch, it's all because of your insecurity!
"You couldn't get past your own ego, could you, man? The night I got here, you were about to con-chair-to Sting. Last Wednesday, you were about to have Killswitch con-chair-to Nick Wayne. You know I've got a short fuse. You said you were going to break my neck while my children looked at me. You're not just threatening me and my future, you're threatening theirs. Now I'm hunting you. I've already got two heads on my wall. I'm going to change your soul. I'm going to kick your face in. I am going to take your TNT Title because it's the most important thing in your world.
"I am challenging you. Dynamite, December 6th, Montreal, Adam Copeland versus Christian Cage for the TNT Championship. And I am going to go places you can't go, and you haven't been to because you don't have that dog in you. I am going to take your TNT Title!"
The House of Black's Malakai Black & Buddy Matthews
vs.
Komander & Gravity (with Alex Abrahantes)!
Buddy punted Gravity in the face and tagged out to Black. Malakai had a flurry of strikes for Gravity. Komander had a blind tag and caught Black off guard with a hurracanrana. Black planted Komander with a German Suplex for a near fall.
Komander connected with a shotgun dropkick off the top to both House of Black members. Komander nailed Black with a gut buster for a near fall. Gravity took flight with a tope con hiro but Black and Matthews caught him and blocked it. Komander walked the ropes from one turnbuckle from another and then springboarded off the top, taking out Black and Matthews on the arena floor!
Komander and Gravity each jumped off turnbuckles, but Black and Matthews countered by raising their knees. Black cracked Gravity with a knee lift, and Matthews smashed Komander with a knee lift!
Black ravaged Komander with a spinning back elbow and then sat on the mat, waiting for Komander to crawl to him. It was a trap. Buddy curb stomped Komander and then pinned him!
TBS Championship Match! House Rules Match!
Julia Hart (c.) vs. Lady Frost!
Lady Frost chose no count-outs for this match.
Julia Hart whipped Lady Frost into the steel guardrail. The rules were favoring Julia Hart here. Julia picked up a steel chair and placed it on the ground after being admonished by the ref. Lady Frost tried for a moonsault off the ring steps, but Julia dodged it. Lady Frost landed on her feet, but Julia was one step ahead with a thrust kick to the challenger.
Julia propped Lady Frost on the steel chair. Julia ran down the ramp and clotheslined a prone Lady Frost. Back in the ring, Julia applied the Heartless Submission and forced Lady Frost to tap out!
"Julia Hart's first title defense is a successful one," said Tony Schiavone.
Lexy Nair was backstage with Don Callis and Powerhouse Hobbs!
Don Callis: "I can't figure out the calculation that got the Golden Jets—Chris Jericho and Kenny Omega—a tag team title shot. I can't figure out how you make that calculation when the last time Hobbs had his hands on Jericho and Omega, he broke them, sent them to the hospital. And as Will would say, anyone can get got. And Kenny and Chris, we don't need two guys to beat the Golden Jets. Hobbs is a one man wrecking crew."
Powerhouse Hobbs: "It's simple. I'm big, I'm black, and I'm jacked, and anybody can get it."
FTR—Dax Harwood & Cash Wheeler
vs.
The Righteous—Vincent & Dutch!
Dax used a lariat to knocked Dutch over the top rope. Dax backdropped Vincent out of the ring, and Vincent landed on Dutch. Back in the ring, Dutch splashed Dax for a two-count. Dutch was looking for a senton off the turnbuckles, but Dax dodged it. Vincent grabbed a tag, but Dax used a baseball slide through Vincent's legs to tag out to Cash!
Cash cleaned house on the Righteous. Dutch grabbed a blind tag and planted Cash with a bossman slam! Dax tagged in and FTR hit the Shatter Machine on Vincent, allowing Dax to score the pin.
Malakai Black and Buddy Matthews walked toward the ring.
Black: "If we would come to the ring right now there would be no one coming to save you. No Claudio, no Yuta. See the misconception is that this place is not the brotherhood that you two think it is."
The arena went dark. When the lights came back on, FTR were alone in the ring, but the House of Black had vanished.
Action Andretti and Darius Martin were backstage!
Action Andretti: "Eight months, that's how long it's been since Darius, and I have been teaming together. Darius, these past eight months, I feel like we've grown such a bond together. We've had so many great opportunities and I've heard that this Wednesday Dynamite is returning to your hometown in Minneapolis."
Darius Martin: "Yeah, man, we have been building a lot of chemistry. But it seems like there's something just a little bit off and I think I know what that might be."
Dante Martin walked onto the scene!
Darius turned to Dante and said, "You ready to step up? It's time to take flight."
Dante Martin: "I'm back!"
Tony Schiavone interviewed AEW World Tag Team Champions "Absolute" Ricky Starks and Big Bill!
Ricky Starks: "We thought there was going to be more of a fight from Jericho."
Big Bill: "These two guys call themselves the Golden Jets. To us you look more like the Golden Girls."
Starks: "Nice. I like that. They traveled up and down the roads together. Me and Bill don't even know each other that well. Bill, when's my birthday?"
Big Bill: "No idea."
Starks: "Exactly. But what I do know is that you two aren't built like him."
Big Bill: "Four years ago when I was in and out of the emergency room having seizures from alcohol withdrawal, I always knew I'd make it back to the top. When I couldn't get out of bed and I was at the lowest point of my entire life, I always knew I'd make it back to the top! And when nobody believed in me and they counted me out, they said he's washed, he's done, I always knew I'd make it back to the top!
"And standing in this ring with this guy, with these titles, I'd say I was right. I made it back to the top. Now Chris and Kenny, we know all about you. We're very aware of all of the accolades. And you two are two of the best to ever do this. But I don't think you two realize what you're dealing with. We are angry, we are motivated, and we're not only going to beat the living hell out of you, we're going to embarrass you. When I look at you two, I don't see Jordan, I don't see Pippen. When I look at you two, all I see are the dudes that hand Michael Jordan his Bazooka Joe bubble gum before starting lineups are introduced."
Starks: "I don't even watch basketball and I know all those people are really good. And I also know two things: one guy tells everybody he's the best, and the other actually is. After you are done with me and Big Bill, I'm going to let you know one thing. Ricky Starks likes his gum minty fresh and Big Bill likes his Big Red, baby."
"Limitless" Keith Lee vs. Lee Moriarty!
Lee Moriarty kicked Keith Lee on the thigh. Keith fired back with a kick of his own, but Moriarty ducked it. Keith Lee came back with a pounce on Moriarty!
Lee Moriarty grabbed an arm bar, but Keith Lee pulled him up with a bicep curl. Keith Lee walloped Moriarty with a lariat. Moriarty stunned Keith with a bulldog from the top rope. Moriarty springboarded but Keith countered with a headbutt and then finished him off with a powerslam for the pin!
After commercial break, Lexy Nair interviewed Keith Lee!
Keith Lee: "Initially I planned to come in here and tell you about how good and talented Lee Moriarty is. He is that damned good. But he's no Keith Lee. And I'm tired of the misrepresentation and the lack of opportunity given to me. And now I'm here to take it. And when I say take it, that means him. You are who I want. And you know who you are."
Nigel: "Smart money has got to be on Shane Taylor."
Tony: "That's the question for us to ponder."
Main Event Time!
Continental Classic Match—The Blue League!
ROH World Champion & NJPW Strong Openweight Champion Eddie Kingston
vs.
House of Black's Brody King!
Brody and Eddie traded shoulder blocks. Then they exchanged chops in the center of the ring. Brody battered Kingston in the corner with a running cannonball. Outside the ring, Brody pummeled Kingston with more chops and then whipped Kingston into the steel ring steps. Brody charged at Kingston, but Kingston countered with a drop toehold, sending Brody colliding into the steps.
Brody rallied back, splashing Kingston against the barricade. Back in the ring Brody body slammed Kingston and then connected with a senton splash. Brody tried to whip Kingston into the turnbuckles, but Kingston's legs gave out and he crumbled to the mat.
Kingston collected himself and out of nowhere, in a desperate move, Kingston clubbed Brody with a lariat. Eddie went for an exploder suplex, but Brody countered with a German Suplex. Kingston shocked Brody with a spinning backfist for a near fall!
They traded chops again! Brody switched to forearms. Eddie spiked Brody with a DDT for a near fall! Eddie charged at Brody King, but Brody planted Kingston. Brody was looking for a lariat, but Eddie countered with an exploder and then a half-and-half suplex. Kingston followed up with a third suplex for a two-count on Brody!
Brody nailed Kingston with a piledriver for a two-count. Eddie ducked a lariat and cracked Brody with a spinning backfist! Brody decimated Kingston with Dante's Inferno and then pinned him! Brody has earned three points!
"Holy smokes! What have we just seen? This is what the Continental Classic is all about," said Tony Schiavone.
Catch AEW DYNAMITE on TBS next Wednesday live at 8/7ct from the Target Center in Minneapolis, MN!
And remember…the home of professional wrestling is All Elite Wrestling!