Tagged as: Adam Copeland, AEW, AEW Dark, AEW Dynamite, AEW News, AEW Rampage, All Elite, All Elite Wrestling, ALL IN, All out, Being the Elite, belt, big, BLAZE, Bryan Danielson, BTE, Bucks, Chicago, chris jericho, Christian, Christian Cage, Collision, Continental Classic, Dynamite, Elite, Eve, evolve, Fear, From, Full Gear, gold, Highlights, Horror, Interview, Jericho, keith lee, LA, London, Los Angeles, Martin, Media, Memory, MJF, New, njpw, Orange Cassidy, OWN, Pittsburgh, PPV, pro wrestler, Professional Wrestling, pwg, Rampage, ring of honor, Rivalry, ROH, Sports, Stadium, Stadium Stampede, sting, Swerve, Tag, tag team titles, TBS, Thanksgiving, The, the man, the young bucks, title, Tournament, Trade, trent beretta, Wednesday, Well, WON, Wrestledream, Wrestlers, Wrestling, You, Young Bucks, YouTube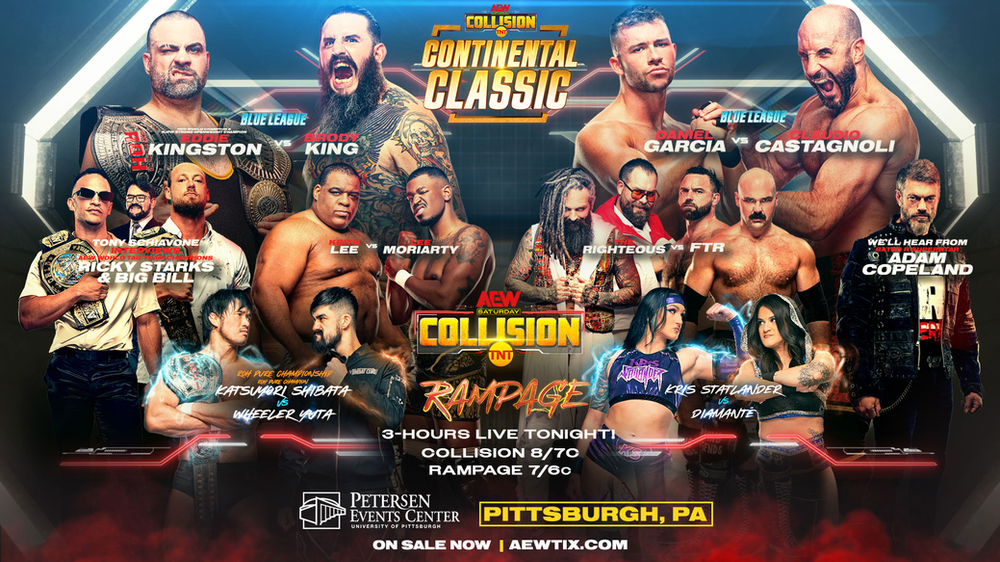 https://www.youtube.com/embed/7Dtff41MQe0?si=sU6As6UUClunb6dH
What a week it has been in All Elite Wrestling! Starting with FULL GEAR 2023 this past Saturday, and continuing into DYNAMITE on Wednesday night, the landscape of AEW continues to be the most exciting in all of professional wrestling! We know that Samoa Joe and MJF are scheduled to collide at WORLDS END, providing MJF doesn't end up in a situation where the belt is at risk, but in addition the culmination of the Continental Classic will go down that night in Long Island as well!
This week in Chicago, as part of AEW's Thanksgiving Eve tradition, fans witnessed Jon Moxley, Swerve Strickland, and Jay White each score three points in the Gold League, leaving Mark Briscoe, Jay Lethal, and Rush with zero points to their names, with the first bouts in the Blue League going down in Pittsburgh this Saturday night!
This Saturday night, with three hours of action between RAMPAGE and COLLISION, the Petersen Center on the campus of Pitt will be rocking! The first bouts in the Blue League of the Continental Classic are set to go down with ROH World/NJPW STRONG Openweight Champion Eddie Kingston fighting Brodie King and Claudio Castagnoli taking on Daniel Garcia during COLLISOIN. But before that, on a special Satu night edition of RAMPGE, the ROH Pure Championship will be at stake with a SUPERCARD OF HONOR 2023 rematch between 2-Time champ Wheeler Yuta and the man who dethroned him, Katsuyori Shibata into the mix, and it all begins at 8pm ET/7pm CT live on TBS, as well as at AEWPlus.com for international fans. Be sure to visit the official AEW YouTube channel, as well as AEW's assorted social media platforms, to get caught up on the action with highlights from FULL GEAR 2023, as well as recent episodes of DYNAMITE, RAMPAGE, COLLISION, and this week's CONTROL CENTER!
RAMAPAGE
ROH PURE CHAMPIONSHIP MATCH…
Katsuyori Shibata(c) vs. Blackpool Combat Club's Wheeler Yuta
Perhaps it's his experience as a member of the Blackpool Combat Club that has beaten any fear from the former 2-Time ROH Pure Champion, perhaps it is cockiness due to that affiliation, but whatever the reason, it is clear that Wheeler Yuta fears little. Why else would he, all by himself, step the AEW International Champion Orange Cassidy, FTW Champion HOOK, and ROH Pure Champion Katsuyori Shibata ahead of their Trios match on DYNAMITE and talk trash on all three of them? There is plenty of history between Yuta and all three of these individuals; Orange served as a mentor to Yuta for much of his career before The BCC came calling while HOOK's association with OC led to Yuta holding a pinfall victory over the FTW Champion on the November 15th DYNAMITE, and finally, it was Katsuyori Shibata who ended Yuta's second reign as ROH Pure Champion earlier this year at SUPERCARD OF HONOR 2023, a loss that Yuta has certainly not forgotten.
It seems the sting of that memory, and standing just feet away from Shibata hold the title belt, encouraged Yuta to dip his toes back into the Pure Division this past Thursday during ROH ON HONOR CLUB (www.watchroh.com), and score a victory over Shane Taylor Promotions member Lee Moriarty.
Earlier in the night, in a tremendous Pure Championship bout, Shibata retained the title over Trent Beretta, a man quite familiar to Yuta albeit the one member of the Best Friends unit who didn't care for Wheeler's presence, and as a result of these respective victories, this Saturday night on RAMPAGE, Wheeler Yuta will get the rematch he's been waiting for since March 31st! With almost 240 days under his belt as champion, Shibata heads into this ninth title defense as strong as he's ever been, and as imposing a presence as ever, and the history between these two men does not tilt in Yuta's favor.
In addition to their SUPERCARD OF HONOR 2023 fight, there was that ALL OUT 2023 tag team bout that may have been won by The Blackpool Combat Club, but Shibata's offensive barrage actually put Yuta on concussion protocol for several weeks. So while this is primarily about the Pure Championship, and Yuta's desire to be the only 3-time Pure Champion (he's already the only two-timer), there's also a whole lot of other reasons for Yuta to want this fight on Saturday evening!
The Blackpool Combat Club is woefully lacking any championships at this moment, but with Moxley's victory in his first Continental Classic match serving as a moral booster to the unit, and Castagnoli's fight with Garcia following shortly after Yuta's, this could be a week that shines in the history of The BCC. The question may then be whether Yuta or Shibata will bring the violence needed to emerge from this fight as reigning Pure Champion!
ONE-ON-ONE…
Kris Statlander vs. Diamante
Coming off losing the TBS Championship to Julia Hart at FULL GEAR 2023, Kris Statlander is back in action against one of her long-time rivals, a woman she's got history with dating back to 2018, but who she's surprisingly never gone one-on-one with in a televised bout! Diamante and Stat had a pair of singles matches on DARK, in addition to two trios bouts, and they even clashed in a tag on COLLISION back in September, but this Saturday night will be their first televised singles match ever!
Statlander certainly holds upper hand in their rivalry, having been on the winning side for four of their five AEW bouts, but will she be there for it after watching the TBS Championship slip out of her grasp last week in Los Angeles? This may be the prime moment for Diamante to strike and score a huge victory over her rival!
COLLISION
CONTINENTAL CLASSIC TOURNAMENT…
BLUE LEAGUE
Blackpool Combat Club's Claudio Castagnoli vs. Daniel Garcia
They were trapped inside the Blood & Guts Cage together 17 months ago, and they fought in tags and trios over the ensuing months once Chris Jericho defeated Claudio Castagnoli to become ROH World Champion, but this Saturday night in Pittsburgh will be the first time that Claudio and Daniel Garcia fight in singles competition, and what stakes there are at hand!
This bout marks each man's first in the Blue League of the Continental Classic, and Garcia is undoubtedly the underdog, not just in this match, but in the big picture of the entire twelve-man tournament! Though he is a former ROH Pure Champion, and the current PWG Champion, Garcia is absolutely the dark horse of the Blue League. After all this is a bracket consisting of the men involved in this match as well as Bryan Danielson, Andrade El Idolo, Eddie Kingston, and Brody King. That being said, regardless of how they came to be, Garcia's record book shows victories over Brody and Bryan, though they are balanced by losses to Andrade and Kingston.
So the question is whether or not Garcia can find an amalgamation of his pro wrestler side and his sports entertainer side, because if he can find a balance of the two, he could evolve into the most dangerous wrestler in the whole of All Elite Wrestling. There is not doubt he is one of the most gifted wrestlers in the game today, he is also one of the most entertaining, but he's yet to find a balance of the two that leads to consistent success.
With so much at stake in each Continental Classic match it becomes imperative that Daniel Garcia find his identity, and decide who he wants to be. Nothing dictates he has to be one or the other, but he has to figure out a balance between his best attributes if he hopes to defeat the complete package that is Claudio Castagnoli. One would be hard-pressed to find a professional wrestler more adept at every style in the game than Castagnoli, or one more powerful than the former ROH World Champion. Though there are several more matches to be fought before WORLDS END comes, that first victory is imperative to setting the town for the Continental Classic; will it be Claudio's victory in the record books or will it belong to Daniel Garcia
ROH World/NJPW STRONG Openweight Champion Eddie Kingston vs. The House of Black's Brody King
The enhanced stakes of this tournament, the situation where the winner will walk out not only as AEW Continental Champion, but also as ROH World Champion and NJPW STRONG Champion, are a direct result of the fighting spirit that burns in the soul of Eddie Kingston. Call him "The Mad King", call him "The Last of a Dying Breed", whatever you call him, you have to call Eddie Kingston a fighter with a respect for professional wrestling above and beyond the call of duty. There is no reason for Eddie to put both his hard-earned championship titles at stake save for his belief that a champion should be defending their title any time they are in a prize fight.
That leads to this situation where Eddie has laid both his championship titles on the line for the ultimate winner of this Round Robin-Style Tournament, thereby creating a modern American Triple Crown Championship, and adhering the Continental Classic winner to three separate promotions. But that's what comes at WORLDS END for the winner of the entire field, this Saturday night during COLLISOIN, Eddie Kingston will first have to deal with a man he first met in La Boom back in 2018, and first fought in Wilmington, CA one month later: The House of Black's Brody King!
These two men had issues in All Elite Wrestling earlier this year, problems that created the fissure in the relationship between Ortiz and Kingston that ultimately put those two on opposite sides of the Stadium Stampede at ALL IN: LONDON, but seem quelled based on recent Ring of Honor activity, but the Kingston/HoB issues never put Eddie in the ring with Brody here in AEW.
That all changes this Saturday night on COLLISION when, as part of the Blue League, Eddie and Brody lock horns in singles competition for the first time in AEW, and for the first time time since an AAW title fight in December 2018. These are two men who were inspired to this trade because of their love for Puroesu, because of their love for the concept of Fighting Spirit, and though they've traveled very different paths to get to this point, now are engaged in a tournament that owes a great deal of inspiration to those that elevated the men Brody and Eddie love into inspirational figures.
This is going to be a hard-hitting affair, one in which bombs will be thrown from the outset, and neither man will emerge in perfect health. No matter who wins, both Brody and Eddie will know they've been through a battle to score their first 3 points, and they will feel the repercussions of the bout throughout the rest of the Continental Classic.
THE CHAMPIONS SPEAK…
After assaulting Chris Jericho following the FULL GEAR 2023 Media Scrum, reigning AEW World Tag Champions Ricky Starks and Big Bill will be on-hand this Saturday during COLLISION for an interview with Tony Schiavone.
With that Ladder Match victory under their belt, the duo were already riding high, but putting the boots to Jericho the way they did, and doing more damage to the arm already injured by The Young Bucks has left them even higher on the hog than they were. There's no doubt Starks and Big Bill will have a lot of gloating to do on Saturday, but eventually they will have to answer for their attack, and given that The Golden Jets are owed a championship match, the champions' actions may cost them the titles!
"THE RATED R SUPERSTAR" AND THE PATRIARCHY…
https://www.youtube.com/embed/XV-Ds3PTZzA?si=4TaoyiJCOdIKnqTj&start=356
This past Wednesday night on DYNAMITE, fans watched in horror as Christian Cage prepared to deliver a One-Man Conchairto to Shayna Wayne. If it wasn't for the timely intervention of Adam Copeland, one can imagine the kind of damage that would've been done to Nick Wayne's seemingly-estranged mother. Unfortunately for Nick, it was young Mr. Wayne who ended up with his head sandwiched between chairs and felt the cold sting of the steel across his skull, but also unfortunate was the fact this happened right in front of Shayna.
Whether or not "The Rated R Superstar" even realized there was a distraught mother crumbled in the corner crying for a stay of execution is something only Adam can answer, and perhaps that's what he will address this Saturday night on COLLISION!
TAG TEAM BOUT…
FTR (Cash Wheeler & Dax Harwood) vs. The Righteous (Dutch & Vincent)
FTR were within moments of claiming the AEW World Tag Team Titles at FULL GEAR 2023 but Ricky Starks played spoiler to their moment of redemption, and instead pulled down the titles to keep them around the waists of himself and Big Bill. Frustrating as that may be, it's not the first time Cash and Dax have been on the losing end of a fight and it certainly won't be the last, and that loss is not going to stop them from getting right back into the hunt for a third reign as champions!
The road that hopefully ends in another title opportunity begins tonight on COLLISION when FTR faces The Righteous for the very first time! Dutch and Vincent recently took up with Jake Roberts, a match certainly made in the most devilish of fires, pooling a wealth of knowledge with a bent towards wickedness that could certainly lead The Righteous towards championship success.
Will Dutch and Vincent be able to blaze that trail at the expense of FTR, or will Dax and Cash rebound from their PPV heartbreak and set their sights right back on the AEW World Tag Titles?
SINGLES BOUT…
"Limitless" Keith Lee vs. Shane Taylor Promotions' Lee Moriarty
The issues between Shane Taylor and Keith Lee date back over a decade to the earliest days of the wrestling careers, into their time in Ring of Honor as The Pretty Boy Killers, even spilled over into the New Era of Honor with their fight at FINAL BATTLE 2022 last December, and into AEW with their Mixed Tag Team bout during the ZERO HOUR for WRESTLEDREAM 2023. Now, with Shane Taylor having recruited Lee Moriarty into his fold, it looks like Pittsburgh's own is taking up the fight on his mentor's behalf!
It was just a little over two years ago that Moriarty wrestled his first match for AEW, losing to Dante Martin on the August 17, 2021 edition of DARK, and his drive to become one of the best in the game led him to championship bouts with Orange Cassidy, HOOK, Wardlow, and Katsuyori Shibata, to mention a few, and caught the attention of Shane Taylor.
Stepping up this Saturday to fight Shane's former tag partner, will Lee Moriarty come to regret his choice of partnering with STP, or will that association be the thing that bolsters the master of #TaigaStyle to the level he has been striving for since coming into AEW?
TAG TEAM BOUT…
The House of Black (Buddy Matthews & Malakai Black) vs. Gravity & Komander
FULL GEAR 2023 was not an ideal night for the men of The House of Black, though Julia Hart did bring the TBS Championship into their fold, all three of the men honoring The House were unsuccessful in their respective fights. Buddy Matthews fell to Claudio Castagnoli during the ZERO HOUR, while The Kings of the Black Throne came up short in the AEW World Tag Team Championship Ladder Match.
Thankfully for all three of them, today is a new day for a fresh fight, and while Brody King is embroiled in the Continental Classic Tournament and his opening fight with Eddie Kingston, Malakai Black and Buddy Matthews will team for the first time to take on the high-flying duo of Gravity and Komander! The Luchador duo have been sporadically tagging up for several years, though this will be there first time working as a team in All Elite Wrestling, and what a challenge they face in this House pairing!