Tagged as: AEW, AEW Collision, AEW Dark, AEW Dynamite, AEW News, AEW Rampage, All Elite, All Elite Wrestling, Being the Elite, big, BladeRunner, Bryan Danielson, BTE, Bucks, Bullet Club, chris jericho, don callis, Dynamite, Edge, Elite, Eve, Event, From, gold, HELP, Highlights, Jeff Hardy, Jericho, kenny omega, MJF, New, Pro Wrestling, Professional Wrestling, ROH, SAW, Swerve, Switch, Tag, Test, the man, the young bucks, TNT, trent beretta, Well, WON, Wrestling, You, Young Bucks, YouTube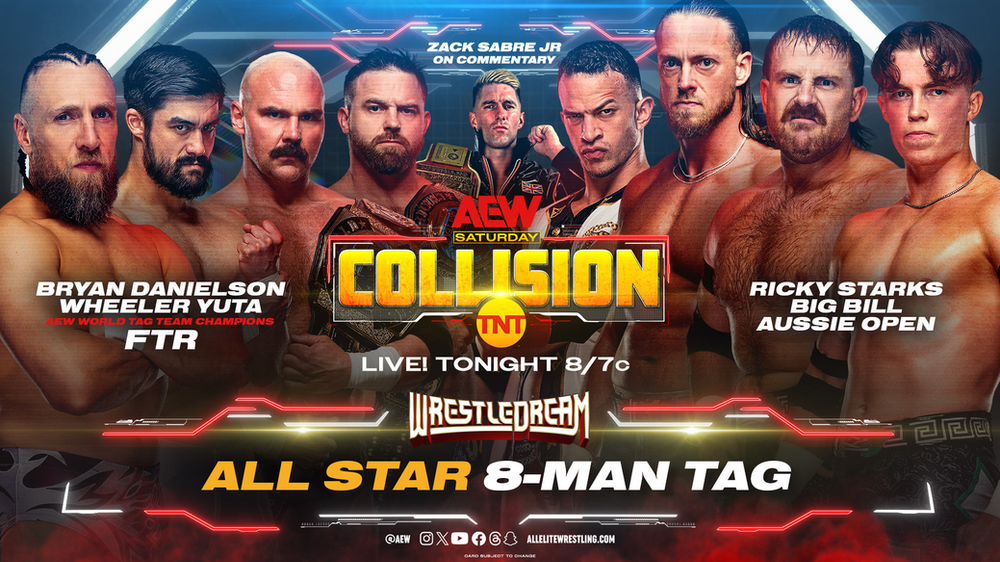 https://www.youtube.com/embed/0dqtlsnywfc?si=E-1iV75Sh8bi4ouW
One night before WRESTLEDREAM, COLLISION comes to the Climate Pledge Arena in Seattle with an event that will test the fortitude of all involved, especially as some head into another fight on Sunday night! After his sketchy loss to Jay White last week, Andrade El Idolo resumes his fight with BULLET CLUB GOLD, this time against Juice Robinson, but will the rest of his unit be on hand as well? Boiling over out of last week's contender's Four Way on RAMPAGE, The Kingdom of Matt Taven and Mike Bennett will clash with The Best Friends in their first tag team foray, and a huge all-star 8-Man tag links BCC with AEW World Tag Team Champions FTR to take on Aussie Open, Ricky Starks, and Big Bill!
https://www.youtube.com/embed/_Z_FPQEghtA?si=1yKQyjUfDRW7spyY&start=286
COLLISION begins at 8:00pm ET/7:00pm CT on TNT, just make a point to swing by the official AEW YouTube channel for highlights from this week's episodes of DYNAMITE and RAMPAGE, as well as the latest editions of CONTROL CENTER, plus COUNTDOWN, and so much more!
ONE-ON-ONE…
Andrade El Idolo vs. Juice Robinson
https://www.youtube.com/embed/_vQh7EIUrCg?si=NH6cP1n0sjuPfSjx&start=225
Like so many wars fought inside the professional wrestling ring, it's rare that they are ever truly over, especially when it is a case of the one fighting the many, and that is the situation with Andrade El Idolo stepping into the ring with BULLET CLUB GOLD. It is a situation with which El Idolo is quite familiar, running the numbers game to ones advantage, but that doesn't mean he enjoys being a victim of it himself, though that is precisely what happened last week when he took on "Switchblade" Jay White in "singles" competition.
First it was Juice saving White from a three count by sliding Jay's foot on the ropes, then shenanigans committed by The Gunns provided the necessary distraction for Robinson to crack Andrade across the head with his "Collision Cowboy" plaque, knocking the man lifeless enough for "Switchblade" to needlessly deliver a Bladerunner to Andrade before the pinfall.
But if Juice Robinson thought he was going to get away with that affront without suffering any repercussions, then he's got another thing coming. Andrade doesn't forgive, he doesn't forget, and this Saturday on the eve of WRESTLEDREAM, he's going to make Juice Robinson suffer for his crimes. Jay White's brain may be a bit occupied with MJF now while The Gunns need to get prepared for their pay-per-view Four Way match, so will they be on hand to help Juice the way he was there to bail out "King Switch"? Or will Robinson have to go this one with only Cardblade at his side?
TAG TEAM GRUDGE MATCH…
Best Friends (Chuck Taylor & Trent Beretta) vs. The Kingdom (Matt Taven & Mike Bennett)
https://www.youtube.com/embed/ko2BAA2HbfQ?si=zcC4QgvjOrX755oS&start=225
Last week, with a shot at the ROH World Tag Team Championship at stake, Chuck Taylor was on the wrong end of a Righteous pinfall victory, albeit one rightfully belonging to Jeff hardy, and saw another chance for The Best Friends to finally win a championship slip away. Yet it wasn't just The Hardys, The Righteous, and The Best Friends involved in this situation, The Kingdom also had skin in the game, and their frustration at not being the next contenders to Better Than You BayBay erupted in violence directed at Chuck Taylor and Trent Beretta.
Whipping them into the railing and assaulting them with chairs, Bennett and Taven let Chuck and Trent know that, in no uncertain terms, they were putting the blame for the loss squared on Best Friend shoulders. Well this Saturday night on COLLISION, instead of attacking the already vulnerable Chuck Taylor after he'd been hit with two Swantons and jumping Trent on the outside as he recovered, The Kingdom will have to face down Best Friends inside the squared circle!
Though they've faced off in a pair of ROH matches, most notably at DEATH BEFORE DISHONOR 2023's Tag Team Championship fight, they've never done so in a traditional tag team situation, so this first-time clash is going to be a true test of each team's mettle. The Kingdom has no problem assailing a foe from behind, but will they be so brave when an angry Trent Beretta and Chuck Taylor are looking them in the eye?
ALL-STAR 8-MAN TAG MATCH…
AEW World Tag Champions FTR (Cash Wheeler/Dax Harwood) & Blackpool Combat Club (Bryan Danielson/Wheeler Yuta)
vs.
Aussie Open (Kyle Fletcher/Mark Davis), Big Bill, & Ricky Starks
***ZACK SABRE JR. ON COMMENTARY***
https://www.youtube.com/embed/DfAtlrgWTKU?si=VwxE31XT-3y5TAwu&start=225
Talk about a bunch of fighters with plenty on their plate already, and now add this all-star eight-man to their meal on Saturday, and they are all going to be feeling it come WRESTLEDREAM! First off, FTR is coming into this Saturday after being truly tested by The Workhorsemen last week, and then confronted by Aussie Open after their victory.
https://www.youtube.com/embed/a0c5V_H3eDs?si=cSk5ie9IANngCqem&start=335
That same night Bryan Danielson and Ricky Starks committed utter atrocities to one another in their Texas Death match before it was ultimately won by "The American Dragon", though neither man looked like a victory, Starks being carried to the back by Big Bill while Wheeler Yuta had to help Danielson stay on his feet. In a career full of trials, tribulations, and tests, it was one of Danielson's best, and when all is said and done in his career, should be looked back on as a true highlight, just as it could possibly be looked back on as the moment Ricky Starks, even in defeat, stepped up to that next level he's been chasing for so long. Perhaps that's how Bryan also feels; if so, there's one man in his BCC camp who clearly still has a problem with "Absolute":
So with everything these men have gone through the last week, with everything they have in store for them tomorrow night on pay-per-view, they all will enter into combat on COLLISION in hopes of garnering that extra edge prior to Sunday's fights. The dynamics of both these quartets should be quite intriguing, witnessing how they mesh for the night and if their respective goals are compatible with one another. However it goes, these are eight elite level fighters all occupying one ring, and that should make for a tremendous final fight before WRESTLEDREAM on Sunday!
UNLIKELY PARTNERS…
Chris Jericho & Kenny Omega vs. Gates of Agony (Bishop Kaun & Toa Liona)
https://www.youtube.com/embed/M6-T_N9tzWo?si=Xtf43s5zUyQ9bxXk&start=286
There it was, right in front of the eyes of the world, Kenny Omega helping Chris Jericho because in that moment, the history between those two men paled in comparison to their mutual issues with Don Callis and his so-called Family. The story of Jericho and Omega predates the dawn of All Elite Wrestling, some may say it even helped inspire the creation of AEW, and has been a key element in the stories of both AEW and New Japan Pro Wrestling, but so too has Don Callis been a key element in both of their stories. For Jericho it has the better part of the last 30 years, while for Omega it has been the whole of his life, and in both cases Callis has threaded his way through so many aspects of each man's existence.
So when he turned his back on each man, it was a betrayal far deeper than the kind quite frequently experienced in professional wrestling. It wasn't about becoming a champion or in pursuit of greater glory, Callis isn't even a competitor at this point in his life, but rather about jealousy and bitterness, and that is why we are here, a day away from Omega and Jericho being joined by Kota Ibushi, and the two Canadians are putting aside their differences to unite against an Elite problem.
The Gates of Agony and Brian Cage were recently dethroned as ROH World Six-Man Champions by The Young Bucks and Hangman Page, while Swerve Strickland is slated to meet Page this Sunday at WRESTLEDREAM, so Kaun and Toa are looking to take out their frustration on any member of The Elite, and Kenny Omega fits that bill!
Call it a gesture of good faith, call it preservation in keeping Omega healthy for Sunday, either way Chris Jericho has agreed to start this partnership a day early and team up with Kenny to take on The Gates of Agony in tag team action! If their partnership can make it through this fight, and win it, that's a good sign for what may come to be at WRESTLEDREAM, but if it can't survive this tag team bout, well then Omega and Jericho, regardless of Ibushi, may be doomed in Seattle!
https://www.youtube.com/embed/pXa8ZvbOvpk?si=wXSzEHtI6IwOBhmt&start=286
COLLISION comes to Seattle and the Climate Pledge Arena this Saturday night for the final event before WRESTLEDREAM, and what a night it will be! Best Friends versus Kingdom, BCC and FTR uniting to face Starks, Big Bill, and Aussie Open, and Andrade jumping into the fire with another member of BC GOLD; it's going to be a wild one in Seattle, with plenty more on tap besides those bouts! The night kicks off at 8:00pm ET/7:00pm CT on TNT so make a point to visit the official AEW YouTube channel for highlights from this week's episodes of DYNAMITE and RAMPAGE, the latest editions of CONTROL CENTER, the COUNTDOWN, and so much more!
https://www.youtube.com/embed/yTJp-K4sLxo?si=93DVnJeWCJVbWqSU&start=286