Tagged as: Adam Cole, Adam Copeland, AEW, AEW Dark, AEW Dynamite, AEW News, AEW Rampage, All Elite Wrestling, Being the Elite, belt, BET, big, BTE, BULL, Bullet Club, Chicago, chris jericho, Christian, Christian Cage, Collision, Continental Classic, Discovery, Dynamite, Event, Evil, Fall, Fired, Forever, FOX, From, Full Gear, gold, HELP, Jericho, Max, Media, MJF, New, Orange Cassidy, OWN, Pittsburgh, Queen, Rampage, results, ring of honor, ROH, Saraya, SAW, SEE, Surprise, Swerve, Switch, Tag, TBS, Thanksgiving, The, the man, title, TNT, Toni Storm, Wednesday, Well, Wish, Wrestlers, Wrestling, You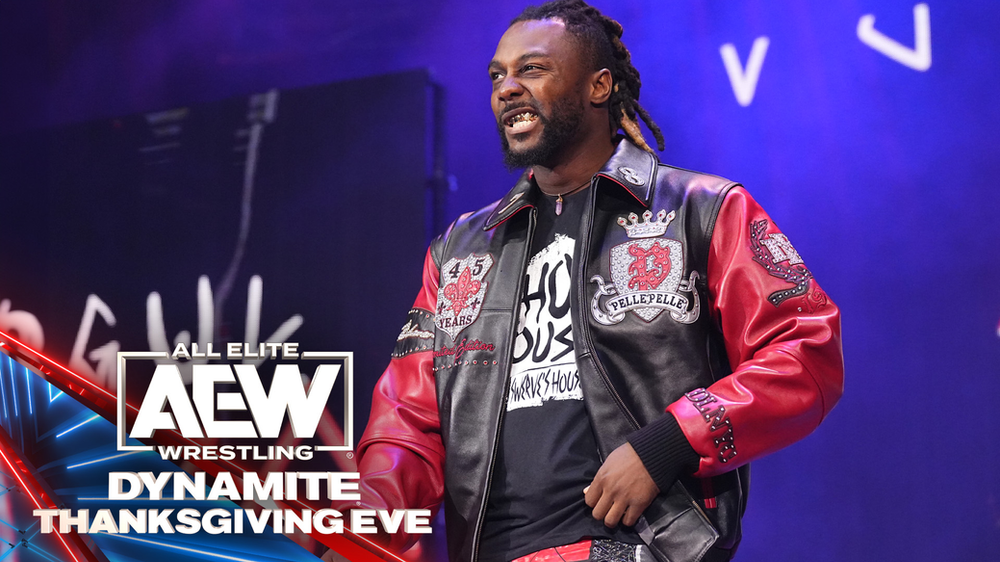 **CONTAINS SPOILERS**
Tonight's episode of AEW DYNAMITE was broadcast live from the Wintrust Arena in Chicago, IL!
Excalibur, Tony Schiavone, and "The Human Suplex Machine" Taz were the broadcast team for tonight's event.
It's Wednesday night and you know what that means!
Continental Classic Match—The Gold League!
Swerve Strickland vs. Jay Lethal!
Lethal clocked Swerve with a big right hand. They traded strikes on the ring apron. Lethal yanked on Swerve's right arm. Lethal drove Swerve into the barricade after a tope suicida. Lethal followed up with a short arm lariat.
Swerve targeted the knee of Lethal with a basement dropkick. Swerve tied up Lethal's legs and wrenched on them, putting all of his body weight on them. Swerve kicked Lethal's leg and then chopped it!
Swerve sent Lethal flying with a German Suplex. Lethal rallied back with a shoulder breaker. They jockeyed for position on the top turnbuckle, and Swerve brought Lethal down hard with a superplex. Swerve followed up with a flatliner and then a brainbuster for a near fall on Lethal.
Jay Lethal stunned Swerve with an elbow drop from the top rope worthy of a king. Swerve avoided a dropkick and applied a stretch muffler, but Lethal grabbed the bottom rope. Lethal cracked Swerve with a pump kick. Lethal went for the Lethal Injection but Swerve countered with a dropkick. Swerve hit the House Call and then the Swerve Stomp to score the pin on Lethal. Three points for Swerve!
Renee Paquette was backstage with AEW International Champion Orange Cassidy, FTW Champion HOOK, & ROH Pure Champion Katsuyori Shibata!
Wheeler Yuta interrupted Orange Cassidy and mocked him, Hook, and Shibata. Yuta told Shibata that he'd be taking his championship back!
Up next: AEW World Champion & ROH Tag Champion MJF came out with his ROH Tag Champion partner Adam Cole!
MJF: "Cut the music. Now ladies and gentlemen, it appears the devil has arrived in Chicago. After I just freshly beat an undefeated Jay White. I learned in those 30 minutes that you are truly one of the best professional wrestlers in the world. Fact. However, nobody is on the level of the devil. Chicago, I'm just gonna say what we're all thinking: you're looking at the greatest AEW World Champion of all time. Now none of that is possible without my brochacho for life, Mr. Cole."
Adam Cole: "Who's ready for story time with Adam Cole, baybay? It's great that me and Max are still your ROH World Tag Team Champions with a little help from Samoa Joe, as well. My ankle is in really bad shape. I've got a long road ahead of me. But I'm going to work my ass off every single day to make sure I can get back her in AEW to do what I love to do.
"Max, I'm really worried about you. I wish for nothing more than to be here by your side, but I can't. It feels like you've got the entire world gunning for you."
MJF: "You don't gotta worry about me, Adam. To the man behind my devil mask, I'm going to find you and the hell I send you to is going to feel like heaven."
Someone appeared on the screen wearing the devil mask, laughing, and then the feed disappeared!
Samoa Joe's music played and out walked Samoa Joe to the ring!
Samoa Joe: "This is a time for celebration, Max. Two massive victories over a weekend. You stand here today AEW World Champion. But you know what else happened? Earlier in the night, MJF, you went out there with Samoa Joe and defended your ROH World Tag Championship for the simple price of giving me my rematch. So, I've come to Chicago to ensure that honorable men honor their deals."
MJF: "Maybe you should take a couple of steps back because you have bad breath. And secondly, I thought long and hard about our deal. And I feel I've come up with a reasonable mature response. My response is no!"
Samoa Joe grabbed MJF by the throat, but Adam Cole begged Samoa Joe to stop and listen to him!
Adam Cole: "Thank you! Max, you can't do this, man. The new MJF, he's a man of his word. I get it, Joe is a killer. Max, that's why you are who you are. They don't just love you because you're a great wrestler. They love you because when MJF says something is going to happen, damnit it happens. Max, be a man of your word."
MJF: "You know what Joe, you want to face me for this belt? You wouldn't be the first Ring of Honor legend I've beaten in Chicago twice! So how about Samoa Joe versus MJF right here, right now in Chicago!"
Samoa Joe: "Absolutely not. Let's discuss what's really gonna happen. You're going to get on the Internet tomorrow and complain that you weren't 100% and it wasn't fair. Boo Hoo. No, Max, I want the best version of you, I want the fully healed Max. So, I say by World's End, you should be nice and chipper to get in that ring and defend that title."
MJF: "Let me get this straight. You want to wrestle MJF at Nassau Colliseum on December 30th at World's End? You want MJF in the main event for the World Title? Is that correct?"
Samoa Joe: "That is correct, Max."
MJF: "You've got yourself a deal, Joe. But let me explain something to you. Wrestling MJF in Long Island, that's about as bright as copping head from an alligator. But based on the way you're looking these days, I bet you don't have many options."
Samoa Joe: "I understand what this is and I'm really great at picking fights too, Max. But Max all this worrying you're doing about the devil goes away today. Because you see from now on, you're considered my property. And people don't touch my property unless I say so. I'm going to deliver the very best MJF to Nassau Colliseum and then I'm going to take your World Championship in front of your family and friends and everyone you know and love!"
Trios Match!
AEW International Champion Orange Cassidy, FTW Champion HOOK,
& ROH Pure Champion Katsuyori Shibata
vs.
"Daddy Magic" Matt Menard, "Cool Hand" Angelo Parker, & Jake Hager!
Before the match, Orange Cassidy said he had a Thanksgiving surprise. Very nice, very evil Danhausen made his return!
Hook hurled Menard overhead with judo throws. Hook sent Angelo Parker to the mat too! Hager hit Hook with a blindsided shot.
Parker clocked Hook with a running knee to the head. Hager nailed Hook with a Hager Bomb for a near fall. Hook fired back with a lariat to Angelo Parker, exploding out of the corner. Hook planted Parker with a T-bone suplex and then tagged out to Orange Cassidy.
Hager intercepted the Orange Punch from Cassidy and then planted him on the mat. Shibata tagged in and he and Hager traded forearms. Shibata pump kicked Hager. Shibata chopped down Hager in the corner. Shibata followed up with a running dropkick to Hager! Menard and Parker doubled up on Shibata. Hager went to powerbomb Shibata, but Danhausen jumped on the apron, distracting Hager with Hager's purple hat.
Danhausen cursed Hager and Cassidy stunned Hager with a tope suicida. Shibata put the sleeper on Menard while Hook made Parker tap out with the Red Rum!
Renee Paquette was backstage with Adam Cole!
Roderick Strong and the Kingdom interrupted!
Strong: "I saw you were there on Saturday. I'm sorry I missed you. Friday, where were you? I was dropped right on my head."
Cole: "Shut up! When are you going to get it through your thick skull that I am not your best friend anymore? Do me a favor. Back off and leave me the hell alone!"
Up next: TNT Champion Christian Cage rechristened Luchasaurus & Nick Wayne!
Christian Cage: "Now everybody knows a true champion is gracious in victory and humble in defeat. And as you all know this past Saturday at Full Gear, it didn't exactly go as we planned. I can tell you that I did not lose that match. Nick Wayne did not lose that match. Luchasaurus lost that match! And that's unacceptable to me.
"And I went home, and I thought, how do I get rid of this stench of losing. And it hit me like a ton of bricks. Since you're both my children, it's time that I recreate you both in my image. Luchasaurus, take a knee. I said take a knee. I'm not sure what you're not understanding about this you moron. Take a knee right now!
"The name Luchasaurus to me will forever be associated with me with being a loser. I thought long and hard about your name and I came up with a name of strength. A name of toughness. A name that means certain victory. A name that has served me well throughout my career. You are my finisher. This Saturday on Collision you will have the chance to prove that you are worthy of this moniker because from here on out you will be known as Kill Switch!
"Nick Wayne, get on your feet. You don't ever get on your knees for another person, do you understand me? You're different, Nick. You're special. You are my golden boy. I see things in you that I've never seen in another person. You are me. I love you, Nick. Nick, you are a golden boy, and you will be known as 'the Prodigy, Nick Wayne.'"
Nick Wayne's mother walked to the ring.
Christian Cage: "What the hell are you doing here anyway? You are a terrible mother! Maybe you love Nick unconditionally but that isn't good enough. This kid is a prodigy. It's a good thing that your husband is dead because Nick would have disowned his father because he knows his father was never as good of a wrestler that I am. So do me a favor and get the hell out of my ring!"
Luchasaurus stepped between Nick Wayne's mom and Christian Cage and stared at Christian!
Christian Cage: "Get back on your knees! I didn't stutter. Get on your knees Kill Switch!"
Christian Cage slapped Luchasaurus in the face!
Christian Cage: "Get on your knees or I'll make you take off that mask!"
Christian shoved Luchasaurus, who inadvertently fell back against Nick Wayne's mother, knocking her to the mat!
Nick Wayne left the ring and looked under it. Nick Wayne pulled out a steel chair and slid it into the ring. He pulled out a second chair and slid it into the ring. Shanna Wayne's head was placed onto one of the steel chairs. Christian held up the second steel chair and handed it to Luchasaurus. "Be the Kill Switch! Be the finisher!"
Luchasaurus held up the chair and contemplated what he had just been ordered to do. Adam Copeland sprinted to the ring and speared Nick Wayne! Copeland booted Luchasaurus in the face! Copeland had the chair and looked at Christian Cage, but Luchasaurus pulled Christian out of the ring to safety. Copeland speared Nick Wayne a second time and then nailed him with the Impaler! Copeland propped Nick Wayne's head on one of the chairs. Copeland cracked Nick Wayne with the steel chair, right in front of Nick's mom!
Renee Paquette was backstage with Anna Jay, Matt Menard, Angelo Parker, and Jake Hager!
Matt Menard: "Renee, I don't know what's going on around here. Garcia with his dancing, Parker with his little girlfriend, someone tell me what's going on!"
Hager: "And Danhausen with the hat!"
Anna Jay: "Stop, this is about me! I just want to wrestle. I am so tired of the losing, the infighting, and I don't know if you guys are here to help me or hurt me."
Parker's phone rang and it was Ruby Soho calling.
Anna Jay: "Really? You're in my corner tonight, right?"
Parker: "Anna, of course. It's family first. You got this!"
Continental Classic Match—The Gold League!
LFI's Rush vs. Bullet Club Gold's "Switchblade" Jay White!
Rush and Jay White locked horns, with Rush backing Jay into the corner. Rush dropkicked Jay White and then stomped on him. Rush splashed Switchblade in the corner and followed up with a beautiful dropkick.
Rush rammed Jay White into the barricades. Rush pulled a cable out from beneath the ring. Ref Paul Turner threatened to disqualify Rush, so Rush dropped the cable. Rush wrecked Jay White with more chops to the chest.
Jay White suplexed Rush right into the turnbuckles. Rush took Jay White off his feet with a flying forearm. Rush cracked White with a massive elbow strike and followed up with a brainbuster for a near fall.
The fans chanted "This is awesome! This is awesome!"
Jay White dodged a senton from Rush. Jay White nailed Rush with a brainbuster for a near fall! Jay White gouged the eye of Rush, but Rush answered with a rising knee strike. White fired back with a uranage for a two-count.
Rush escaped the Blade Runner attempt. Rush staggered White with a German Suplex. Jay White took down Rush with a dragon screw leg whip. Rush hurled Jay White with a belly-to-belly suplex into the turnbuckles. Rush went for the Bull's Horns but White countered and tried for the Blade Runner. Rush escaped, shoving White, who inadvertently connected with the ref. As the ref had his back turned, Jay White hit Rush with a low blow and then pinned Rush after the Blade Runner! Jay White gained three points!
Footage was shown from after this past Saturday's media scrum, with AEW World Tag Team Champs "Absolute" Ricky Starks and Big Bill attacking Chris Jericho, targeting his injured arm!
RJ City and Renee Paquette were on the ramp to present AEW Women's World Champion "Timeless" Toni Storm with her championship!
Mariah May presented Toni with the title.
Toni Storm: "I didn't have anything prepared. I would first like to thank Mr. Anthony Khan and the wonderful people at Warner Discovery. I would like to thank whoever trained me, and the little Toni Storms out there who want to be me. This is my spot. You will not take it. You will not make it. So, stay in school. Thank you!"
The celebration was interrupted as Skye Blue made her entrance for the next match.
Three-Way Match!
Ruby Soho (with Saraya)
vs.
Skye Blue
vs. Anna Jay (with Matt Menard & Angelo Parker)!
Parker and Ruby smiled at each other. Anna Jay rolled up Skye for a near fall. Skye took down Anna with a shoulder tackle. Ruby Soho suplexed Skye Blue, planting her on the back of her head.
Skye Blue took down both members of the opposition at once with creative offense. Anna Jay cracked Ruby with a thrust kick, after Ruby was flirting with Angelo Parker. Skye Blue connected with a diving cross body press onto Anna and Ruby.
Skye Blue rocked Ruby with two knee strikes. Skye Blue pump kicked Ruby off the ring apron, sending Ruby right into the arms of Angelo Parker! Anna Jay stunned Skye with a pump kick of her own! Before Ruby and Angelo kissed, Saraya pulled Ruby away from Angelo.
Blue escaped the Queen Slayer and followed up with a thrust kick. Skye Blue scored the pin after the cutter on Anna Jay! Saraya and Ruby argued with one another after the match.
Renee Paquette was backstage with Wardlow!
Wardlow: "The world doesn't revolve around MJF. The downfall of the devil is going to happen on my time."
AR Fox interrupted. "Hey man, I see what you're doing here. Putting the blame on everybody else. I get it. I was doing the same to Darby."
Wardlow: "Listen, I don't need advice from anyone."
Wardlow headbutted AR Fox and laughed.
Main Event Time!
Continental Classic Match—The Gold League!
Blackpool Combat Club's Jon Moxley vs. Mark Briscoe!
Mox and Mark slugged it out in the center of the ring. Briscoe used his redneck kung fu, chopping Moxley in the throat. Moxley chomped down on Briscoe's head. Briscoe nailed Moxley with a neck breaker off the apron and onto the arena floor!
Moxley smashed Mark in the mouth with a big boot! Mark was busted wide open. Moxley spiked Briscoe with a piledriver for a near fall. Briscoe tossed Mox with a suplex. Moxley applied an arm bar on Mark, but Mark got his boot on the bottom rope to force the break.
Moxley nailed Mark with the Paradigm Shift, but Mark got right up and dropkicked Moxley! Briscoe used a Death Valley Driver to set up the Froggy Bow, but Moxley kicked out at two! Moxley escaped a J Driller attempted and planted Mark with the Death Rider for a near fall!
Moxley hit Mark with a half and half suplex. Moxley curb stomped Briscoe and pinned him after a second Death Rider! Moxley earned three points!
Catch AEW DYNAMITE on TBS next Wednesday live at 8/7ct from the Target Center in Minneapolis, MN!
Special Programming note: this Saturday tune in to AEW RAMPAGE at 7/6c and then COLLISION at 8/7c on TNT from the Petersen Events Center in Pittsburgh, PA!