Tagged as: #AllIn, AEW, AEW Collision, AEW Dark, AEW Dynamite, AEW News, AEW Rampage, AEW TV, All Elite, All Elite Wrestling, Being the Elite, big, Boon, Breaking, Bryan Danielson, BTE, Christian, Christian Cage, Dynamite, Elite, FOX, From, Full Gear, Highlights, Juice Robinson, kenny omega, Max, MJF, Retribution, Returns, ROH, Switch, Tag, The, title, TNT, Upset, Wednesday, Well, Willow, WOKE, WON, Wrestling, You, YouTube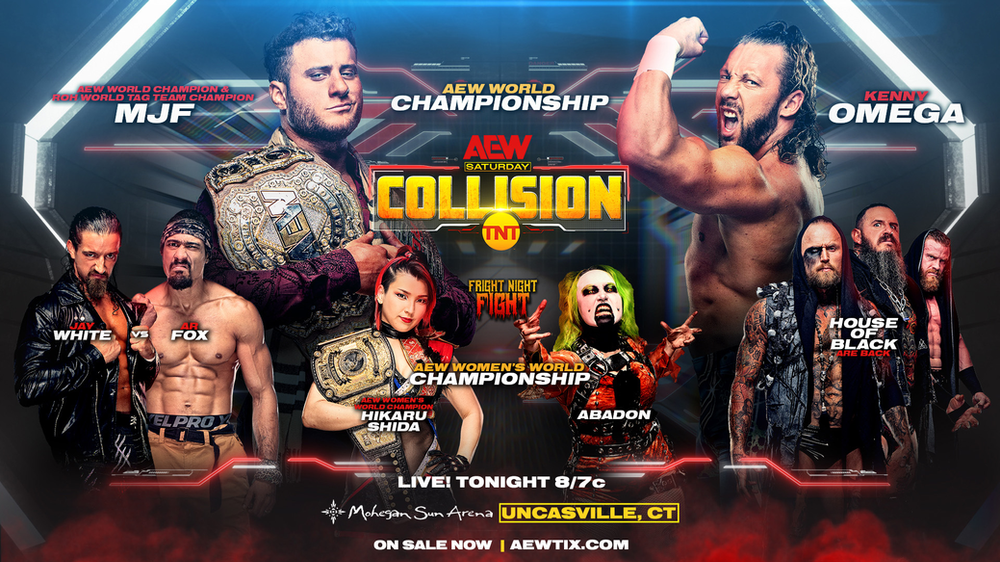 https://www.youtube.com/embed/K39Ydjjcr64?si=uoRCSUWCXF2TIRV_
This Saturday night, at the Mohegan Sun in Uncasville, CT, All Elite Wrestling presents the biggest edition of COLLISION thus far as AEW World Champion MJF puts his title on the line against former champion Kenny Omega in their very first meeting inside the squared circle! But it's more than just the championship at stake, with 343 days as champion to his reign, MJF is just four days away from breaking Omega's 346 day record as longest reigning champion of all-time. This is history in the making, but it's not all that's going down on Saturday night! Abadon will challenge Hikaru Shida for the AEW Women's World Championship, Jay White will take on AR Fox, and The House of Black are back in action after all the damage they caused a week ago!
https://www.youtube.com/embed/BGr0kaLSExY?si=18FCnOAuiy3tGw7H&start=415
COLLISION is coming to you this Saturday night on TNT, beginning at 8pm ET/7pm CT, so before the night begins swing over to the official AEW YouTube channel for highlights from this week's episodes of DYNAMITE and RAMPAGE, the latest editions of CONTROL CENTER, and so much more!
AEW WORLD CHAMPIONSHIP MATCH…
MJF(c) vs. Kenny Omega
https://www.youtube.com/embed/wl2_9Gokt7M?si=7w1VQvwUdAEkbDY9
343 days; for 343 days Maxwell Jacob Friedman has reigned over All Elite Wrestling as the World Champion, just three weeks shy of completing a full year as the top guy in the company, and three days away from breaking the current record of 346 days held by Kenny Omega. That record, and MJF's egotistical need to be viewed as the greatest champion of all-time, is why these men are heading for a collision on COLLISION this Saturday night!
It wasn't Kenny Omega who came seeking Maxwell Jacob Friedman, it wasn't Kenny who first broached the subject when they two men hadn't so much as shared the same room over the past four years much less the same ring, it was MJF who sought out Kenny. It was MJF who whispered "13 days" into Kenny's ear, as if to rub it in Omega's face that he was going to break the record, and perhaps even thinking Kenny would do nothing about it.
If that was MJF's thought, well he was dead wrong, because Omega stepped onto the stage following MJF's fight with Juice Robinson this past Wednesday, and laid the challenge on the table. Would MJF be the kind of champion who would risk it all, knowing he's got a title fight with Jay White already lined up at FULL GEAR 2023, and give Omega an opportunity to defend his streak? MJF may be a scumbag, but he's also got an ego that would not allow the moment to pass him by, that wouldn't let the opportunity to cement himself as the greatest AEW World Champion just slip away. If Max hadn't accepted the challenge, when Wednesday morning came and he woke up as the longest reigning AEW World Champion in history, he would know there's an asterisk because he didn't fight Kenny Omega.
Once MJF made the choice to whisper into Kenny Omega's ear, he made the choice to take on a fight with Kenny Omega, and risk seeing his title reign end before the 346-day streak was broken. In confronting Kenny, MJF added yet another target on his back, joining those already placed there by Jay White, The Gunns, Juice Robinson, Samoa Joe, and Wardlow. The World Champion is always the most wanted man in any sport, but MJF may have more on this plate than he can possibly eat, and that was before "The Cleaner" was heaped on there as well.
This is the biggest match in COLLISION's short history, one of the biggest in All Elite Wrestling history, and it is happening on TNT this Saturday night! For the very first time, Kenny Omega and MJF, the AEW World Championship on the line, Omega's 346-day record at stake, and it's going down at the Mohegan Sun! History will be made if MJF survives this title fight, with but one World Championship record let to chase, that being the nine successful title defenses Jon Moxley accomplished during his first reign. An Omega victory would make eight for MJF, but regardless of who walks out of Connecticut as AEW World Champion, "Switchblade" Jay White will be waiting at the KIA Forum come FULL GEAR 2023!
AEW WOMEN'S WORLD CHAMPIONSHIP MATCH…
Hikaru Shida(c) vs. Abadon
https://www.youtube.com/embed/7E6suZ6N2_E?si=j4n8s9ttCB1_c3eX
This past Friday night on RAMPAGE Abadon made her return to AEW competition for the first time since June 14th, and did so against some pretty stiff competition with seriously high stakes. Abadon, Willow Nightingale, Skye Blue, and Anna Jay went to battle with a shot at Hikaru Shida on the line, and when the final bell rang, it was Abadon who scored the victory! Luckily for both women, they don't have to wait long for the championship fight because it is going down this Saturday night live on COLLISION!
This won't be the first dance for Abadon and Shida, as a matter of fact their very first battle on the March 10, 2020 edition of AEW DARK was also Abadon's first match in All Elite Wrestling. Unfortunately for her, Abadon's first match also took place just days before the world shut down, and it would be several months before "The Living Dead Girl" returned to the AEW stage. When she did, Abadon would win six straight matches, positioning herself for a championship opportunity, and thus a rematch with Hikaru Shida with much greater stakes than their first encounter.
Abadon was unsuccessful in this second attempt at conquering Shida, and at claiming her first AEW championship, but it clearly served as a motivational tool because the woman would rack up 18 consecutive victories en route to facing Dr. Britt Baker in a bloody Trick or Treat match. Though Baker was the champion at the time, the title was not on the line, but given how hard the two women fought, one would never have known.
That fight with Baker was the last time Abadon competed on AEW TV before this past Friday, her fights largely taking place on DARK or DARK: ELEVATION, but now she is back in the mix, healed up and hungry, with the opportunity to be champion once more at her feet. It just feels appropriate that it is once again Hikaru Shida who will stand across the ring from Abadon this Saturday given their connection, and the fact that she is the only woman in AEW to hold two victories over Abadon.
Will this night be different than their previous encounters? Can Abadon take everything she's learned since their last encounter in January of 2021 and put it together to end the 3rd championship reign of Hikaru Shida The pressure is on Abadon in this Fright Night Fight, will she unleash the monster on Shida
ONE-ON-ONE…
AR Fox vs. "Switchblade" Jay White
After the night the Bang Bang Gang had on Wednesday, with Juice being beaten but The Gunns getting their ROH World Tag Team Championship match at FULL GEAR 2023, it's time for Jay White to step into the ring and fight on Saturday night! His opponent on this explosive edition of COLLISION will be a man in need of finding himself once again, someone who has been out of action since early September, the high-flying AR Fox!
Fox was last seen on the receiving end of a Jon Moxley beating on the September 6th edition of DYNAMITE, his first match after being excommunicated from The Mogul Embassy, and an opportunity to right his ship by winning the International Championship. Unfortunately Fox did not claim the title, leaving him without a championship, and with a great deal of doubt hanging over his head. Darby Allin seemed willing to forgive Fox's transgressions, Nick Wayne less so, and perhaps that feeds into why Nick chose TNT Champion Christian Cage over his relationship with Darby.
Now that he's back in action, it's time for AR Fox to prove he deserves that forgiveness from Darby, and that he's willing to do the work rather than take another Mogul Embassy type shortcut. Taking on the next challenger to the AEW World Champion is a tremendous way to begin that quest, and a victory over "King Switch" would be a huge boon to Fox's career moving forward.
Jay White will obviously have one eye on the Omega/MJF match as it shapes White's FULL GEAR 2023 future; will that distraction give Fox the opening he needs to score the upset victory?
THE HOUSE OF BLACK IN ACTION!
https://www.youtube.com/embed/VFoeiLUKzFY?si=EHhYic6Y9DQO6_5i&start=415
A week ago The House of Black returned to AEW in full force, laying waste to Bryan Danielson after his fight with Andrade El Idolo, taking out FTR before they could even finish their tag team fight, and coming after the rest of the Blackpool Combat Club following their championship loss to Big Bill and Ricky Starks. The chaos that resulted brought Jon Moxley back to the fight for the first time since his AEW International Championship loss to Rey Fenix, and left Ricky Starks laid out by the combined efforts of FTR and BCC.
This Saturday on COLLISION, The House of Black will be back in trios action, but no doubt the men they assaulted a week ago will have a close eye on the situation, and have to have some form of retribution in mind!
This Saturday night AEW returns to the Mohegan Sun in Uncasville, CT for the biggest episode of COLLISION to date with Kenny Omega challenging MJF for the AEW World Championship, Shida defending her AEW Women's World Championship against Abadon, Jay White in action against AR Fox, The House of Black, and more! Prior to the night getting started, be sure to visit the official AEW YouTube channel for highlights from this week's episodes of DYNAMITE and RAMPAGE, the latest editions of CONTROL CENTER, and much, much more!